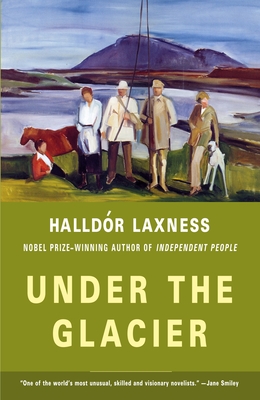 Under the Glacier (Vintage International) (Paperback)
Vintage, 9781400034413, 256pp.
Publication Date: March 8, 2005
* Individual store prices may vary.
Description
Nobel laureate Halldór Laxness's Under the Glacier is a one-of-a-kind masterpiece, a wryly provocative novel at once earthy and otherworldly. At its outset, the Bishop of Iceland dispatches a young emissary to investigate certain charges against the pastor at Sn?fells Glacier, who, among other things, appears to have given up burying the dead. But once he arrives, the emissary finds that this dereliction counts only as a mild eccentricity in a community that regards itself as the center of the world and where Creation itself is a work in progress.
What is the emissary to make, for example, of the boarded-up church? What about the mysterious building that has sprung up alongside it? Or the fact that Pastor Primus spends most of his time shoeing horses? Or that his wife, Ua (pronounced "ooh-a," which is what men invariably sputter upon seeing her), is rumored never to have bathed, eaten, or slept? Piling improbability on top of improbability, Under the Glacier overflows with comedy both wild and deadpan as it conjures a phantasmagoria as beguiling as it is profound.
About the Author
Halldór Laxness was born near Reykjavík, Iceland, in 1902. His first novel was published when he was seventeen. The undisputed master of contemporary Icelandic fiction, and one of the outstanding novelists of the century, he wrote more than sixty books, including novels, short stories, essays, poems, plays, and memoirs. In 1955 he was awarded the Nobel Prize in Literature. Laxness died in 1998.
Praise For Under the Glacier (Vintage International)…
"One of the world's most unusual, skilled and visionary novelists." –Jane Smiley

"Laxness is a beacon in twentieth-century literature, a writer of splendid originality, wit, and feeling." –Alice Munro

"The qualities of the sagas pervade his writing, and particularly a kind of humor–oblique, stylized and childlike–that can be found in no other contemporary writer." –The Atlantic Monthly

"One of the world's most unusual, skilled and visionary novelists." –Jane Smiley

"A marvelous novel about the most ambitious questionsÉ. It is also one of the funniest books ever written.: --Susan Sontag, from the Introduction

"The qualities of the sagas pervade his writing, and particularly a kind of humor–oblique, stylized and childlike–that can be found in no other contemporary writer." –The Atlantic Monthly

"Laxness is a beacon in twentieth-century literature, a writer of splendid originality, wit, and feeling." –Alice Munro