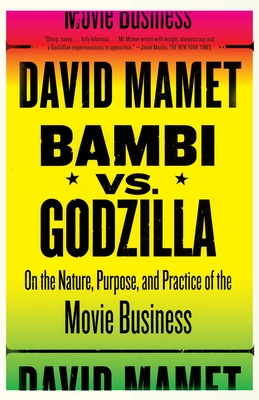 Bambi Vs. Godzilla: On the Nature, Purpose, and Practice of the Movie Business (Paperback)
On the Nature, Purpose, and Practice of the Movie Business
Vintage Books USA, 9781400034444, 249pp.
Publication Date: February 12, 2008
Description
From the Academy Award-nominated screenwriter and playwright: an exhilaratingly subversive inside look at Hollywood from a filmmaker who's always played by his own rules.
Who really reads the scripts at the film studios? How is a screenplay like a personals ad? Why are there so many producers listed in movie credits? And what on earth do those producers do anyway? Refreshingly unafraid to offend, Mamet provides hilarious, surprising, and refreshingly forthright answers to these and other questions about every aspect of filmmaking from concept to script to screen. A bracing, no-holds-barred examination of the strange contradictions of Tinseltown, Bambi vs. Godzilla dissects the movies with Mamet's signature style and wit.
About the Author
David Mamet is a Pulitzer Prize-winning playwright and an Academy Award-nominated screenwriter, as well as a director, novelist, poet, and essayist. He has written the screenplays for more than twenty films, including Heist, Spartan, House of Games, The Spanish Prisoner, The Winslow Boy, Wag the Dog, and the Oscar-nominated The Verdict. His more than twenty plays include Oleanna, The Cryptogram, Speed-the-Plow, American Buffalo, Sexual Perversity in Chicago, and the Pulitzer Prizewinning Glengarry Glen Ross. Born in Chicago in 1947, Mamet has taught at the Yale School of Drama, New York University, and Goddard College, and is a founding member of the Atlantic Theater Company.
Praise For Bambi Vs. Godzilla: On the Nature, Purpose, and Practice of the Movie Business…
"Sharp, savvy. . . . Icily hilarious. . . . Mr. Mamet writes with insight, idiosyncrasy and a Godzillian imperviousness to opposition." —Janet Maslin, The New York Times"Winningly pugnacious. . . . [Bambi vs. Godzilla] is funny and angry and intemperate and passionate enough to tell the truth about movies." —San Francisco Chronicle"This is a book infused with love – the sweet, helpless love Mamet has for film, and the communal process that makes it." —Los Angeles Times"Playful . . . deft. . . . Mamet the dramatist has developed a career as a prolific philosophical essayist." —Chicago Sun-Times
Advertisement