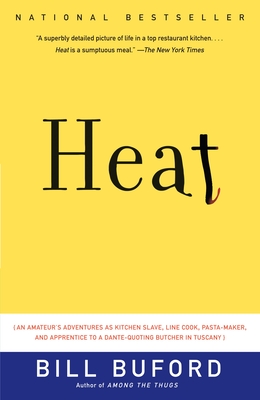 Heat
An Amateur's Adventures as Kitchen Slave, Line Cook, Pasta-Maker, and Apprentice to a Dante-Quoting Butcher in Tuscany
Paperback

* Individual store prices may vary.
Other Editions of This Title:
Digital Audiobook (6/5/2006)
Digital Audiobook (5/29/2006)
Description
The book that helped define a genre: Heat is a beloved culinary classic, an adventure in the kitchen and into Italian cuisine, by Bill Buford, author of Dirt. 

Bill Buford was a highly acclaimed writer and editor at the New Yorker when he decided to leave for a most unlikely destination: the kitchen at Babbo, one of New York City's most popular and revolutionary Italian restaurants.
Finally realizing a long-held desire to learn first-hand the experience of restaurant cooking, Buford soon finds himself drowning in improperly cubed carrots and scalding pasta water on his quest to learn the tricks of the trade. His love of Italian food then propels him further afield: to Italy, to discover the secrets of pasta-making and, finally, how to properly slaughter a pig. Throughout, Buford stunningly details the complex aspects of Italian cooking and its long history, creating an engrossing and visceral narrative stuffed with insight and humor. The result is a hilarious, self-deprecating, and fantasically entertaining journey into the heart of the Italian kitchen.
Praise For Heat: An Amateur's Adventures as Kitchen Slave, Line Cook, Pasta-Maker, and Apprentice to a Dante-Quoting Butcher in Tuscany…
"Buford develops a superbly detailed picture of life in a top restaurant kitchen. . . Heat is a sumptuous meal." —The New York Times

"A delicious history of Italian cooking, with a twist: Buford, an amateur cook, entered the kitchen of one of New York City's hottest restaurants as a full-time employee, and [gives] us a story of Italian cuisine through the many characters . . . who prepare it, serve it, and eat it." —GQ

"Delightful. . . . Charming. . . . [Buford's] style is . . . happily obsessed with a weird subculture, woozily in love with both cooking and the foul-mouthed, refined-palette world of the chef." —The Washington Post Book World
 
"Exuberant, hilarious, glorying in its rich and arcane subject matter, Heat is Plimptonesque immersion journalism. . . . With Heat, we have a writer lighting on the subject of a lifetime." —The Los Angeles Times Book Review
Vintage, 9781400034475, 336pp.
Publication Date: June 26, 2007
About the Author
Bill Buford is a Staff Writer and European Correspondent for The New Yorker. He was the Fiction Editor of the magazine for eight years, from April 1995 to December 2002. Before that he edited Granta magazine for sixteen years and, in 1989, became the publisher of Granta Books. He has edited three anthologies: The Best of Granta Travel, The Best of Granta Reportage, and The Granta Book of the Family. Bill is also the author of Among the Thugs (Norton, 1992), a highly personal nonfiction account of crowd violence and British soccer hooliganism. For The New Yorker, he has written about sweatshops, the singer-songwriter Lucinda Williams, and chef Mario Batali. Born in Baton Rouge, Louisiana, in 1954, Bill Buford grew up in California and was educated at the University of California at Berkeley and at Kings College, Cambridge, where he was awarded a Marshall Scholarship for his work on Shakespeare's plays and sonnets. He lives in New York City with his wife, Jessica Green, and their two sons.
Buford says, "I came to regard the prep kitchen as something like a culinary boot camp." In what ways do the other chefs, Elisa in particular, appear almost militaristic in their approach to cooking? How does Buford's description of the psychical exhaustion he endures help convey the similarities between the Babbo kitchen and boot camp?
Throughout Heat, Buford describes himself as a "kitchen bitch" and "kitchen slave." What does he mean? Do you agree with his assessment of his status in the kitchen of Babbo?
Mario Batali tells Buford, "You learn by working in the kitchen. Not by reading a book or watching a television program or going to cooking school." While Batali has done this in his own career, he is also the host of several cooking shows and author of several cookbooks. Do you agree that the best way to learn to cook is in the kitchen? What have you learned from cooking shows and cookbooks?
In what ways does Batali's celebrity affect his interactions with the staff of Babbo? How is this especially noticeable in his dealings with Andy?
Do you think that Buford is correct in his assessment that Marco Pierre White is the first person to show Mario Batali what a chef could be? Why do you think Batali and White were unable to work together?
When the Babbo cookbook is about to be published, Batali tells his staff that they will have to come up with new recipes since all of the secrets of Babbo will be revealed. Would knowing a restaurant's recipes alter your dining experience? Why or why not?
Dario and Batali try to waste as little as possible. Likewise, when Buford brings home the pig from the green market, he uses all of it except for the lungs. Aside from the obvious financial motivations, why are all of these men unwilling to let any food go to waste?
Buford is completely flummoxed by the lack of interest among the professionals he encounters in the history of pasta. Why do you think Buford is so obsessed with finding out when the egg first appeared in pasta dough? In what ways does he differ from the professionals that he encounters?
Throughout Heat, Buford argues that "food is a concentrated messenger of a culture." What are some of the examples he gives to illustrate his point? Can you think of any examples of this in your own life?
Buford goes to Nashville as part of the Babbo kitchen team to assist in the preparation for a benefit dinner. How is this a turning point for him?
Before Betta teaches Buford how to make tortellini according to her recipe, she repeatedly makes him promise not to share her recipe with Batali. Why is she so emphatic about this request? Do you think that Betta is right to resent Batali's success?
Dario sees himself not as a businessman or butcher but, rather, as an artisan. How does this impact the way that he runs his shop and interacts with his customers? What does Buford mean when he calls Dario "an artist, whose subject was loss?"
Has Heat changed your views on dining out and the world of professional cooking? If so, how?