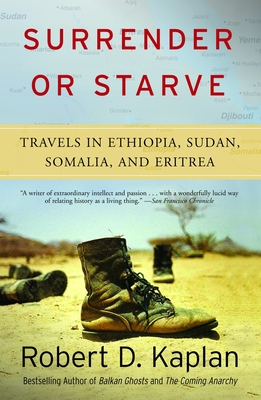 Surrender or Starve (Paperback)
Travels in Ethiopia, Sudan, Somalia, and Eritrea (Vintage Departures)
Vintage, 9781400034529, 240pp.
Publication Date: November 11, 2003
* Individual store prices may vary.
Description
Robert D. Kaplan is one of our leading international journalists, someone who can explain the most complicated and volatile regions and show why they're relevant to our world. In Surrender or Starve, Kaplan illuminates the fault lines in the Horn of Africa, which is emerging as a crucial region for America's ongoing war on terrorism.

Reporting from Sudan, Ethiopia, Somalia, and Eritrea, Kaplan examines the factors behind the famine that ravaged the region in the 1980s, exploring the ethnic, religious, and class conflicts that are crucial for understanding the region today. He offers a new foreword and afterword that show how the nations have developed since the famine, and why this region will only grow more important to the United States. Wielding his trademark ability to blend on-the-ground reporting and cogent analysis, Robert D. Kaplan introduces us to a fascinating part of the world, one that it would behoove all of us to know more about.
About the Author
Robert D. Kaplan is the bestselling author of sixteen books on foreign affairs and travel translated into many languages, including Asia's Cauldron, The Revenge of Geography, Monsoon, The Coming Anarchy, and Balkan Ghosts. He is a senior fellow at the Center for a New American Security and a contributing editor at The Atlantic, where his work has appeared for three decades. He was chief geopolitical analyst at Stratfor, a visiting professor at the United States Naval Academy, and a member of the Pentagon's Defense Policy Board. Foreign Policy magazine has twice named him one of the world's Top 100 Global Thinkers.
Praise For Surrender or Starve: Travels in Ethiopia, Sudan, Somalia, and Eritrea (Vintage Departures)…
"A writer of extraordinary intellect and passion . . .with a wonderfully lucid way of relating history as a living thing." —San Francisco Chronicle

"This vivid account . . . tells very convincingly a story which the author claims was almost entirely ignored by Western media, diplomats, and relief officials. Kaplan paints a horrific picture of often fatal cruelty." —Foreign Affairs

"Robert Kaplan is a scholarly and adventurous journalist. . . . He draws attention to long-term trends that other writers have little noted." —The New York Times

"Kaplan is a gritty travel reporter and commentator on foreign affairs known for providing no-nonsense political-historical overviews of the dicey places he visits." —The Washington Post Book World