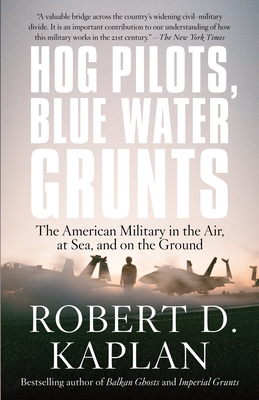 Hog Pilots, Blue Water Grunts (Paperback)
The American Military in the Air, at Sea, and on the Ground (Vintage Departures)
Vintage, 9781400034581, 448pp.
Publication Date: September 9, 2008
Other Editions of This Title:
Digital Audiobook (12/3/2007)
Digital Audiobook (9/3/2007)
Hardcover (9/4/2007)
* Individual store prices may vary.
Description
In Hog Pilots, Blue Water Grunts, acclaimed journalist Robert D. Kaplan continues his exploration of the American military's challenging and varied commitments around the world. From protecting sea lanes, to providing disaster relief, to preparing for potential military confrontation with North Korea and Iran, Kaplan describes the astonishing, vital, and often unacknowledged operations regularly performed by American military personnel in the air, at sea, and on the ground. Vivid and illuminating, this book takes us deep into the highly technical and exotic cultures of the armed forces, telling soldiers' stories from the perspective of the troops on the ground.
About the Author
Robert D. Kaplan is the bestselling author of sixteen books on foreign affairs and travel translated into many languages, including Asia's Cauldron, The Revenge of Geography, Monsoon, The Coming Anarchy, and Balkan Ghosts. He is a senior fellow at the Center for a New American Security and a contributing editor at The Atlantic, where his work has appeared for three decades. He was chief geopolitical analyst at Stratfor, a visiting professor at the United States Naval Academy, and a member of the Pentagon's Defense Policy Board. Foreign Policy magazine has twice named him one of the world's Top 100 Global Thinkers.
Praise For Hog Pilots, Blue Water Grunts: The American Military in the Air, at Sea, and on the Ground (Vintage Departures)…
"A valuable bridge across the country's widening civil-military divide. It is an important contribution to our understanding of how this military works in the 21st century."—The New York Times"No one understands better the burdens carried by today's men and women in uniform. If you aren't reading Kaplan, you aren't fully informed." —Minneapolis Star Tribune"Again and again in this book, we see how military service, even in peacetime, provides the catalyst that allows common men to perform uncommon deeds." —The Wall Street Journal"Recommended reading for anyone seeking to understand the full reach of America's global military power, or trying to comprehend the incredibly complicated, but increasingly important, soft-power demands being placed on today's military." —The Boston Globe
or
Not Currently Available for Direct Purchase