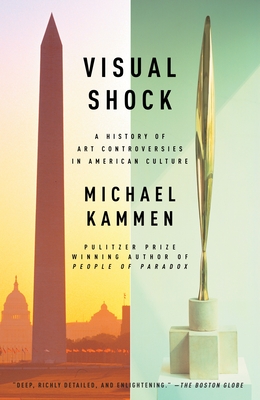 Visual Shock: A History of Art Controversies in American Culture (Paperback)
A History of Art Controversies in American Culture
Vintage Books USA, 9781400034642, 450pp.
Publication Date: November 6, 2007
Description
In this lively narrative, award-winning author Michael Kammen presents a fascinating analysis of cutting-edge art and artists and their unique ability to both delight and provoke us. He illuminates America's obsession with public memorials and the changing role of art and museums in our society. From Thomas Eakins's 1875 masterpiece The Gross Clinic, (considered "too big, bold, and gory" when first exhibited) to the bitter disputes about Maya Lin's Vietnam War Memorial, this is an eye-opening account of American art and the battles and controversies that it has ignited.
About the Author
Michael Kammen was born in Rochester in 1936. He took his BA at George Washington University and his PhD at Harvard. He is Newton C. Farr Professor of American History and Culture at Cornell University, where he has taught since 1965. A past President of the Organization of American Historians, he is the author or editor of numerous works and has lectured throughout the world. His People of Paradox was a Pulitzer Prize winner.
Praise For Visual Shock: A History of Art Controversies in American Culture…
"Deep, richly detailed, and enlightening."—The Boston Globe"Compelling. . . . A nuanced study . . . offers an important context for looking at ongoing issues of censorship and debates about the point of art."—The Miami Herald "Kammen . . . handles these variegated brouhahas with welcome deftness; he squeezes in all the facts while maintaining a nice narrative flow."—The Nation"A detailed and comprehensive survey of the history of artistic battles in the United States."—The Houston Chronicle
Advertisement