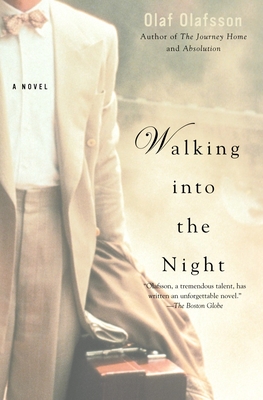 Walking Into the Night (Paperback)
Anchor, 9781400034802, 272pp.
Publication Date: October 12, 2004
* Individual store prices may vary.
Description
As butler to William Randolph Hearst at San Simeon castle, Christian Benediktsson lives quietly, almost invisibly. He completes his tasks efficiently and with aplomb, catering to the whims of the volatile Chief and overseeing the running of the hectic household. Privy to the goings-on of the celebrity guests who visit as well as to Hearst's intimate relationship with his mistress, the actress Marion Davies, he is the picture of discretion. An extremely private man, those around him know nothing of him or his life. And so it is in his thoughts and in unsent letters to his wife back in Iceland that we witness the unraveling of his former life, which began when he abandoned her and their children for an actress in New York City. Once a successful businessman, he erases his past and himself after a sudden tragic death and his financial ruin, the result of a jilted lover's vengeance. Walking into the Night is a stunning portrait of a man wrestling with guilt and secret passions.
About the Author
Olaf Olafsson was born in Reykjavik, Iceland, in 1962, and studied physics as a Wien Scholar at Brandeis University. He is the author of two previous novels, The Journey Home and Absolution, which have been translated into fourteen languages. He lives in New York with his wife and two sons.
Praise For Walking Into the Night…
"Stunning. . . . Pitch-perfect. . . . Beautifully rendered. . . . The novel's effect is the same [as that of] Ishiguro's The Remains of the Day." –Minneapolis Star-Tribune

"Memorable. . . . Olafsson is a master puppeteer, violently pulling the strings of memory, desire and fate, even as the words flow calmly and sensuously from his pen." –Los Angeles Times Book Review

"Quietly moving. . . . An evocative tale of grief and hope." –The New York Times Book Review

"Sublime. . . . Olafsson is a gifted dramatist." –The Denver Post

"Exquisite. . . . Olafsson delivers the story like our minds deliver memory–in stretches of calm, in flashes of intensity, with jagged edges of remorse, in self-protective remove. . . . We turn the pages because we are entranced by the pristine quality of the prose." –Chicago Tribune

"Profound and moving. . . . Unforgettable. . . . The beauty of this novel is the questions it poses as it traverses the landscape of the human heart, making sense of the senselessness and rendering sympathetic a very human character caught in a web not entirely of his own making." –The Advocate

"Poignant. . . . Engaging. . . . Olafsson is a sensitive, old-fashioned novelist." –The Washington Post Book World

"Marvelous. . . . Haunting. . . . Olafsson has organized the book brilliantly. . . . The writing is gorgeous, filled with heavily-illuminated images and beautiful visual description." –Deseret News (Salt Lake City)

or
Not Currently Available for Direct Purchase