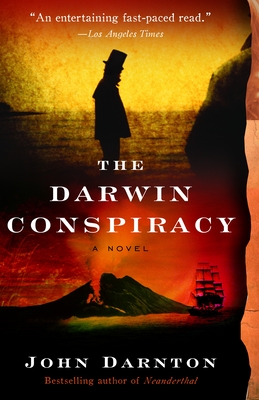 The Darwin Conspiracy
Paperback

* Individual store prices may vary.
Other Editions of This Title:
MP3 CD (9/1/2005)
Compact Disc (9/1/2005)
MP3 CD (8/18/2015)
Compact Disc (6/1/2015)
MP3 CD (9/1/2005)
Compact Disc (9/1/2005)
Description
From the author of the bestselling Neanderthal comes this novel of gripping suspense and scientific conquest–a page-turning historical mystery that brilliantly explores the intrigue behind Darwin and his theory of evolution.It's 1831, and aboard HMS Beagle the young Charles Darwin sets off down the English Channel for South America. More than 150 years later, two ambitious scholars pursuing their obsession with Darwin (and with each other) come across the diaries and letters of Darwin's daughter. What they discover is a maze of violent rivalries, petty deceptions, and jealously guarded secrets, and the extraordinary story of an expedition embarked upon by two men. Only one returned–and changed history forever.
Praise For The Darwin Conspiracy…
"An entertaining, fast-paced read." –Los Angeles Times"Darnton has playfully created and solved several mysteries revolving around events during Charles Darwin's early voyage on the Beagle." –The Boston Globe "Darnton has a good feel for both the Victorian era and the modern scientific milieu." –The New Yorker"An elaborate scientific thriller, rich with detail and the pacing of a good murder mystery." –Winston-Salem Journal"A fast-paced, intriguing and exciting story." –The Decatur Daily
Anchor, 9781400034833, 320pp.
Publication Date: September 12, 2006
About the Author
John Darnton has worked for thirty-nine years as a reporter, editor, and foreign correspondent for The New York Times. He was awarded two George Polk Awards for his coverage of Africa and Eastern Europe, and the Pulitzer Prize for his stories smuggled out of Poland during the period of martial law. He lives in New York.
We first meet Hugh Kellem while he is conducting research on an island, and later in the novel Darwin arrives at this same location. In what ways does Darnton use his novel's parallel storylines to build mystery and suspense or deepen the exploration of certain themes? How would this novel be different if it unfolded in a single time period or were told from a single point of view?
Darwin came to the Galapagos carrying just one book: Paradise Lost. How does that book, which tells the story of Lucifer's rebellion and the temptation and fall of man, forecast themes in Darwin's narrative and in those of Lizzie and Hugh? Is nature this novel's paradise, and if so, how is it lost?
As a child Darwin is said to have told fibs, a habit he has since outgrown. When does the adult Darwin first engage in an act of deception? Are we meant to see him as evil or simply flawed? How would you compare what Darwin does with Cal's doctoring of experimental results or Hugh's theft of Lizzie's journals or Lizzie's subterfuges? What are the consequences of their respective acts of dishonesty?
Why does Captain FitzRoy object so violently to natural law and transmutation, the ideas that preceded the theory of evolution? Are Darwin's discoveries really inimical to religious faith or only to a particular kind of faith, and if they are so heretical why do they become more widely accepted even in his lifetime? Why do you think evolution is more controversial today than it was thirty or forty years ago?
While reading Lizzie's journals, Hugh, who has the benefit of knowing how her life will turn out, feels as if he is "seeing a speeding car and knowing that it is soon to crash. Possessing that knowledge was like being God." Does reading this novel, so much of which is grounded in fact, place the reader in a similar position? Discuss the appeal of historical fiction and its peculiar tension between the known and the unknown, the factual and the invented.
or
Not Currently Available for Direct Purchase