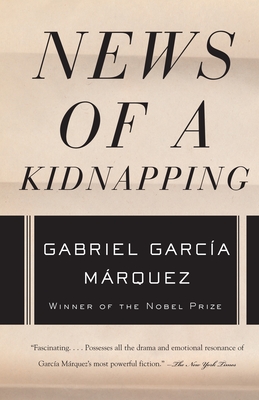 News of a Kidnapping (Paperback)
Vintage Books USA, 9781400034932, 291pp.
Publication Date: January 8, 2008
Description
In 1990, fearing extradition to the United States, Pablo Escobar head of the Medellin drug cartel kidnapped ten notable Colombians to use as bargaining chips. With the eye of a poet, Garcia Marquez describes the survivors perilous ordeal and the bizarre drama of the negotiations for their release. He also depicts the keening ache of Colombia after nearly forty years of rebel uprisings, right-wing death squads, currency collapse and narco-democracy. With cinematic intensity, breathtaking language and journalistic rigor, Garcia Marquez evokes the sickness that inflicts his beloved country and how it penetrates every strata of society, from the lowliest peasant to the President himself.
About the Author
Gabriel Garcia Marquez was born in Colombia in 1927. He was awarded the Nobel Prize in Literature in 1982. He is the author of many works of fiction and nonfiction, including One Hundred Years of Solitude, Love In The Time Cholera, The Autumn Of The Patriarch, The General In His Labyrinth, and News Of A Kidnapping. He died in 2014. Edith Grossman is the award-winning translator of major works by many of Latin America's most important writers, including Gabriel Garcia Marquez and Alvaro Mutis. Born in Philadelphia, she attended the University of Pennsylvania and the University of California at Berkeley before receiving her Ph.D. from New York University. Ms. Grossman is the author of The Antipoetry of Nicanor Parra and of many articles and book reviews. She lives in New York City."
Praise For News of a Kidnapping…
"Fascinating. . . . Possesses all the drama and emotional resonance of García Márquez's most powerful fiction." —The New York Times

"Brilliant. . . . Deeply affecting. . . . A story rich in characters who are both heroic and contradictory." —The Wall Street Journal

"A potent mixture of the newshound's well-documented detail and the novelist's tragic vision." —Chicago Tribune

"A powerful story. . . . In a series of telling strokes, shifting subtly from one perspective to another, García Márquez conveys the madness of the hostages' imprisonment, the despair, the anger, the false hope, the resignation." —San Francisco Chronicle
Advertisement