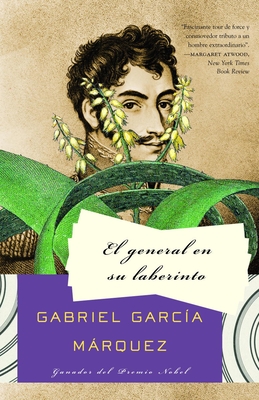 El General En Su Laberinto = The General in His Labyrinth (Paperback)
Vintage Espanol, 9781400034963, 288pp.
Publication Date: October 14, 2003
Description
El general Simon Bolivar, "El Libertador" de los paises de America del Sur, da, por ultima vez, un nostalgico viaje por el rio Magdalena en el que vuelve a visitar ciudades en sus orillas donde revive sus triumfos, sus pasiones y las traiciones de toda una vida. Poseedor de un gran encanto personal, prodigiosamente afortunado en amores, en la guerra y en la politica, todavia baila con tanto entusiasmo y habilidad que los que lo ven no pueden creer lo enfermo que esta. Apasionado por los recuerdos del poder que tuvo, y de su sueno de unidad continental que nunca logro realizar, Bolivar es un ejemplo conmovedor de cuanto puede ganarse --y perderse-- en una vida.
About the Author
Gabriel Garcia Marquez, nacido en Colombia, fue una de las figuras mas importantes e influyentes de la literatura universal. Ganador del Premio Nobel de Literatura, fue ademas cuentista, ensayista, critico cinematografico, autor de guiones y, sobre todo, intelectual comprometido con los grandes problemas de nuestro tiempo, en primer termino con los que afectaban a su amada Colombia y a Hispanoamerica en general. Maxima figura del realismo magico, fue en definitiva el hacedor de uno de los mundos narrativos mas densos de significados que ha dado la lengua espanola en el siglo xx. Entre sus obras mas importantes se encuentran las novelas Cien anos de soledad, El coronel no tiene quien le escriba, Cronica de una muerte anunciada, La mala hora, El general en su laberinto, El amor en los tiempos del colera, Memoria de mis putas tristes, el libro de relatos Doce cuentos peregrinos, la primera parte de su autobiografia, Vivir para contarla, y sus discursos reunidos, Yo no vengo a decir un discurso. Fallecio en 2014.
Praise For El General En Su Laberinto = The General in His Labyrinth…
"Fascinante tour de force y conmovedor tributo a un hombre extraordinario". —Margaret Atwood, New York Times Book Review

"Un libro notable ... Gabriel García Márquez presenta su imagen de Latinoamérica y de un gran hombre devuelto a la vida". —Richard Eder, Los Angeles Times Book Review

"Un retrato estupendo, convincente y conmovedor ... Un tour de force". —San Francisco Chronicle

"Pasaje tras pasaje reluce con la brillantez del escritor García Márquez ... El ha inventado algunos de los personajes mágicos de nuestra época. Su General, sin embargo, no es sólo mágico sino real". —Wall Street Journal

"Como de costumbre, la habilidad de García Márquez como escritor es incomparable. La historia de su General es trágica, pero su recuento es luminoso". —Dallas Morning News
Advertisement