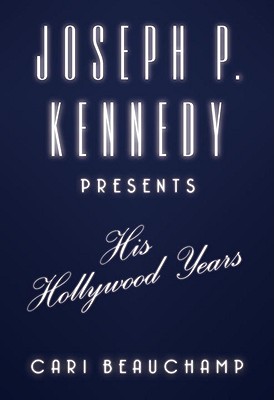 Joseph P. Kennedy Presents: His Hollywood Years (Hardcover)
His Hollywood Years
Knopf, 9781400040001, 528pp.
Publication Date: February 3, 2009
* Individual store prices may vary.
or
Not Currently Available for Direct Purchase
Description
This is the extraordinary story, told for the first time, of Joseph P. Kennedy's remarkable reign in Hollywood, in which he ran three movie studios simultaneously, led the revolution in sound pictures—and made the fortune that became the foundation of his empire.

Kennedy saw filmmaking as "a gold mine" when movies were an idea one week, in front of the camera the next, and in theaters within the month.

It was 1919; Kennedy was thirty-one years old.

Between 1926 and 1930, Kennedy used his talents to position himself as a Hollywood leader. He ran Film Booking Offices (FBO), was brought in to run Pathé and the Keith-Albee-Orpheum theaters, and became the chairman of their boards. Within months, he was asked to head First National film company. By 1928, Kennedy—merciless, electrifying, a visionary—was running three studios at once.

In Joseph P. Kennedy Presents, Cari Beauchamp writes about the genius behind Kennedy's profiteering and his importance in changing the way Hollywood conducted business. As one of the first nonfamily members to be given access to Kennedy's personal papers, Beauchamp, through years of meticulous research and countless interviews with those close to Kennedy, has dug through the maze of deals and the files of memos and notes, only recently made available, to tell in full how he made it all happen: how he charmed, cajoled, and bullied; how he juggles various backers—and managed to line his pockets with millions.

Beauchamp writes about the movies Kennedy produced and the stars he made, about the studios he razed and those he reorganized, about the jobs that were lost and the careers that were ruined (among them, that of silent film cowboy star Fred Thomson—one of America's top box-office draws).

Beauchamp tells for the first time the full story of Kennedy's affair with the feisty Gloria Swanson, the "reigning Queen of Hollywood"—an extravagant escapade that became legend and that triggered one of Hollywood's biggest financial fiascos. It began with Kennedy taking over Swanson's personal and professional life ("Together we could make millions," he promised), and ended with his first failure (personal and public) and her career on the brink of ruin, a million dollars in debt.

Beauchamp writes as well about the Hollywood titans surrounding Kennedy: William Randolph Hearst (Kennedy was a welcome guest at "the ranch") . . . Cecil B. De Mille . . . David Sarnoff, who, with Kennedy, masterminded the unprecedented deal that resulted in the founding of RKO, and that made Kennedy millions.

A fascinating tale of business genius and personal greed that brings to light not only the way Joseph P. Kennedy made his fortune, but how he forever changed the business of movie-making.
About the Author
Cari Beauchamp is the author of "Without Lying Down: Frances Marion and the Powerful Women of Early Hollywood" and other film histories. She has written for "The New York Times, Vanity Fair, " and "Variety" and lives in Los Angeles, California.
Praise For Joseph P. Kennedy Presents: His Hollywood Years…

"An exceptional work of film scholarship, packed with information no one had uncovered before that reads like a juicy novel."

–Leonard Maltin in Vanity Fair

"Unveiling a trove of newly revealed documents, Cari Beauchamp makes fiduciary details fascinating and Hollywood gossip substantive. Joseph P. Kennedy Presents is an essential guide to understanding the role of this family in American life. . . The intellect, the intuition, the gumption, the gall, the vision, and the restless ambition of the founding father are meticulously documented. . . the narrative moves as fast as any shoot-'em-up."

—Martin F. Nolan, The Boston Globe

"Cari Beauchamp deserves great credit for bringing Joseph P. Kennedy into sharp focus with a wealth of detail, especially about his business dealings, which other biographers have tended to skip over, and his long involvement with Hollywood and the movie business. . . Beauchamp has had access to documents nobody has ever used before. . . This is three books in one, a business story, a lively biography (especially on the subject of Joe Kennedy and Gloria Swanson), and a detailed examination of the movie business from 1926 to 1930. . . For anybody interested in the movie business, this is must reading. . . The end of Beauchamp's book artfully recreates the last years of the old tycoon in a way that still has the power to move, showing just what a strong hold the Kennedy family still has on our imaginations. . . So much has been written about all this that is hard to imagine a new way of seeing it, but thanks to her diligence, Beauchamp has succeeded not only in finding a new way of telling the story, but one which adds to it much we didn't know before. "

—Michael Korda, The Daily Beast

"[Kennedy's Hollywood years] rarely has been documented in such meticulous detail… Up till now no one had written in depth about this aspect of Kennedy's long career. Well-written and researched, Beauchamp's book is a probing examination of the man in the industry during perhaps its most fascinating period."

—Chicago Sun-Times

"Richly detailed. . . a penetrating portrait of [Kennedy] as a movie mogul. . . his remarkable story includes numerous affairs with stars and starlets, famously including Gloria Swanson, which Beauchamp recounts with great confidence and zest. . . An engrossing account of a man many only think they know and of some of the golden years of American filmmaking."

—Booklist, starred

"Cari Beauchamp has dug deep into my mother's files and records and emerged to finally tell the true story of Gloria Swanson's relationship with Joe Kennedy. No one else has ever been as honest or as thorough."

—Michelle Farmer Amon, daughter of Gloria Swanson
 
Advertisement