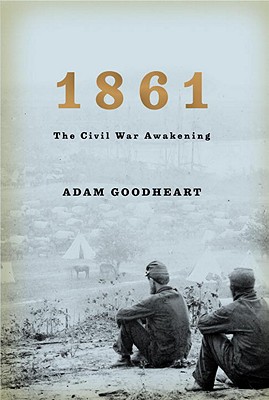 1861
The Civil War Awakening
Hardcover

* Individual store prices may vary.
Other Editions of This Title:
Paperback (2/21/2012)
MP3 CD (9/23/2014)
MP3 CD (10/1/2011)
Compact Disc (10/1/2011)
Compact Disc (2/21/2012)
MP3 CD (10/18/2011)
Compact Disc (10/18/2011)
MP3 CD (10/1/2012)
Description
As the United States marks the 150th anniversary of our defining national drama, 1861 presents a gripping and original account of how the Civil War began.
1861 is an epic of courage and heroism beyond the battlefields. Early in that fateful year, a second American revolution unfolded, inspiring a new generation to reject their parents faith in compromise and appeasement, to do the unthinkable in the name of an ideal. It set Abraham Lincoln on the path to greatness and millions of slaves on the road to freedom.
The book introduces us to a heretofore little-known cast of Civil War heroes among them an acrobatic militia colonel, an explorer's wife, an idealistic band of German immigrants, a regiment of New York City firemen, a community of Virginia slaves, and a young college professor who would one day become president. Adam Goodheart takes us from the corridors of the White House to the slums of Manhattan, from the mouth of the Chesapeake to the deserts of Nevada, from Boston Common to Alcatraz Island, vividly evoking the Union at this moment of ultimate crisis and decision.
Praise For 1861: The Civil War Awakening…
Praise for Adam Goodheart's
1861
 
"Exhilarating.... At once more panoramic and more intimate than most standard accounts, and more inspiring.... Goodheart turns the lens away from the usual stars of the story [and] explores the more obscure corners of antebellum America, introducing fascinating figures who loomed large at the time but have now been mostly forgotten.... [With] a journalist's eye for telling detail with the rigorous research of a good historian...Goodheart gives his far-flung journey narrative tension and suspense.... 1861 creates the uncanny illusion that the reader has stepped into a time machine.... Irresistible."
            —Debby Applegate, New York Times Book Review (cover)
 
"It's as if Picasso and Braque put together an account of the War Between the States. Goodheart is, for want of a better term, a cubist; he takes what is known, breaks it down to its elemental parts and rearranges it, giving us a different view entirely of something we thought we understood entirely.... Hardly a page of this book lacks an insight of importance or a fact that beguiles the reader.... Goodheart shows us that even at 150 years' distance there are new voices, and new stories, to be heard about the Civil War, and that together they can have real meaning.... Goodheart's new history makes a huge contribution to changing how that past looked and, by doing so, explaining it."
            —David M. Shribman, Boston Globe (cover of the book review)

"1861 is the best book I have ever read on the start of the Civil War. Sumter, secession, and Lincoln appear in a wonderfully fresh and illuminating light, supported by a cast of extraordinary players that few Americans know about.  Penetrating, eloquent, and deeply moving, this is a classic introduction to the nation's greatest conflict."
            —Tony Horwitz, winner of the Pulitzer Prize and author of Confederates in the Attic
 
"Combining a master historian's sure command of original sources and a novelist's deft touch with character and narrative, Adam Goodheart has produced the young century's liveliest book about how a generation of remarkable and ordinary Americans alike variously provoked, resisted, and endured the dissolution of their country and the tragic march toward civil war. Major and minor characters, political movements, and whole towns and villages come alive under Goodheart's expert scrutiny. The result is that rarest of history books: a work of remarkable original scholarship crafted into an irresistible read."
           —Harold Holzer, chairman of The Lincoln Bicentennial Foundation and author of Lincoln President-Elect
 
"Adam Goodheart brings to this book a rare combination of talent: passion and precision as a historian, grace and generosity as a writer. 1861 puts us in the young nation that was about to shed its skin and begin life as something new."
            —Richard Ben Cramer, winner of the Pulitzer Prize
 
"No one could capture Whitman's 'hurrying, crashing, sad, distracted year' more vividly than Adam Goodheart has done in this magnificent book.  1861 isn't merely a work of history; it's a time-travel device that makes a century and a half fall away and sets us down, eyes and ears wide open, right in the midst of the chaos and the glory."
            —Anne Fadiman, author of The Spirit Catches You and You Fall Down, winner of the National Book Critics Circle Award
 
"With boundless verve, Adam Goodheart has sketched an uncommonly rich tableau of America on the cusp of the Civil War. The research is impeccable, the cast of little-known characters we are introduced to is thoroughly fascinating, the book is utterly thought-provoking, and the story is luminescent. What a triumph."           
           —Jay Winik, author of New York Times best-sellers April 1865 and The Great Upheaval
 
"Adam Goodheart is a Monet with a pen instead of a paintbrush. Like an impressionist painting, 1861 reveals layers of meaning and beauty as one studies it closely."
            —James McPherson, author of Battle Cry of Freedom
 
"A penetrating look at the crowded moment when the antebellum world began to turn.... Goodheart's sure grasp never falters. Beautifully written and thoroughly original—quite unlike any other Civil War book out there."
            —Kirkus (starred review)
 
"An active narrative with much stylistic vibrancy.... Goodheart's intelligent, literate book captures the emotions and enthusiasms that imbued the start of the Civil War."
            —Gilbert Taylor, Booklist
 
"[With] sophisticated use of a broad spectrum of sources...[Goodheart] reframes the war....shift[ing] focus away from the power centers of Washington and Charleston to look at the actions and reactions of citizens.... An evocative reinterpretation of the Civil War's beginnings."
            —Publisher's Weekly
 
"Marvelous"
            —David Plotz, Slate
 
"Engrossing.... [Goodheart's] coherent and masterfully written narrative....draws connections that might otherwise be missed.... Tension is palpable on every page.... Goodheart is the master of the poignant vignette....Using small incidents Goodheart explores the larger historical context surrounding his figures, and in so doing seamlessly incorporates political, social, economic, cultural, and intellectual history into his narrative.... Greatest contribution lies in his ability to recreate the texture, the sharp detail, of the everyday life and experience of nineteenth-century Americans.... [1861] is an impressive accomplishment, a delightful read, and a valuable contribution that will entertain and challenge popular and professional audiences alike."
            —Michael T. Bernath, Harvard Magazine.
 
"Goodheart's book stands out...for the author's deft narrative style and vivid description.... [With] a fresh angle on the opening year of the conflict...Goodheart conjures a remarkable cast of individual Americans—from slaves and foot soldiers to the occupant of the Oval Office—using their stories to evoke a national watershed."
            —Chris Waddington, The Times-Picayune (New Orleans)
Knopf Publishing Group, 9781400040155, 481pp.
Publication Date: April 5, 2011
About the Author
Adam Goodheart is a historian, journalist, and travel writer. His articles have appeared in National Geographic, Outside, Smithsonian, The Atlantic, and The New York Times Magazine, among others, and he is a regular columnist for The New York Times s acclaimed Civil War blog, Disunion. He lives in Washington, D.C., and on the Eastern Shore of Maryland, where he is the Hodson Trust-Griswold Director of Washington College s C. V. Starr Center for the Study of the American Experience."
Coverage from NPR
or
Not Currently Available for Direct Purchase