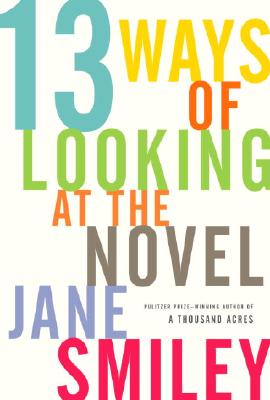 Thirteen Ways of Looking at the Novel
Hardcover

* Individual store prices may vary.
Other Editions of This Title:
Paperback (9/12/2006)
Description
Over an extraordinary twenty-year career, Jane Smiley has written all kinds of novels: mystery, comedy, historical fiction, epic. "Is there anything Jane Smiley cannot do?" raves Time magazine. But in the wake of 9/11, Smiley faltered in her hitherto unflagging impulse to write and decided to approach novels from a different angle: she read one hundred of them, from classics such as the thousand-year-old Tale of Genji to recent fiction by Zadie Smith, Nicholson Baker, and Alice Munro.

Smiley explores–as no novelist has before her–the unparalleled intimacy of reading, why a novel succeeds (or doesn't), and how the novel has changed over time. She describes a novelist as "right on the cusp between someone who knows everything and someone who knows nothing," yet whose "job and ambition is to develop a theory of how it feels to be alive."

In her inimitable style–exuberant, candid, opinionated–Smiley invites us behind the scenes of novel-writing, sharing her own habits and spilling the secrets of her craft. She walks us step-by-step through the publication of her most recent novel, Good Faith, and, in two vital chapters on how to write "a novel of your own," offers priceless advice to aspiring authors. 

Thirteen Ways of Looking at the Novel may amount to a peculiar form of autobiography. We see Smiley reading in bed with a chocolate bar; mulling over plot twists while cooking dinner for her family; even, at the age of twelve, devouring Sherlock Holmes mysteries, which she later realized were among her earliest literary models for plot and character.

And in an exhilarating conclusion, Smiley considers individually the one hundred books she read, from Don Quixote to Lolita to Atonement, presenting her own insights and often controversial opinions. In its scope and gleeful eclecticism, her reading list is one of the most compelling–and surprising–ever assembled.

Engaging, wise, sometimes irreverent, Thirteen Ways is essential reading for anyone who has ever escaped into the pages of a novel or, for that matter, wanted to write one. In Smiley's own words, ones she found herself turning to over the course of her journey: "Read this. I bet you'll like it."
Praise For Thirteen Ways of Looking at the Novel…
"Smiley's unmediated voice–blunt, uncompromising and witty–rings from every page of her engaging meditation Thirteen Ways of Looking at the Novel. A ferocious intelligence and sharp political sensibility are evident in Smiley's fiction, but there her personality is rightly subordinated to the demands of story and character; she is, after all, our foremost contemporary practitioner of the traditional, realistic novel . . . Here, she speaks directly about her beliefs, her emotions and her craft. Casual in tone and idiosyncratic in organization, this study [illuminates] the author's own conception of the novel and how it works . . . Smiley's down-to-earth attitude distinguishes [Thirteen Ways]. She approaches the authors of the [101 novels she discusses] not as timeless geniuses but simply as peers–men and women creating narratives that reflect the issues of their eras. Yet what Smiley keeps coming back to is the fact that those issues, though different in detail, are in essence similar to the ones we grapple with today . . . But if there's one thing she believes, it's that reading fiction broadens our sympathies and stretches our imaginations so we understand that even bad guys have their reasons . . . If all Smiley did was affirm the virtues of empathy and reading in a polarized society increasingly focused on visual stimulation and individual gratification, she would have produced a work that is valuable and thought-provoking–though, perhaps, not a lot of fun. Instead, she inspires wicked delight as she seasons her text with sardonic characterizations and cogent deviations from received wisdom . . . Toward the end of the book, she includes two chapters on writing 'A Novel of Your Own' that are studded with useful information . . . She follows that with 'Good Faith: A Case History,' a fascinating glimpse into the life of a working writer . . . What really lingers [is] this gifted writer's profound faith in 'the power and vitality of that simple and complex object, a long story bound enticingly between the closed covers of a book.'"
–Los Angeles Times Book Review

"Swimming through 1,000 years of novels from all over the globe provides Smiley with enough inspiration and energy to express what she knows and feels and adores about literature . . . Smiley gives us a book that is sometimes a confession, occasionally a diatribe and always a pleasure. [Thirteen Ways] begins as a memoir but becomes an insightful examination of the history and form of the novel. With a mixture of some fabulous research and a vibrant imagination, Smiley traces the development of the novel . . . Smiley is unafraid to be frank [and] she comes up with ideas both unique and awfully smart . . . Reading this one-of-a-kind book may well remind you of sitting in your favorite college course listening to an unforgettable professor forage through a lifetime of adoring novels . . . A massive victory."
–Atlanta Journal-Constitution

"Impressive . . . Among the many things this splendid book accomplishes is to settle the long-standing dispute about whether the novel is dead . . . Not only does Jane Smiley find much solace in the course of contemporary writing, but why would a writer as sensible and intelligent as Smiley devote three years of her life to reading and writing about a moribund art form? . . . . Smiley's opinions are always interesting, but the real strength of the book is her genuine love of the novel, and it is hard to quarrel with her judgment that it remains, despite its many obituaries, a continuing source of power and vitality."
–The Star-Ledger (New Jersey)

"Thorough, insightful . . . With great intellect, and no little enthusiasm, [Smiley] peers into the origin, psychology, morality, art and history of the novel . . . Smiley's [advice to aspiring novelists is] sensitive and practical . . . Her critiques are shrewd, artful and unflinching, much like the book they inspired. For the literati, Smiley's latest is sure to inspire delicious debate; for the more pragmatic reader this book is certain to excite interest in undiscovered works and for authors. Thirteen Ways of Looking at the Novel will elicit empathetic pangs of understanding while also instigating a broader view of the novel as a living, breathing entity . . . There are a rare few novels, and some nonfiction books like [Thirteen Ways] that continue to whisper their profundities long after the last page is turned."
–Rocky Mountain News

"Captivating . . . Smiley clearly knows about novels from the inside out . . . But in the wake of 9/11, Smiley felt her own focus falter [and] decided to do something many readers have promised to do: read 100 novels. [And] she did exactly what every reader might hope Jane Smiley would do. She wrote about it . . . It will come as no revelation to readers that Smiley's entire prose journey [is] every bit as gripping as any novel she's written . . . This is a reader's buffet."
–Santa Cruz Metro

"[Thirteen Ways] is written in a relaxed style that makes the combination of analysis and Smiley's own experience as an author enjoyable to read . . . Interestingly, her selections [of the 100 novels] say as much about Smiley as they do about the novels themselves."
–Library Journal

"I have always believed that the world can be divided into two broad categories; English majors and non-English majors. However, as I was reading (and enjoying) Jane Smiley's Thirteen Ways of Looking at the Novel, it occurred to me that there is a sizable third group that ought to be recognized as well: the über-English majors. It is to this group (and I admit to being one of them) that I most heartily recommend [Thirteen Ways] . . . Über-English majors will embrace this opportunity as they would the chance to reconnect with a favorite professor . . . They will also get a chance to decide whether or not they agree with Smiley's provocative statements about novels . . . There are also two chapters of advice for aspiring novelists–wise and humane counsel that will more than justify the cost of the book for any would-be writers. But perhaps the greatest pleasure offered by this cross between a course syllabus and a love letter to the novel are the pages at the end [which] catalog the 100 novels Smiley read, [including some] entries that will surprise all but the most exhaustive readers. [Thirteen Ways] reminds readers of the novel why they love their avocation."
–Christian Science Monitor

"Astonishing . . . interesting, provocative and insightful in so many ways that it is impossible to name or catalog them all. But at the very least, even the most casual novel-reader is certain to find pleasure in dipping at random into Smiley's 13th and final chapter in which she writes brief, knowledgeable, sometimes funny, often surprising essays on each of the 100 books she read . . . In the other chapters, Smiley explores with compelling energy what a novel is, and who a novelist is. She examines the history, psychology, morality and art of the novel [and] includes two chapters of advice for novel writers. [She] is remarkably perceptive and generous in her views of other writers' work . . . Smiley infuses [the book] with the full range of her sensibilities–her concern for the craftsmanship of the novel, her politics, psychological insight and moral vision, and her aesthetic concerns–the core values, so to speak, of who she is as a writer. [She] offers readers and writers alike a path to liberation, primarily because Smiley believes there is no such thing as the perfect novel . . . More importantly, Smiley thinks that the novel remains central to democratic Western society, 'the opportunity in our bedroom to say, oh, I agree with this. And I don't agree with that.' Remember that the next time someone asks you why you're wasting your time with a novel . . . Brilliant."
–Bookpage


"It hardly seems plausible that the prolific Pulitzer Prize—winning author suffered from a serious writing crisis in the wake of 9/11; yet that is what Smiley candidly reveals. What did she do to remedy the situation? . . . Smiley not only chose the reading cure but also launched a fresh inquiry into the novel's form, history, psychology, morality, and art, and the result is one of the most fluent, illuminating, and enjoyable studies of the novel ever assembled. Smiley dazzles the reader [with] zestful analysis . . . She then enhances her praise of the novel as a conduit for empathy in her pithy interpretations of the 100 novels chosen not because they are the 'best' but because they are intriguing. [She includes] many surprises. Smiley's brilliant and bounteous critical feat and celebration of the novel's humanitarian spirit will kindle new appreciation for the form, and inspire more adventurous reading."
–Booklist (starred)

"Smiley decided to return to the enterprise that got her started as a writer: reading. The result is a book that sets out to investigate the novel itself . . . Her study is methodical and cumulative, producing a wonderful text, opinionated but not argumentative, instructive but not heavily theoretical . . . [In a] section [that] consists of a primer for fledgling novelists, Smiley's years as a writing instructor show; her attitude toward all potential novelists is open-minded and generous, acknowledging the difficulty of the project while providing encouragement to continue . . . Thirteen Ways of Looking at the Novel is a thorough reflection on the art and craft of the novel from one of its best-known contemporary practitioners."
–Publishers Weekly (starred)

"Bracing literary criticism from a practitioner's point of view . . . In the midst of writing a novel she didn't much like, fearing at age 52 that she was running out of inspiration, Smiley decided in 2001 to read 100 novels . . . Naturally, the author's selections and judgments reflect her sensibility and artistic convictions. She's capable of appreciating a modernist classic like Ulysses, but she writes far more enthusiastically about other works, from The Princess of Cleves to Zadie Smith's White Teeth. Whether praising or damning–The Great Gatsby is among the books that get severe though never nasty appraisals–Smiley approaches literature in a refreshingly direct, unpretentious way . . . You never forget in her down-to-earth assessments that novels are written by and about human beings . . . There are funny, apt phrases on every page, and Smiley's analysis of the novel's evolution over a millennium is cogent and convincing . . . [She also] offers a fascinating look at the working writer's life. What ties together [the] text is Smiley's profound love for her chosen genre, an art form she believes is accessible to everyone . . . Stimulating, provocative and unfailingly intelligent–in short, vintage Smiley."
–Kirkus Reviews (starred)

"[Smiley] writes that the novel, contrary to Tom Wolfe's infamous prediction of its demise, is alive and well and still capable of transporting the reader to a sublime state. [Her plan was to] read 100 novels that she had always meant to read or reread . . . But above all, she planned to leave her own artistic worries behind and escape into the pleasurable evocative and enlightening landscape of literature . . . A compelling book that is, at turns, autobiography, literary criticism [and] a kind of primer for aspiring novelists. It has an encouraging tone and argues that any writer possessing a modicum of talent, stamina and a fierce determination can write a novel . . . Ardent."
–Times Union (Albany)
Knopf, 9781400040599, 608pp.
Publication Date: September 13, 2005
or
Not Currently Available for Direct Purchase