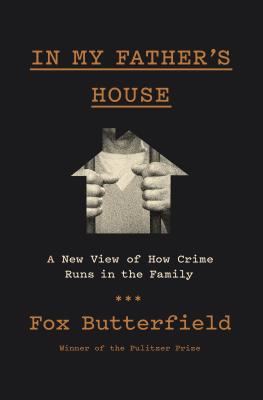 In My Father's House
A New View of How Crime Runs in the Family
Hardcover

* Individual store prices may vary.
Other Editions of This Title:
Digital Audiobook (10/8/2018)
Paperback (9/3/2019)
Description
From the Pulitzer Prize-winning New York Times journalist: a pathbreaking examination of our huge crime and incarceration problem that looks at the influence of the family--specifically one Oregon family with a generations-long legacy of lawlessness.

The United States currently holds the distinction of housing nearly one-quarter of the world's prison population. But our reliance on mass incarceration, Fox Butterfield argues, misses the intractable reality: As few as 5 percent of families account for half of all crime, and only 10 percent account for two-thirds. In introducing us to the Bogle family, the author invites us to understand crime in this eye-opening new light. He chronicles the malignant legacy of criminality passed from parents to children, grandchildren, and even great-grandchildren. Examining the long history of the Bogles, a white family, Butterfield offers a revelatory look at criminality that forces us to disentangle race from our ideas about crime and, in doing so, strikes at the heart of our deepest stereotypes. And he makes clear how these new insights are leading to fundamentally different efforts at reform. With his empathic insight and profound knowledge of criminology, Butterfield offers us both the indelible tale of one family's transgressions and tribulations, and an entirely new way to understand crime in America.
Praise For In My Father's House: A New View of How Crime Runs in the Family…
Named one of The Marshall Project's best criminal justice books of 2018 | Named one of CrimeReads' best crime books of 2018

"[In My Father's House] sometimes unfolds like a novel . . . It's a riveting multiperson topic-specific biography—the characters and context are strongly drawn and the whole creates the feel of drama even though we pretty well know where the story is going—but it's also an intriguing and sometimes disturbing deep dive into some powerful social dilemmas." —Mickey Edwards, Los Angeles Times

"Perversely pleasurable." —The Week 

"Part of the pleasure of the unseemly story Butterfield unspools is its universality . . . The Bogles, Butterfield's subject here, will ring familiar even if you've never personally known anyone like them . . . vivid." —Alice B. Lloyd, The Weekly Standard

"Remarkably informative, inherently fascinating, impressively thoughtful and thought-provoking . . . an extraordinary and engaging read from beginning to end." —Midwest Book Review

"Insightful and moving." —Publishers Weekly (starred review)

"A vivid case study of family values gone wrong . . . This very readable saga of a dysfunctional, close-knit family is also a thoughtful, well-documented criminal genealogy. Recommended for readers of true crime and criminal subcultures." —Library Journal

"A family portrait and a study in big ideas . . . posing difficult questions about mass incarceration, cultural marginality, and persistent communities of lawlessness." —CrimeReads

"Based on an extraordinary research effort . . . An outstanding book of sociology and criminology." —Kirkus

"Fox Butterfield has written a spellbinding book, brilliant and bone-chilling. In My Father's House will change the way we look at what makes a criminal." —Linda Fairstein, author of Deadfall

 "In My Father's House is a critically needed book, at once searing and poignant. Whether conservative or liberal, your assumptions about our criminal justice system will be shaken when you read it. With an academic's research, a journalist's eye for observation, and the fluidity of a novel, Butterfield puts a human face on the statistics and studies. This should be required reading in every sociology class, for every criminal justice student, and in every law school clinic. And every American who cares about a system that is costing us nearly $200 billion annually, and has 2.3 million Americans incarcerated, can't afford not to read it." —Raymond Bonner, author of Anatomy of Injustice 

"Fox Butterfield somehow managed to find the most colorful family of outlaws in recent times, which makes for a very entertaining read. During my 44 years behind bars, I saw ample evidence that criminality runs in some families, though I never met a prisoner who had so glamorous a view of his family's lawless exploits as do the Bogles. There's a lot of valuable information and insight in this book, the most thought-provoking being the observation that taking children to visit their incarcerated relatives normalizes or even romanticizes prison and contributes to 'mass incarceration thus [becoming] a vicious cycle.'" —Wilbert Rideau, author of In the Place of Justice

"I was overwhelmed by In My Father's House. I simply couldn't put the book down. The reporting on a single crime-filled family, generation after generation, is truly remarkable, as is the historical and more contemporary research on crime and families. This is a book not just for criminal justice professionals but for anyone who cares about his or her community and public safety." —Gil Kerlikowske, former Chief of Police, Seattle
Knopf, 9781400041022, 288pp.
Publication Date: October 9, 2018
About the Author
FOX BUTTERFIELD is the author of China: Alive in the Bitter Sea, which won the National Book Award, and All God's Children: The Bosket Family and the American Tradition of Violence. He was a member of the New York Times reporting team that won the Pulitzer Prize for its publication of the Pentagon Papers, and served as a bureau chief for the newspaper in Boston, Saigon, Tokyo, Hong Kong, and Beijing--where he opened the Times bureau in 1979. Most recently he was a national correspondent for the Times, covering crime and violence. He lives in Portland, Oregon.
Coverage from NPR
or
Not Currently Available for Direct Purchase