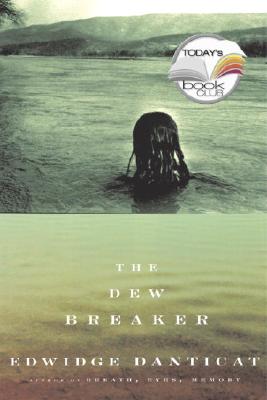 The Dew Breaker
Hardcover

* Individual store prices may vary.
Other Editions of This Title:
Digital Audiobook (2/5/2008)
Paperback (3/8/2005)
Description
From the universally acclaimed author of Breath, Eyes, Memory and Krik? Krak!, a brilliant, deeply moving work of fiction that explores the world of a "dew breaker"—a torturer—a man whose brutal crimes in the country of his birth lie hidden beneath his new American reality.

We meet him late in his life. He is a quiet man, a husband and father, a hardworking barber, a kindly landlord to the men who live in a basement apartment in his home. He is a fixture in his Brooklyn neighborhood, recognizable by the terrifying scar on his face. As the book unfolds, moving seamlessly between Haiti in the 1960s and New York City today, we enter the lives of those around him: his devoted wife and rebellious daughter; his sometimes unsuspecting, sometimes apprehensive neighbors, tenants, and clients. And we meet some of his victims.

In the book's powerful denouement, we return to the Haiti of the dew breaker's past, to his last, desperate act of violence, and to his first encounter with the woman who will offer him a form of redemption—albeit imperfect—that will change him forever.
The Dew Breaker is a book of interconnected lives—a book of love, remorse, and hope; of rebellions both personal and political; of the compromises we often make in order to move beyond the most intimate brushes with history. Unforgettable, deeply resonant, The Dew Breaker proves once more that in Edwidge Danticat we have a major American writer.
Praise For The Dew Breaker…
"A serious-minded work of a mature talent, a searching examination of terror and its lingering aftershocks on generations . . . Gripping . . . Powerful." –John Marshall, Seattle Post-Intelligencer

"[The Dew Breaker] never wavers in placing its attention on individual lives, and as [Danticat] moves from one character to another you feel she is holding their faces up to you . . . [An] accomplished novel." –Jenny Shank, Rocky Mountain News

"[Danticat's] prose is at once stately and riveting, echoing sincere grief for Haiti's plight and capturing the intensity of violent times." –Jeannette J. Lee, Associated Press

"Filled with quiet intensity and elegant, thought-provoking prose . . . An elegiac and powerful novel with a fresh presentation of evil and the healing potential of forgiveness." –Champ Clark, People

"[Danticat's] writing . . . transcends its subject matter in moments of harsh poetry . . . Though Haiti's violent history is rarely far from the surface of Danticat's work, she also celebrates its vibrancy . . . there's an intimacy to [her] writing." –Associated Press

"Perfectly formed chapters written in prose that feels like blood moving slowly through veins . . . Startling." –Joy Press, Village Voice

"With her grace and her imperishable humanity, her devotion to lives lived like 'a pendulum between forgiveness and regret,' [Danticat] . . . makes sadness beautiful." –Daniel Asa Rose, The New York Observer

"The stories relate to one another like beautiful shards of a broken vase . . . Haunting . . . A flawless finale . . . [Danticat] is a master at capturing the inarticulate sorrow and bafflement that evil inspires." –Ron Charles, Christian Science Monitor

"[The Dew Breaker] delivers the pleasures of intricacy . . . Danticat has an emotional imagination capable of evoking empathy for both predator and prey." –Troy Patterson, Entertainment Weekly

"In its varied characters, its descriptive power and its tightly linked images and themes, [The Dew Breaker] is a rewarding and affecting read, rich with insights not just about Haiti but also about the human condition." –Kate Washington, San Francisco Chronicle

"With characteristic lyricism and grace, Danticat probes the painful legacy of [Haiti's past] . . . [She] allows her deft, impressionistic strokes to evoke the many different lives shattered by each act of violence." –Heather Hewett, Philadelphia Inquirer

"Stunning . . . Engrossing for its fine-tuned characterizations and evocative interactions . . . Vivid and memorable . . . Always shifting and always beautiful, the stories maintain a sense of mystery about what lies behind them." –Johnette Rodriguez, The Providence Phoenix

"A compelling portrait of individuals untied against their will, even without their knowledge, by pain, trauma, and loss . . . A collection of perspectives that, together, give a snapshot of a community struggling to get out from under tragedy." –Rick Massimo, Providence Journal

"Danticat's prose . . . is lucid, precise from start to finish . . . A singular vision of what a novel is capable of achieving and the depths to which it can pull us." –Kevin Rabalais, Times-Picayune

"Stunning . . . Beautifully written fiction [that] seamlessly blend[s] the personal and political, [and] asks questions about shame and guilt, forgiveness and redemption, and the legacy of violence . . . haunting." –Bob Minzesheimer, USA Today

"Danticat [is] surely one of contemporary fiction's most sensitive conveyors of hope's bittersweet persistence in the midst of poverty and violence." –Margaria Fichtner, Miami Herald (feature)

"Moving . . . An emotionally rigorous story told with wit and occasional humor by one of our greatest living writers." –Nader Sadre, Gotham

"Danticat writes finely crafted, hauntingly evocative books. [The Dew Breaker] probes the shadows of the Haitian diaspora in all its complexity." –Anderson Tepper, Time Out New York

"Unforgettable . . . Danticat masterfully leads her readers into the everyday lives of Haitian immigrants in Brooklyn and Queens, New York . . . This heart-stirring book teaches us profound truths about the power of the human spirit."–Organic Style

"Breathtaking . . . With terrifying wit and flowered pungency, Edwidge Danticat has managed over the past 10 years to portray the torment of the Haitian people . . . In The Dew Breaker, Danticat has written a Haitian truth: prisoners all, even the jailers." –Richard Eder, New York Times Book Review

"A tangle of history, biography, circumstance and chance forms the emotional backdrop of Edwidge Danticat's luminous new novel, The Dew Breaker . . . A tale of crime and punishment in the great tradition of Dostoevsky." –Glenn McNatt, The Sun

"Violence and politics haunt The Dew Breaker . . . [The dew breaker's] moral ambiguities seem, at times, to be purely psychological, but Haiti's vicious politics are at their core." –New York magazine

"Remarkable . . . Danticat's most persuasive, organic performance yet. As seamless as it is compelling . . . It is a measure of Danticat's fierce, elliptical artistry that she makes the elisions count as much as her piercing, indelible words." –Michiko Kakutani, New York Times
 
"Danticat's gift is to combine both sympathy and clarity in a moral tangle that becomes as tight as a Haitian community. . . Moving." –Pico Iyer, Time
 
"A devastating story of love, delusion, and history . . . Searing." –Elaina Richardson, O magazine
 
"Riveting . . . Like a young Cassandra, gifted with the sight whether she wants it or not . . . Danticat leads her readers into the underworld. It's furnished like home. " –Kai Maristed, Los Angeles Times

"The Dew Breaker is a captivating, eloquent tale told by a nimble storyteller." –Daphne Uviller, Newsday

"[The Dew Breaker tells of] 'men and women whose tremendous agonies fill every blank space in their lives' . . . It also is a vivid document of recent Haitian and Haitian-American history . . . The scenes are memorable, cinematic." –Betsy Willeford, Miami Herald

"[A] mesmerizing tale of redemption and regret."–Essence

"Masterful . . . Danticat's challenging novel draws readers deep into Haiti's dark past, causing us to question our notions of good and evil and the limits of redemption." –Bernadette Adams David, Bookpage

"[Danticat] fuses the beauty and tragedy of her native land, a land her characters want to forget and remember all at once." –Ebony

"Haitian-born Danticat's third novel focuses on the lives affected by a 'dew breaker,' or torturer of Haitian dissidents under Duvalier's regime. Each chapter reveals the titular man from another viewpoint . . . This structure allows Danticat to move easily back and forth in time and place, from 1967 Haiti to present-day Florida, tracking diverse threads within the larger narrative . . . The slow accumulation of details pinpointing the past's effects on the present makes for powerful reading . . . and Danticat is a crafter of subtle, gorgeous sentences and scenes. As the novel circles around the dew breaker, moving toward final episodes in which, as a young man and already dreaming of escape to the U.S., he performs his terrible work, the impact on the reader hauntingly, ineluctably grows." –Publishers Weekly

"[The Dew Breaker] is, most profoundly, about love's healing powers. From its marvelous descriptions of place to the gentle opening up of characters, this is a book that engages the imagination." –Amy Wilentz, Elle

"Compelling and richly imagined . . . The resonant theme of Danticat's beautifully lucid fourth work of fiction is the baffling legacy of violence and the unanswerable questions of exile . . . The book's pivotal, and most riveting, sections portray a man who works for the state as a torturer, or 'dew breaker,' until a catastrophic encounter with a heroic preacher induces him to flee to New York, where his daughter finally learns of his past. Danticat's masterful depiction of the emotional and spiritual reverberations of tyranny and displacement reveals the intricate mesh of relationships that defines every life, and the burden of traumatic inheritances: the crimes and tragedies that one generation barely survives, the next must reconcile." –Booklist (starred)

"[Danticat's] clear and resonant prose moves easily from past to present (and back again) . . . This tour de force will certainly earn Danticat high acclaim . . . Highly recommended." –Library Journal (starred)

"In this third novel from Danticat, the past has a way of intruding on everyday life no matter how all of the characters try to stop it. The dew breaker at the heart of this story is an old man when we first meet him . . . each chapter brings another view of this same man, who escaped his crimes in Haiti to hide out in Brooklyn, and each is related by different people who knew him. The structure, however, isn't one of slowly revealed mystery, an approach that could have cheapened the tale's formidable emotional impact. Even though we learn more and more about the dew breaker as the story progresses–and by the end have been firsthand witnesses to his foul methods–Danticat seems ultimately less interested in him than in those around him, those who speak personally about the suffering he caused. It's a wise choice . . . Danticat's voice is that of a seasoned veteran, her pages wise and saddened, struggling on 'the pendulum between regret and forgiveness.' Searing fiction with the lived-in feel of the best memoir." –Kirkus Reviews (starred)

"Edwidge Danticat is a graceful and engaging writer, always interesting, always entertaining. The Dew Breaker has all those virtues and also, for me, the haunting, resonant quality of myth."

–Tracy Kidder, author of Mountains Beyond Mountains

"The Dew Breaker is a tremendous achievement for Edwidge Danticat; it takes a great artist to transmute such extreme suffering into such extraordinary beauty."

–Madison Smartt Bell, author of All Souls' Rising and Master of the Crossroads

Knopf, 9781400041145, 256pp.
Publication Date: March 9, 2004
About the Author
Edwidge Danticat was born in Haiti and moved to the United States when she was twelve. She is the author of several books, including "Breath, Eyes, Memory, "an Oprah Book Club selection; "Krik? Krak!, "a National Book Award finalist; and "The Farming of Bones, "an American Book Award winner. She is also the editor of "The Butterfly's Way: Voices from the Haitian Dyaspora in the United States" and "The Beacon Best of 2000: Great Writing by Men and Women of All Colors and Cultures."
or
Not Currently Available for Direct Purchase