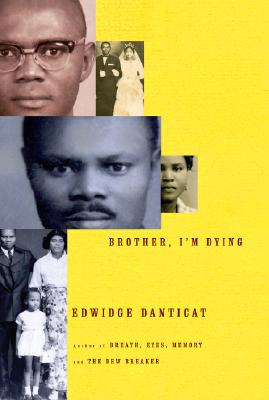 Brother, I'm Dying
Hardcover

* Individual store prices may vary.
Other Editions of This Title:
Digital Audiobook (11/25/2007)
Paperback (9/9/2008)
Compact Disc (9/4/2007)
Description
From the best-selling author of The Dew Breaker, a major work of nonfiction: a powerfully moving family story that centers around the men closest to her heart—her father, Mira, and his older brother, Joseph.

From the age of four, Edwidge Danticat came to think of her uncle Joseph, a charismatic pastor, as her "second father," when she was placed in his care after her parents left Haiti for a better life in America. Listening to his sermons, sharing coconut-flavored ices on their walks through town, roaming through the house that held together many members of a colorful extended family, Edwidge grew profoundly attached to Joseph. He was the man who "knew all the verses for love."

And so she experiences a jumble of emotions when, at twelve, she joins her parents in New York City. She is at last reunited with her two youngest brothers, and with her mother and father, whom she has struggled to remember. But she must also leave behind Joseph and the only home she's ever known.

Edwidge tells of making a new life in a new country while fearing for the safety of those still in Haiti as the political situation deteriorates. But Brother I'm Dying soon becomes a terrifying tale of good people caught up in events beyond their control. Late in 2004, his life threatened by an angry mob, forced to flee his church, the frail, eighty-one-year-old Joseph makes his way to Miami, where he thinks he will be safe. Instead, he is detained by U.S. Customs, held by the Department of Homeland Security, brutally imprisoned, and dead within days. It was a story that made headlines around the world. His brother, Mira, will soon join him in death, but not before he holds hope in his arms: Edwidge's firstborn, who will bear his name—and the family's stories, both joyous and tragic—into the next generation.

Told with tremendous feeling, this is a true-life epic on an intimate scale: a deeply affecting story of home and family—of two men's lives and deaths, and of a daughter's great love for them both.
Praise For Brother, I'm Dying…
"Edwidge Danticat's memoir Brother, I'm Dying is a breathtaking account of love, loss, and Haiti. . . . that captures her admiration for the two men who raised her and [is] a heartbreaking portrait of the hardscrabble life of Haitians, both in the United States and back home."
 
            –Frank Houston, Broward Palm Beach News

"More than just another family immigration; Danticat draws up a balance sheet of what is gained and lost from what seems like such a small decision as where to live and work.  Her skills as a storyteller lend themselves well to this story, her own 'origin myth.'"
 
            –Kel Munger, Sacramento News & Review
 
"[Brother, I'm Dying] ties in the personal and the national into a document of witness, a combination of journalistic and literary roles. . . . As the book opens in 2004, her father is dying in the U.S. of pulmonary fibrosis.  At the same time, life for her relatives in Haiti continues to be perilous, in a more violent and literal way than first-world residents will typically ever experience . . . Danticat's prose is simple, unadorned, perceptive and unsparing.  There is room for compassion in her work but not for pity, strengthening the emotional honesty of her work."
 
            –Luciana Lopez, The Oregonian
 
"[Danticat's] prose is lean and strides confidently between Haiti and America, between flashes of political uprising and the immovable force of bureaucracy. . . . The author's reportorial tone keeps the glaring indignities suffered by her uncle at the end of his life in clear view.  She builds her case like a lawyer who deftly freezes a time line at poignant scenes.  She does not look away."
 
            –Jill Coley, Charleston Post and Courier
 
"Edwidge Danticat recounts [her uncle]'s last days on earth with heartbreaking precision and beloved depth . . . What's startling is that Danticat's precision and depth don't ever ire toward anger at the authorities . . . [Danticat] takes a storyteller's grace and makes of it a memoir as robust and fitting as the life itself. . . . [W]e salute Edwidge Danticat, whose stand against tyranny and untruth shows . . . spirit–and courage."
 
            –John Hood, Miami SunPost
 
"Danticat's memoir follows the uncle who was her 'second father,' Joseph Danticat.  Through his story, she presents another inside view of Haiti, depicting the country's possibilities as well as its tragedies. . . . Eventually, at 81, targeted by local gangs, Joseph must flee to the United States in 2004, here his story takes an infuriating and tragic turn.  Despite his valid visa and passport, U.S. Customs and Border Protection officers detain him and place him in Krome Detention Center . . . Here, Brother, I'm Dying shifts into a moving polemic about discrepancies in U.S. immigration policy.  Joseph's story obviously speaks to the multitude of troubles that have mired Haiti since its independence in 1804.  But the process that reduces an undoubtedly great man to Alien 27041999 has its troubles as well."
 
            –Vikas Turakhia, St. Petersburg Times

"Powerful . . . Edwidge Danticat employs the charms of a storyteller and the authority of a witness to evoke the political forces and personal sacrifices behind her parents' journey to this country and her uncle's decision to stay behind. . . . Danticat interweaves the story of her childhood spent between her two 'papas' with the final months of both men's lives, which happened to coincide with her first pregnancy.  In the process, Brother, I'm Dying . . . illustrates the large shadow cast by political and personal legacies over both the past and the future.  At age 12, Danticat was finally granted a visa to go to the United States.  With great economy, she conveys in a brief scene at the American consulate the complex attraction and revulsion that aspiring immigrants and their adoptive country hold for each other. . . . As le consul stamps the application of Edwidge and her brother, he tells them that they are now free to be with their parents, for better or for worse.  As insensitive as this treatment is, the question drives much of Brother, I'm Dying, and its answer is neither clear nor easy."

            –Bliss Broyard, The Washington Post Book World

"Something magical happens when prize-winning novelist Edwidge Danticat strings words together.  From the most trivial details to breathtaking moments of enormous gravity, Danticat uses words as charms that gently beckon readers into her world and make them sigh, smile, laugh and weep.
            Crafted in Danticat's signature precise, unflinching prose, her latest, Brother I'm Dying, is yet another revelation.  In just three words, the title encompasses the memoir's essence: It's about family and it's about death.  Within those parameters, Danticat unfolds her heart-wrenching, intimate and true stories.
In July 2004, just as she accepts that her father will succumb to pulmonary fibrosis, Danticat learns that she is carrying her first child. . . . Seamlessly, she interweaves inherited stories, folktales and village lore (the chapter titled 'The Angel of Death and Father God' is a stunner).  The result is both testament to a past generation and a gift to the next, especially her then-unborn daughter. . . . While Danticat's previous books have covered some of the worst of atrocities, her prowess as a writer allows her to tell her stories in nuanced, elegant prose.  This memoir is no different.  Through the seemingly effortless grace of Danticat's words, a family's tragedy is transformed into a promise of collective hope."

            –Terry Hong, San Francisco Chronicle

"[Danticat's] ability to render large complex stories in compact format is powerfully evident in her new memoir, Brother, I'm Dying . . . She comes head-on at the painful tale she has to tell, with results that are both eloquent and devastating. . . . Danticat, drawing on her own memories, family reminisces and U.S. government documentation, makes vivid every stage of [her] fractured family history.  In her hands, the distance between experience as it's lived and experience as it's rendered on the page all but disappears.  A sentence as spare and unadorned as 'Wrong was now the norm,' for instance, has a power beyond anything you might expect, simply because of its careful placement in Danticat's flow of recollection.  This is an author who hits her targets with minimum fuss.  Danticat is also an author with a political point to make. . . . The story of [her Uncle] Joseph's death at the hands of a fumbling, unsympathetic bureaucracy is harrowing. . . . If you have any interest in why would-be immigrants risk so much to reach this country, you will have to read Danticat.  And if you already have an interest in Danticat, you will want to read this book."

            –Michael Upchurch, The Seattle Times

"Danticat, a writer of deceptively cool prose, here recalling family tragedies, pitches the emotions just right.  There are no manipulative plays for tears but only measured accounts of horrors: The current [Haitian] regime's bully boys, the Tonton Macoute, forbid her uncle to see his granddaughter; a cousin so terrified by an armed attack that she suffers a fatal heart attack; and immigrant authorities confiscate her uncle's vital medications.  Each is searingly effective. . . . Danticat has written a loving tribute and a sobering reminder of the toll that poverty and turbulent politics exact."

            –Judith Chettle, Richmond Times-Dispatch

"Danticat's beautiful prose reads as though you're sitting at her knee, hearing a favorite story told again.  Warm and inviting, she makes Haiti seem like a second home to the reader.  That's not to say Danticat waxes sentimental.  Full of controlled anger and grief, the author strips her family's history bare."

            –Beth Dugan, Time Out Chicago

"Danticat pieces together the dreams of her father and uncle, devoted brothers living worlds apart, in politically volatile Haiti and in America, the promised land.  With the subtlest understanding of how families can splinter but still cohere, she relives the shock of separation, first when her mother and father emigrated to New York, leaving 4-year-old Edwidge and her brother behind, and again, eight years later, when they took the children back from the aunt and uncle who had become second parents.  With a storyteller's magnetic force, Danticat draws readers to the streets of Haiti, where cutthroat gangs and looters destroyed her uncle's church; to the hellish holding pen where this intensely moral refugee was shamed–like countless others–by U.S. immigration officials; to the hospital room where the brothers acknowledged their mutual heartbreak with resolute grace.  [She] gives voice to an attachment too deep for words."

            –O, The Oprah Magazine

"Remarkable . . . moving . . . A heroic family memoir artfully crafted. . . . Brother, I'm Dying is a portrait of the strength and courage of the Danticat family, whose love for each other allows them to survive and triumph in spite of the immeasurable cruelty unleashed in the political upheavals in Haiti and the sometimes callous response of the Western powers. . . . Brother, I'm Dying already has an impact on the treatment of Haitian immigrants in U.S. detention centers.  An elderly man was released recently from Krome [Detention Center] because of [Danticat's] published newspaper essays about the treatment of her Uncle Joseph.  Danticat is always ahead of time, bearing the pain that is sometimes too unbearable to imagine, but always with a quiet dignity and irrepressible joy in the possibilities for the future." 

–Elizabeth Nunez, Black Issues Book Review (cover)

 "[Brother, I'm Dying] vividly captures how immigration shaped the Haitian-born [Danticat]'s life and writing. . . . She is . . . measured on the page–a remarkable feat given her subject matter."

            –Hephzibah Anderson, Bloomberg News

"A powerful memoir that will be etched on our hearts forever. [Danticat] offers insight into a rough time in Haiti when the government is at its worst and people are being killed in the streets.  We connect to her and her family so closely we begin to feel their pain and want to extend our deepest sympathies.  Though most of these events happened years ago, she captures them as if she has remained in the moment, giving us the most vivid and intricate details to fill our imaginations.  When we read, we become her and go through her life, only to learn that we can conquer even the largest of obstacles."

            –Paula Just, The Chattanooga Pulse

"Danticat is a gifted novelist, and she has a remarkable story to tell that spans three generations.  Brother, I'm Dying gracefully moves in and out of time, mixing past and present experiences.  This is a supple, elegant book that ends with both joy and heartbreak."
           
–Deirdre Donahue, USA Today

"Eight years after her parents emigrated to the United States, 12-year-old Edwidge Danticat left Haiti–and the care of her aunt and uncle–to join them.  But the turbulent and evocative island never left her . . . Now she has written Brother, I'm Dying, a searing family memoir that ricochets from Haiti to Brooklyn, and between Danticat's father and beloved uncle, whose demise in U.S. immigration custody was the book's catalyst."

            –Victoria Lautman, Chicago Magazine

"Graceful  . . .  Danticat's most intimate tale yet, of brotherhood and family amid Haiti's, and the United States', chaotic circumstances. . . . It's as if Danticat offers as a gift the joys that lie beneath what we so easily take as utter turmoil; the sweets her uncle brought her as a child that she savored only after handing them right back for him to savor, the typewriter her distant but astute father gave her at 14, her own child who is born while she's in mourning.  While sorrow and the deep roots of pain and injustice sew up your heart through its pages, Brother, I'm Dying is, in the end, a story of lives hard fought, and ones certainly never taken for granted."

            –Elizabeth Gettelman, Mother Jones

"Instead of writing an airless cliché about death-birth cycles, Ms. Danticat enlivens her father and uncle by gracefully detailing their sagacious attitudes about the nature of parenthood and parental sacrifices, about political commitment and personal responsibility, and about the benefits of fraternity and family.  Geographically and psychologically situated between them, Ms. Danticat memorializ[es] the lives and deaths of her two fathers. . . . a beautiful and devastating testament to their lives."

            –Walton Muyumba, The Dallas Morning News

"Danticat excels in description that makes Haiti come alive . . . Historical events and political figures seep through her book, carrying implicit questions of both Haitian and American actions. . . . Danticat concentrates on the struggles of her family in celebration and as memorial, but her memoir also serves as a 'purposeful rattle.'  It calls out for attention and solution."

            –Susan Grimm, Cleveland Plain Dealer

"Taut, autobiographical and admirably reported, Brother, I'm Dying reminds us of truth's elemental force when unsentimentally and faithfully delivered. . . . If Brother, I'm Dying, does not break your heart, you don't have one.  It is not often that, a day after closing a book, one writes a review interrupted by tears, by lumps in the throat. Such are the aftershocks of the story Danticat tells."

—Carlin Romano, The Philadelphia Inquirer

"The inimitable Edwidge Danticat has a new book out, a poignant memoir of her family's own diaspora between Haiti and the United States. . . . at once an account of one family's generations and a reflection on leaving loved ones behind—a reckoning of the price that is paid by staying, and by leaving."

—BOMB Magazine

"A fascinating memoir that traces the author's family history against the rich, turbulent backdrop of Haiti."

—Chicago Tribune

"This memoir is [Danticat's] most powerful work to date, not just because it is all true, but because it all comes down to an 81-year-old clergyman, arriving in the Greatest Nation on Earth with his passport and tourist visa to see his dying brother, who lost his identity, his dignity and his life because he filled out a form incorrectly." —Kate Callen, San Diego Union-Tribune

"Powerful . . . Danticat's novels have won acclaim for bringing Haiti's rich, tortured history to light; she infuses this tender memoir, a portrait of the two men she called father, with details of the oppression, poverty and violence that forced them, and thousands of others, from their island.  Danticat keeps her outrage below boil so her reportage speaks for itself.  The result is a testament to family bonds so strong they can survive separation, distance, even death. * * * * (Four Stars)" —Sue Corbett, People 

"As with her earlier, award-winning works . . . Elegiac . . . For all the palpable stories throughout this memoir, it is also a story about a family's love, and the profound bond among brothers, parents, and children. Danticat is such an elegant writer, her prose so free of showy flourishes, that her words can seem deceptively simple. She has the confidence to allow the story to tell itself, and find its own place. Emotional, but never mawkish, Brother, I'm Dying is a stellar achievement from a writer whose stunning talents continue to soar and amaze." —Renée Graham, Boston Sunday Globe

"Deeply affecting . . . Danticat brings the lyric language and emotional clarity of her remarkable novel The Dew Breaker to bear on the story of her own family, a story which, like so much of her fiction, embodies the painful legacy of Haiti's violent history, demonstrating the myriad ways in which the public and the private, the political and the personal, intersect in the lives of that country's citizens and exiles. Ms. Danticat not only creates an indelible portrait of her two fathers, her dad and her uncle, but in telling their stories, she gives the reader an intimate sense of the personal consequences of the Haitian diaspora: its impact on parents and children, brothers and sisters, those who stay and those who leave to begin a new life abroad. She has written a fierce, haunting book about exile and loss and family love, and how that love can survive distance and separation, loss and abandonment and somehow endure, undented and robust. . . . Moving." —Michiko Kakutani, The New York Times

"Memoir is a witness which swears to tell the truth. Memoir is the magic of love and remembrance. Magic is Edwidge Danticat who taps on her keyboard to the rhythm of angels."
–Nikki Giovanni

"Wonderful. Danticat's moving tale of two remarkable brothers–her own father and her beloved Uncle Joseph, separated for thirty years–is as compelling and richly told as her fiction. Politically charged and sadly unforgettable, their stories will lodge themselves in your heart."
–Cristina García

"Edwidge Danticat's Brother, I'm Dying will break your heart but put it back together through the healing magic of her clear, compassionate, beautiful writing. Danticat draws us into her family, to share its joys and also its journey to the heart of darkness. But she also shows us the way back: we become brothers and sisters in an even larger family, the human family, bonded together by the power of her storytelling.  This is what the best writing can do.  And why we need storytellers like her more than ever."

–Julia Alvarez

Knopf, 9781400041152, 288pp.
Publication Date: September 4, 2007
or
Not Currently Available for Direct Purchase