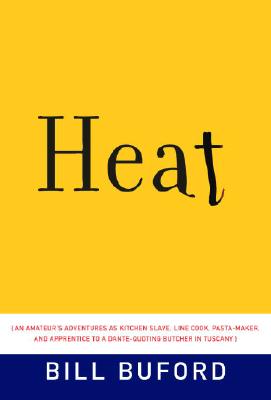 Heat
An Amateur's Adventures as Kitchen Slave, Line Cook, Pasta-Maker, and Apprentice to a Dante-Quoting Butcher in Tuscany
Hardcover

* Individual store prices may vary.
Other Editions of This Title:
Digital Audiobook (6/5/2006)
Digital Audiobook (5/29/2006)
Paperback (6/26/2007)
Paperback (7/1/2007)
Hardcover (7/1/2006)
Description
Bill Buford—author of the highly acclaimed best-selling Among the Thugs—had long thought of himself as a reasonably comfortable cook when in 2002 he finally decided to answer a question that had nagged him every time he prepared a meal: What kind of cook could he be if he worked in a professional kitchen? When the opportunity arose to train in the kitchen of Mario Batali's three-star New York restaurant, Babbo, Buford grabbed it. Heat is the chronicle—sharp, funny, wonderfully exuberant—of his time spent as Batali's "slave" and of his far-flung apprenticeships with culinary masters in Italy.

In a fast-paced, candid narrative, Buford describes the frenetic experience of working in Babbo's kitchen: the trials and errors (and more errors), humiliations and hopes, disappointments and triumphs as he worked his way up the ladder from slave to cook. He talks about his relationships with his kitchen colleagues and with the larger-than-life, hard-living Batali, whose story he learns as their friendship grows through (and sometimes despite) kitchen encounters and after-work all-nighters.

Buford takes us to the restaurant in a remote Appennine village where Batali first apprenticed in Italy and where Buford learns the intricacies of handmade pasta . . . the hill town in Chianti where he is tutored in the art of butchery by Italy's most famous butcher, a man who insists that his meat is an expression of the Italian soul . . . to London, where he is instructed in the preparation of game by Marco Pierre White, one of England's most celebrated (or perhaps notorious) chefs. And throughout, we follow the thread of Buford's fascinating reflections on food as a bearer of culture, on the history and development of a few special dishes (Is the shape of tortellini really based on a woman's navel? And just what is a short rib?), and on the what and why of the foods we eat today.

Heat is a marvelous hybrid: a richly evocative memoir of Buford's kitchen adventure, the story of Batali's amazing rise to culinary (and extra-culinary) fame, a dazzling behind-the-scenes look at the workings of a famous restaurant, and an illuminating exploration of why food matters.

It is a book to delight in—and to savor.
Praise For Heat: An Amateur's Adventures as Kitchen Slave, Line Cook, Pasta-Maker, and Apprentice to a Dante-Quoting Butcher in Tuscany…
"[Buford] carries on the Hemingway tradition in American letters. Men come to know themselves and achieve transcendence through physical suffering . . . Buford develops a superbly detailed picture of life in a top restaurant kitchen and the way professional chefs and their minions operate. It is every bit as revealing as Anthony Bourdain's Kitchen Confidential, with less of the bombast and posturing . . . Buford struck pure gold in the hard-living, frantic, endlessly quotable Batali, [who] is exuberant, conniving, creatively profane and ingenious when it comes to devising new dishes and selling them to the public . . . [Buford] picks up on the intricate sociology of the kitchen and expertly conveys the interplay of ambition, jealousy, dedication and hard-earned craft . . . Heat is a sumptuous meal."–William Grimes, New York Times"Bill Buford has arrived to chew the fat in delightful fashion, skewering conventional cooking wisdom while enjoying (enduring?) several nerve-racking apprenticeships . . . His coach, mentor, and, yes, warden is Mario Batali, a garrulous, demanding man who proves to be a dazzling character. Batali is lively, lewd, and shrewd . . . [Buford] benefits from Batali's bombast as well as his own wry mixture of zeal and self-flagellation . . . As for Heat, its meaty morsels will leave most readers pining for a second helping."–Erik Spanberg, Christian Science Monitor"Buford is used to being cutting edge, but he had to acquire a new set of blades to apprentice himself to master chef Mario Batali . . . His play-by-play descriptions of kitchen culture are marinated in a tangy literary sauce."–O, The Oprah Magazine"Heat boasts excellent writing, colorful rogues and highly amusing scenes . . . Buford is a talented writer and he offers up succulent nuggets that may surprise even veteran foodies and devotees of Italian cuisine."–Richard Vines, Bloomberg"At an age when other men's thoughts might be turning to the golf range, [Buford] signed on to the kitchen range . . . Those familiar with the cuddly public persona of 'Molto Mario,' the modern-day Falstaff of the Food Network . . . will find a more complex figure in Heat. In Mr. Buford's portrait, Mr. Batali is a combustible mix of high-testosterone swagger and outrageous appetites, generous, maniacal, bullying, foulmouthed–part genius and part madman . . . Buford is a graceful, vivid writer, and his descriptions of the characters he meets–and the food he prepares and eats–are a joy to read."–Moira Hodgson, Wall Street Journal"Give thanks [for] Heat, a funny, self-deprecating, insightful book about [Buford's] quest for authenticity, at least the Italian version . . . The depths of cookery's mysteries yield several epiphanies–the ineluctable glories of pasta water, the nature of meat on the hoof, why polenta shouldn't be stirred . . . His compulsively readable story is a reminder and a guide to what eaters should enjoy, hobbyists should aim to better appreciate, and food professionals, miraculously, can accomplish night after night."–Donna Bowman, The Onion"This is a beautiful, infectious book about disappearing into the apparently infinite complexities of Italian food. It's participatory journalism to the point where, if you're at all interested in food, it makes you want to participate, too . . . It's not just food itself, however, that Buford writes about and loves . . . Heat is really a story about people, which is why it's at its best when describing the gossipy dramas and odd personalities in the kitchen at Babbo . . . But what has stayed with me even more than the kitchen soap operas are the quiet revelations Buford discovers as he studies while he chops and cooks and hammers."–Matthew MacAllester, Newsday"Delightful . . . [A] charming, crazy book . . . Buford never directly explains why the chef's life seemed so irresistible to him, but he shows you, page by delicious page, why the whole enterprise is so seductive . . . Buford is a lovely, precise writer about cooking . . . Heat lets readers share [his] adoration for Italian food . . . Show-stopping."–Warren Bass, Washington Post Book World"Funny, passionate, and beautifully written . . . Buford's narrative is a delightful meal of savory flavors. [He] uncovers the richness, history, and small-scale charm of Italian cooking . . . Buford may be a culinary apprentice, but he's a master prose stylist. His descriptions of preparing food, from braised spare ribs to polenta to pasta, are marvelous in their clarity and vivid, sensuous detail. Buford clearly loves food and the people who help him understand it, and this love suffuses every page. Heat is more than just a tasty treat; it's a memorable meal made with passion and served con brio."–Chuck Leddy, Boston Globe"Fiery . . . Buford perfectly captures the backstage intensity of a professional kitchen and the people who run it . . . The Babbo kitchen Buford describes seems at times like an NFL locker room . . . His immersion in this world taught him a good deal and gives him authority far beyond the mere observer or dilettante. He writes in pleasurable detail about polenta, linguine with clams and short ribs (for which he provides a terrific recipe) . . . However uncertain he is of his culinary skills, Buford needn't worry about his exceptional gift of writing words to esteem and savor."–David Takami, Seattle Times"It would be a shame if nonfoodies passed on the book, because its interest extends far beyond the culinary . . . [Buford's] literary persona is a latter-day Candide . . . Heat delivers on its initial promise–we get gossip, we get passion and hilarity, fear and loathing–and then hands us complimentary dessert. With any luck, we won't have to wait fifteen more years for Buford to dazzle us again."–Roger Downey, Seattle Weekly"Heat is Buford's witty, literate and appetizing account of his experience studying under several culinary masters. Buford is the ideal guide for a tour of this gastronomic world. Using a conversational style, a keen reporter's eye, and a good sense of humor and timing, he leads readers on a journey that soon leaves Babbo and travels to England and Italy . . . Buford is not the first person to chronicle life inside a busy Manhattan restaurant . . . But [other] accounts did not include the towering figure of Batali . . . [Buford] knows how to keep the story moving along, and knows when to insert a quip or an incredulous question . . . Entertaining."–Connor Ennis, Associated Press"Buford got to do what every serious amateur chef dreams of . . . Heat teems with hilariously humiliating tales of chopped carrots, skinned lambs tongues and self-immolation . . . Buford's tantalizing descriptions of preparing soppressata and tortellini will make even the culinary-challenged salivate. Mangia!"–Nicki Gostin, Newsweek"Wonderfully thoughtful and personal."–Entertainment Weekly"A food lover's adventure story . . . Buford captures all the rock 'n' roll, playboy attitude of [Batali,] the notorious flame-haired, orange-clogged chef, [and] works his way up to a decent stint as a line cook–brief and hilariously brutal, but flecked with enough brilliant, adrenaline-filled moments to get him hooked . . . Interspersed with his gleeful trials as a clumsy pasta student in an Emilian hill town near Bologna and a blood-soaked butcher's helper in Tuscany, Buford searches for the original egg-pasta recipe and disassembles an entire adult pig in his New York kitchen . . . Overly romantic? Maybe, but delightfully so."–Alison Neumer Lara, Chicago Tribune"A tour de force piece of immersion reportage . . . Deliciously written." –Stephen J. Lyons, Chicago Sun-Times"A marvel, amazing . . . [Buford] gets everyone's story of ambition and heartbreak, including the dishwashers' . . . Wonderful . . . Genuinely lip-smacking–Nicholson Baker's U and I meets meticulous Vogue food writer Jeffrey Steingarten. Don't read it with an empty larder."–Alexandra Jacobs, New York Observer "Exuberant, hilarious, glorying in its rich and arcane subject matter, Heat is Plimpton-esque immersion journalism . . . Batali is only one of the several alpha males Buford renders with relish . . . Fascinating . . . By the end of this full-to-bursting, hugely entertaining and moving book, Buford has progressed from interloper to insider, from amateur to passable professional. He has become an incarnation of treasured culinary arts, thus more physically fulfilled and more fully human . . . With Heat, we have a writer lighting on the subject of a lifetime."–Michelle Huneven, Los Angeles Times Book Review"Not since M.F.K. Fisher's youthful account of dinner in Dijon with her new lover where she recalled every nuanced dish with the same erotic intensity as the lovemaking that was going on simultaneously and unmentioned in her head, have I read such sultry descriptions as Buford's of food . . . Many will enjoy for its own sake Buford's well-told account of his midlife apprenticeship to a famous restaurant in New York, the current world capital of extravagant cuisine. What makes his book unusual within its genre, apart from the quality of its prose, is that he takes more pleasure in watching cooks work than in savoring their dishes . . . In living memory New York has not seen Batali's equal, nor is it likely that such a bubbling ferment of genius, taste, enthusiasm, steely resolve, and Rabelaisian appetite will soon come this way again . . . Self-deprecating as he presents himself in his book, [Buford] is an avid observer and quick to master the essential techniques . . . Readers will be fascinated, as I was, by what Buford learned."–Jason Epstein, New York Review of Books"Soulful . . . [Heat] is part memoir, part biography and part tutorial, and its deftly intertwining narratives include everything from high-end restaurant gossip and kitchen secrets to a passionate homage to the rapidly declining traditions of handmade food. [Buford] started out, he says, as a "tourist" who wanted to learn some basic skills and tell the tale. He does tell it, beautifully, but [now] he is a proud "member" of the kitchen who has been forever changed . . . These first fast-paced chapters read almost like a thriller . . . The plot clips along, but I found myself reading slowly because there is so much information on every page . . . There is something here for everyone. Anyone who enjoys characters will be drawn into the dramas of the Babbo kitchen cast . . . Dinner party cooks will understand the drive toward learning more and the gratification that derives from making other people happy. Those of us in our 40's will certainly understand the allure of re-examining your life and career, not to mention the romance of actually changing it, dramatically. Finally, many of us will also be consumed by jealousy. Heat is a remarkable journey–I only wish I'd thought to make it."–Julia Reed, The New York Times Book Review"Buford's mastery of the stove is exceeded only by his deft handling of English prose."–Booklist"It should come as no surprise that Bill Buford has written a dazzling book. He was legendary as an editor and has metamorphisized into an outstanding writer.         The hellish and–he somehow convinces you–sexy joy of being in a top of the line restaurant kitchen, the insane pressure, physical exhaustion, and unexpressed comradeship, as if in an endless boot camp, is brilliantly described.  You will learn a lot about food, but the book is worth reading for its portraits alone, sometimes in quick slashes, sometimes much more.  Foremost, there is Mario Batali, the celebrity chef of Babbo; Marco Pierre White, the brutal British chef and restaurant owner; an incredible Tuscan butcher named Dario Cecchini and, like a Bruegal, countless others.         Above all, there is the passion of Buford himself who, as a complete amateur, leapt wildly into the life, drenching himself in it for months on end, slaving, working, slowly learning, and this book is his glory."–James Salter, author of Burning the Days"Buford's book starts smartly--he first met dynamic celebrity chef Mario Batali at a dinner party at his own home, where Batali sparkled until 3 a.m.--and continues at a fast clip as he conceived the notion of becoming Batali's "kitchen slave." Buford wanted to profile Batali for the New Yorker but also wanted to learn about cooking; he would be a "journalist-tourist" in the boot camp of a "kitchen genius." His subject became an obsession, and over the next three years, he investigated a rich menu of subjects: what makes a three-star restaurant work; what it takes to be a TV food star; the techniques and history of Italian cooking . . . A wonderfully detailed and highly amusing book."–Publishers Weekly (starred review)"If it's gusto you're after, you've come to the right book. If, like me, you're a wine and food ignoramus, but love the literature, prepare, then, to drool. There are other behind-the-scene-at-restaurant books but none like this where its author, obsessed, shuttles between New York and Tuscany. Bill Buford isn't content to tell us chef stories. He tells us about the one-day sausage-making course he took at New York University — the best college course he ever took in his life. In Italy he masters the art of pig butchery and how Italians eat every part of the pig but the oink. There are chapters on polenta, risotto, pasta in general. (Did you know there's a pasta museum in Rome? Just one of those tasty nuggets you can throw out at your next dinner party.) He doesn't simply show you how to cook risotto. He gives you a history. (If he cooked an egg he'd have to give you the history of eggs all the way back to the Garden of Eden.)  Along the way he introduces us to the wildest cast of characters ever encountered in a book on food: Marco Pierre White, Jeremiah Tower, Mario Batali, Dario Cecchini—a rowdy, randy, bullying, oeniphilic, carnivorous bunch, Mr. Buford not least among them. He, Quixote in the kitchen, has written a book that pulses on every page with passion and high spirits. If you know people who have lost their appetite for food or life itself, give them Heat, and watch them rise from the bed, their cheeks flushed, their bellies agrowl with hunger."–Frank McCourt, author of Angela's Ashes"I have never read a funnier or more authentic account of the making of a serious cook. Give Mr. Buford three stars."–Peter Mayle, author of A Year in Provence"It is no small accomplishment for a "civilian" of Buford's relatively advanced years to survive the rigors of the professional kitchen, much less describe them in such lively and fascinating manner, but the real towering achievement of Heat is that the author, alone among writers, has captured the True Magnificence of Mario Batali–in all his Falstaffian glory–and the mad, driven brilliance of Marco Pierre White. An all-too-rare description of the real business of cooking, its characters and its subculture. I lingered over every sentence like a heavily truffled risotto."–Anthony Bourdain, author of Kitchen Confidential"Bill Buford jumps into the Italian kitchen world of New York and Tuscany as a can-do amateur (and crisp writer) and peels off the lid. What a cast of characters he finds! The descriptions of the food and people are rich, but the passionate tale is bittersweet as we view the lives of the circus performers backstage."–Mireille Guiliano, author of French Women Don't Get Fat
Knopf, 9781400041206, 336pp.
Publication Date: May 30, 2006
About the Author
Bill Buford is a staff writer for "The New Yorker," where he was the fiction editor for eight years. He was the founding editor of "Granta" magazine and was also the publisher of Granta Books. His previous book, "Among the Thugs," is a nonfiction account of crowd violence and British soccer hooliganism. He lives in New York City with his wife, Jessica Green, and their two sons.
or
Not Currently Available for Direct Purchase