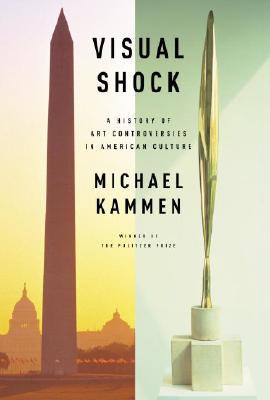 Visual Shock
A History of Art Controversies in American Culture
Hardcover

* Individual store prices may vary.
Description
From the early years of the American Republic to the present, art and architecture have consistently aroused major disputes among artists, critics, scholars, politicians, and ordinary citizens. Now one of our most respected cultural historians chronicles these clamorous debates about the public appropriateness of paintings, sculpture, memorials, and monuments.

Michael Kammen examines the nature, diversity, and persistence of major disputes generated by art and artists and shows what has changed since the 1830s and why. He looks at the role of artists and patrons, local and national governments, conservatives and liberals, and the media in creating and sustaining heated controversies. We see the notable acceleration of such episodes since the 1960s; the effect of the democratization of American museums; the quest for provocative shows to attract crowds; the increased visibility resulting from the public art movement that has stirred anger and created some of our stormiest battles; the desire of many artists and galleries to shock, provoke, and contest, engendering the perplexity, if not outright hostility, of audiences; the use of art as social criticism; the effort to include and appeal to minorities; the threat of litigation and the role of courts; and the commercialization stemming from dependence on corporate sponsorship.

Kammen's central themes include such questions as, What kind of art is most appropriate for a democratic society? What should our relationship be to Old World criteria of excellence in the arts? How can we achieve a distinctively American art? Why have so many controversies hinged upon issues of nudity, decency, and sexuality? Why has public art (most notably sculpture) become so politicized that began in the late 1960s? He explores the "death-of-art" debate since the 1970s and issues of censorship that have arisen over time. Finally, he asks whether art controversies have invariably had a negative effect—noticing the interesting ways in which minds have been changed and museums have overcome difficult episodes. He also reminds us that when New York's Museum of Modern Art celebrated its twenty-fifth anniversary, President Dwight Eisenhower declared "as long as artists are at liberty to feel with high personal intensity, as long as our artists are free to create with sincerity and conviction, there will be healthy controversy and progress in art." Kammen agrees.
Praise For Visual Shock: A History of Art Controversies in American Culture…
"Michael Kammen continues the examination of American taste levels that he began in his superb American Culture, American Tastes. His new book, Visual Shock, treats all the various kinds of art controversy that have shocked Americans; it is deep, richly detailed, and enlightening."
–David Rollow, The Boston Globe

"Characteristically witty, broad-gauged, and immensely informative, Michael Kammen's Visual Shock reminds us just how lengthy, how embedded, and how angry debates about visual art have been in our culture. Invariably absorbing and immensely useful."
—Neil Harris, author of The Artist in American Society

"From monuments, murals, and museums to nudes, abstractions, and political painting, the fine arts of the past two centuries have been fraught with controversy. Michael Kammen's illuminating survey explores the distinctively American aspects of these debates, revealing with clarity what the fuss was all about and why such art battles are a beautiful thing."
—Michele Bogart, author of Artists, Advertising, and the Borders of Art

"The book balances scholarly investigation and insightful analysis in its fascinating discussion of monuments, memorials and American national identity, and in its probing of modernism's threat to American concepts of morality, pluralism and art itself. . . . Kammen's highly informed analysis will prove an invaluable contribution to American cultural history."
—Publisher's Weekly

"This is a prodigiously researched, well–illustrated and very balanced volume. . . . A fine introduction to the many fiery debates about art that have occasionally burst into cultural conflagration."
—Kirkus Reviews

"Over the course of detailing myriad nineteenth and twentieth-century art innovations and controversies, Kammen tells the fascinating story not only of artists overtly politicizing art but also of corresponding social change and backlash."
—Booklist (starred review)
Knopf, 9781400041299, 480pp.
Publication Date: September 26, 2006
or
Not Currently Available for Direct Purchase