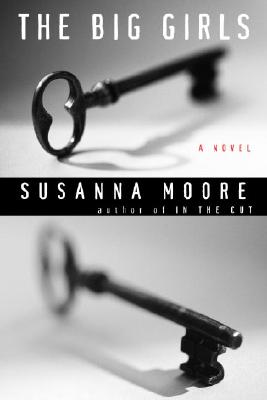 The Big Girls
Hardcover

* Individual store prices may vary.
Other Editions of This Title:
Digital Audiobook (5/31/2007)
Compact Disc (6/1/2007)
Paperback (5/6/2008)
Description
At the heart of this electrifying novel is a crime of unfathomable horror and its effect on several profoundly different lives, each altered by a surprising connection to the others.

We hear four brilliantly realized voices: Helen, an inmate at Sloatsburg women's prison serving a life sentence for the murder of her children; trapped within the maze of her own tortured mind, she is the subject of damning national attention. Dr. Louise Forrest, the recently divorced mother of an eight-year-old boy—the new chief of psychiatry at Sloatsburg. Angie, an ambitious Hollywood starlet, intent on nothing but fame. And Ike Bradshaw, a sardonic corrections officer, formerly a New York City narcotics detective.

As the alternating narratives unfold, we begin to wonder why Dr. Forrest has chosen Sloatsburg over the Park Avenue practice for which she was trained. And the origin of Helen's psychosis is revealed—both its shocking depths and its disturbingly convincing rationale—as well as why she is desperate to make herself known to the young actress Angie.

The Big Girls is a powerful and audacious novel about the anarchy of families, the sometimes destructive power of the maternal instinct, the vitality and evil of communities, and the cult of celebrity—written in spare, evocative prose and with a bold understanding of the darkest, most hidden aspects of human nature.
Praise For The Big Girls…
"The story glides along in short, kaleidoscopic scenes, building momentum through the accretion of exquisite and surprising detail . . . [There is] a devastating climax."
–Hallie Ephron, Boston Globe

"Mesmerizing . . . Helen's narrative is captivating . . . Moore spins an impressive, well-realized collection of voices and experiences, allowing each to be considered and almost clinically analyzed. Yet it is [the psychologist's] compassion for the inmates that humanizes them, and thus so does the novel itself, asking us to imagine if we, too, are capable of doing what they've done."
–Christine Thomas, San Francisco Chronicle

"Moore gradually probes Helen's psychosis to its horrifying origins, while also delivering a nuanced and devastating account of the fights, rapes, and alliances built from necessity that constitute prison life."
–The New Yorker

"Moore creates psychological suspense with deft, practiced restraint. Like classic Hitchcock, her touch is sexy and beguiling and more than occasionally funny . . . It's a testament to Moore's delicate skill that you feel as if [the characters have] each not only artlessly bared their souls, warts and all, but also endeared themselves to you . . . The most chilling thing about The Big Girls [is] what it says about families and the untreatable psychic lesions they can create."
–Rachel Rosenblit, Elle

"The Big Girls wraps suspense in a classy literary package, one you'll want to rip open and consume in one sitting . . . As their lives intertwine, the four characters narrate a gripping story of love and its distortions . . . Moore has given us a powerful chronicle of crime and punishment and the mysterious paths that lead us to redemption."
–Kate Manning, More

"A harrowing, gut-wrenching novel . . . There are scenes that stand right up there with such prison classics as The Shawshank Redemption by Stephen King and Alan Parker's 1978 film, Midnight Express . . . The book's two main characters keep the pages turning by pulling the reader deep into Helen's psyche and the everyday existence of prison life . . . The Big Girls is more than just a heartbreaking drama, it is a glimpse into our nation's failing mental health system and correctional institutions."
–Dave Exum, Boston Herald

"Moore's stunning new novel of prison life illuminates the darkest sides of human nature . . . This novel takes the reader into the darkest corners of the human mind . . . And yet, there is a redemptive quality to the stories these characters tell . . . and the writing is wonderful."
–Ann La Farge, Constant Reader

"Moore is a genius at creating alternate universes . . . To create a world in which an insane child-murderer sounds more sentient than anyone else, to make us believe utterly in that world and still want to keep on reading, is a remarkable feat . . . Hypnotizing."
–Carolyn See, Washington Post Book World

"There are moments in The Big Girls that feel so real, they resonate like great nonfiction . . . Susanna Moore's wicked, dark humor and ripped-from-the-headlines sensibilities make her sixth novel, a series of interlocking, alternating narratives, read more like a collection of pilfered diary entries than a work of conventional fiction. The Big Girls carries a voyeuristic charge, the confessions so intimate you feel embarrassed for looking, but the whip-smart narration makes it impossible to turn away."
–Andrea Simakis, Cleveland Plain Dealer

"[A] superb novel . . . The author rises above sensation by being nervy and ruthless, never picking the easy way when she could be planting thorns, puzzles and harsh wisdom in the reader's path."
–Regina Marler, The New York Observer

"At her best, Moore can be devastatingly accurate about why and how people, particularly highly intelligent women, approach the knife's edge of desire and danger . . . In The Big Girls, she draws together four engrossing and beautifully rendered voices . . . She has a pitch-perfect ear for the vernacular, for moving character detail and for the kind of bloodless savagery that the ravenous appetite for fame produces . . . Moore is quite funny and, particularly in her nuanced portrait of the tragic Helen, she is capable of the sort of empathy that encompasses the full range, for good and ill, of being human."
–Stacey D'Erasmo, New York Times Book Review

"With its startling insights and gorgeous prose, The Big Girls is Moore's best novel yet . . . A devastating portrayal of prison life . . . Moore marvelously captures [its] intricate social hierarchies, and fearlessly examines the criminal-justice system."
–Carmela Ciuraru, Time Out New York

"In the Cut put Moore on the map as the most unflinching, graphically sexual, violent, literary female fiction writer alive . . . [She] has a beautiful way of not gripping her characters too tightly, despite the fact that her novels are carefully constructed. In The Big Girls, this quality manifests itself in the way she weaves the voices without clunky authorial intervention . . . This is a novel about why people do things, the fears and motivations and desires that crowd, pervert and reroute the best-laid plotlines of our lives . . . Susanna Moore writes the way Frida Kahlo painted."
–Susan Salter Reynolds, Los Angeles Times Book Review

"[An] unrelentingly dark multilayered prison drama . . . Compelling."
–Kirkus Reviews

"The author of In the Cut returns to form with this compelling jailhouse drama. The narrative alternates between four points of view, all equally commanding . . . Moore brings electrifying prose and a richly compassionate viewpoint to her meditation on both the dark and the generous impulses at work in all of us."
–Joanne Wilkinson, Booklist (starred)

"In spare yet hypnotic prose, Moore examines the bond between a young psychiatrist and a mentally ill patient in her devastating sixth novel, set at an upstate New York federal women's prison . . . The place epitomizes what's wrong with our nation's prison system and stands as a warning about our growing mental health crisis. Moore deftly shifts perspective among her principal characters as the action hurtles to an oddly satisfying resolution. Reading this heartbreaker is like watching a train wreck while dialing for help on your cellphone. You can't turn away."
–Publishers Weekly (starred)
Knopf, 9781400041909, 240pp.
Publication Date: May 1, 2007
or
Not Currently Available for Direct Purchase