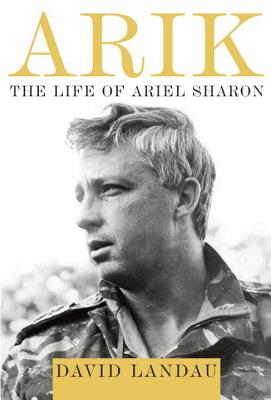 Arik (Hardcover)
The Life of Ariel Sharon
Knopf Publishing Group, 9781400042418, 631pp.
Publication Date: January 10, 2014
Other Editions of This Title:
Compact Disc (6/21/2016)
Paperback (11/11/2014)
* Individual store prices may vary.
Description
From the former editor in chief of Haaretz, the first in-depth, comprehensive biography of Ariel Sharon, the most dramatic and imposing Israeli political and military leader of the last forty years.
The life of Ariel Sharon spans much of modern Israel's history. A commander in the Israeli Army from its inception in 1948, Sharon participated in the 1948 War of Independence, played decisive roles in the 1956 Suez War and the Six-Day War of 1967, and is credited here with the shift in the outcome of the Yom Kippur War of 1973.
After leaving the professional army, Sharon became a political leader and served in numerous governments, most prominently as the defense minister during the 1982 Lebanon War in which he bore personal responsibility, according to the state's commission of inquiry, for massacres of Palestinian civilians by Lebanese militia. As a general and as a politician, he championed the construction of Israeli settlements in the occupied West Bank and Gaza. But as prime minister, he performed a dramatic reversal: orchestrating Israel's unilateral disengagement from the Gaza Strip.
Landau brilliantly chronicles Sharon's surprising about-face, combining the immediacy of firsthand reportage with the analysis and independent insight of a historian's perspective. Sharon suffered a stroke in January 2006 and remains in a persistent vegetative state. This biography recounts the life of the man who is considered by many to be Israel's greatest military leader and political statesman, illustrating how Sharon's leadership transformed Israel, and how his views were shaped by the changing nature of Israeli society.
About the Author
David Landau immigrated to Israel from the United Kingdom as a young man. His career in journalism began in 1970 at The Jerusalem Post, and he joined Haaretz in 1993 as news editor. He founded of Haaretz s English edition and was its editor from 1997 to 2004, and was editor in chief of Haaretz s Hebrew edition until 2008. He is the longtime Israel correspondent for The Economist. Landau collaborated with Israel s president Shimon Peres on Peres memoir, Battling for Peace, and he published, with President Peres, Ben-Gurion: A Political Life. He is also the author of Piety and Power, an account of the increasingly significant role the ultra-orthodox (haredi) play in Israel, the United States, and Europe. Landau graduated with a degree in law from University College London and studied in leading yeshivas in Israel. He is married with children and grandchildren and lives in Jerusalem."
Praise For Arik: The Life of Ariel Sharon…
"A thorough, extremely candid description and assessment of the military and political lives of the controversial Sharon, who has been in a vegetative state since a massive stroke in 2006. The author...displays a deep familiarity with the details and contexts of Sharon's career....[and] is also adept in the descriptions of the labyrinthine political world of Israel during Sharon's era. Splendid reporting, comprehensive research and probing analysis inform this unblinking view of a complicated man and a sanguinary geography." —Kirkus (starred review)

"[Landau's] thorough, balanced, and scrupulously fair biography makes clear why Sharon was capable of winning respect and admiration, even from his staunch political opponents….This is an outstanding, warts-and-all portrait of an arguably great, if not a particularly likable, Israeli leader." —Jay Freeman, Booklist (starred review)

"It is Sharon's wholly surprising journey from ruthless military commander to what Landau calls 'national father figure,' from territory-expanding champion to Palestinian state advocate, that most interests Landau in 'Arik: The Life of Ariel Sharon,' his fine, comprehensive and readable biography. Five years in the making and published just after Sharon's death last month, the book closely chronicles Sharon's epic military and political battles, serving as a kind of national history….Whether or not we understand why he changed, we are given a close look at how and when, including Sharon's sudden use of the word 'occupation' in 2003 to describe Israel's control over the West Bank and Gaza, anathema to his right-wing base at the time. Sharon never really recognized the importance of the Palestinians to Israel's future as much as he accepted the importance of the Americans and their policy requests. He did see, Landau argues, that unless Israel rid itself of rule over millions of Palestinians, it could not survive as a Jewish and democratic state. His willingness to act boldly on that understanding through withdrawal from Gaza, Landau says, is his most significant legacy. Only if it lasts, he concludes, will Zionism be saved." —Ethan Bronner, New York Times Book Review

"Sharon's radical change from virulent hawk to moderate peace seeker is one of the more interesting political changes in recent times. Landau skillfully and engagingly chronicles the how and why of that change and other fascinating details of a life well lived." —Claude R. Marx, Washington Independent Review of Books
 
"[Landau] has done a superb job here in attempting to chisel away the myths that surround Sharon and to isolate his essence without theatrics or ideological fanfare. He allows the research to lead him, and his steadiness and fairness prove a good match for Sharon's impetuousness; ironically it feels as if they each possess strengths the other lacks. The result is a complex and compelling portrait of Sharon that forces the reader to reevaluate his or her preconceived notions….Ariel Sharon's contribution to the Israeli state, as a leader and a military hero, are enormous. But Landau has found a way to make his life comprehensible and thought-provoking, as Israel still struggles to find a path towards peace and stability and internal solidarity." —Elaine Margolin, Jewish Journal

"Sharon lived a life saturated with controversy. Mr. Landau's biography paints a comprehensive picture of Ariel Sharon, a man easy to hate, but harder to understand. Mr. Landau does what good biographers should do, explain the life of his subject, but questioning his subject's motivations every step of the way." —Karl Wolff, New York Journal of Books
 
"'Arik' is a big biography worthy of its subject, an outsized figure in the history of Israel. Sharon led a long, controversial public life that began before Israel became a state and didn't end until he suffered a stroke in 2006. He had an extensive military career before going into politics and becoming defense minister and later prime minister. Every step was marked by controversy, and Landau's book covers all of it and then some." —Jeff Baker, Portland Oregonian
 
"As U.S. Vice President Joe Biden said in his moving eulogy, Ariel Sharon's life mirrored the trajectory of Israel's. David Landau's colorful, insightful, and deftly written biography does justice to the historic sweep….Landau brings considerable analytic gifts to bear in explaining the contradictions and vicissitudes of the complex man who evolved from brilliantly unorthodox but unruly solider, radiating controversy, recalcitrance and naked aggression, to become Israel's sober and grandfatherly 11th prime minister, and who, in so doing, morphed from the bête noire of Landau's own center-left milieu to the standard bearer they believed would have the strength to bear peace….In Landau's view, the two-state battle is not yet over, and Sharon could yet emerge the winner." —Leslie Susser, The Jerusalem Report

"Compiling the life of a man who was a commander, officer, and major general in the Israeli Army in addition to a statesman, party leader, and prime minister in the Israeli government is an intimidating undertaking, particularly when that man, now at age 85, is struggling to stay alive while in the comatose state he's been in since 2006. However, journalist Landau, who previously collaborated with Israeli president Shimon Peres on his memoir, succeeds dutifully in bringing this multifaceted life to the page. With great research and noticeable interest, Landau depicts Ariel Sharon as a man who is more complex than any one of his multitude of titles and the subsequent criticism he endured as a public servant." —Publishers Weekly

"Compelling....Others have written about Sharon, including journalist Uri Dan, a confidante of Sharon ("Ariel Sharon: An Intimate Portrait," 2006); his son Gilad ("Sharon: The Life of a Leader," 2011); and Sharon himself penned a memoir ("Warrior," 1989). But Landau's is the most objective and nuanced book assessing the life." —Sandee Brawarsky, The Jewish Week

"Having interviewed a wide range of people who knew Sharon and offer their opinions of his actions, military and political, Landau presents a veritable Who's Who of Israel over the last several decades. He succeeds in giving the reader a truly human portrait of one of Israel's greatest and most controversial leaders….Very much of interest to anyone concerned with the past, present, and future of modern Israel." —Joel Neuberg, Library Journal

or
Not Currently Available for Direct Purchase