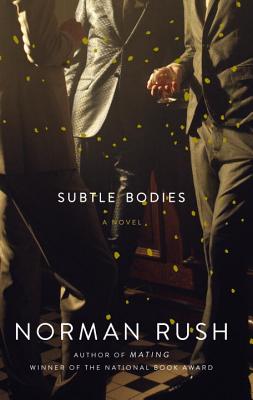 Subtle Bodies
Hardcover

* Individual store prices may vary.
Other Editions of This Title:
Paperback (6/3/2014)
Hardcover, Large Print (2/1/2014)
Description
In his long-awaited new novel, Norman Rush, author of three immensely praisedbooks set in Africa, including the best-selling classic and National Book Award-winner"Mating, " returns home, giving us a sophisticated, often comical, romp through the particular joys and tribulations of marriage, and the dilemmas of friendship, as a group of college friends reunites in upstate New York twenty-some years after graduation.
When Douglas, the ringleader of a clique of self-styled wits of superior sensibility dies suddenly, his four remaining friends are summoned to his luxe estate high in the Catskills to memorialize his life and mourn his passing. Responding to an obscure sense of emergency in the call, Ned, our hero, flies in from San Francisco (where he is the main organizer of a march against the impending Iraq war), pursued instantly by his furious wife, Nina: they re at a critical point in their attempt to get Nina pregnant, and she's ovulating It is Nina who gives us a pointed, irreverent commentary as the friends begin to catch up with one another. She is not above poking fun at some of their past exploits and the things they held dear, and she's particularly hard on the departed Douglas, who she thinks undervalued her Ned. Ned is trying manfully to discern what it was that made this clutch of souls his friends to begin with, before time, sex, work, and the brutal quirks of history shaped them into who they are now and, simultaneously, to guess at what will come next.
"Subtle Bodies" is filled with unexpected, funny, telling apercus, alongside a deeper, moving exploration of the meanings of life. A novel of humor, small pleasures, deep emotions. A novel to enjoy and to ponder.
Praise For Subtle Bodies…
"Rush's exuberant, late-modern style feels as smooth and casual as freshly pressed khakis, but beneath it a sort of parasympathetic network courses with moral ambivalence. . . .  In Subtle Bodies, as in so much of his work, confronting the world returns Rush to his central question: What matters, in the end? That we do what we can is the author's refrain. Even if all we can do—all any two people can do—is form a country of our own, whose flag is love."—Michelle Orange, Book Forum
 
"[Rush] attends so closely to his characters—their thoughts, words, beliefs, relationships—and landscapes—physical, social, political—that he brings them utterly alive, with often-exhilarating aptitude and insight."—Rebecca Steinitz, The Boston Globe
 
"Norman Rush has suddenly become one of America's must-read novelists. He crept up on us, because his two previous novels, Mating and Mortals, were such enormous books that you could easily tell yourself that you'd read them next year. . . . Now Subtle Bodies has arrived, at just 256 dense, colloquial, inviting pages, and you're out of excuses."—Clancy Martin, New York Observer
 
"Rush's defining gift might be his incredible awareness—about politics, about human nature, about the world—which he bestows upon his characters. . . . It makes the reader's lens of the world a little clearer, a little sharper. If you've never read Rush, . . . Subtle Bodies is a more than fine place to begin."—Jill Owens, The Oregonian
 
"By turns, tragic, bittersweet, insightful and laugh-out-loud funny, with its numerous references to pop-culture, radical politics, obscure philosophy, and hysterical monkeyshines of obnoxious college kids: Kraftwerk lyrics one moment, 19th century Russian anarchist the next."—The Frontier Psychologist
 
"Subtle Bodies seems—to paraphrase Virginia Woolf's description of Middlemarch—like one of the few novels written for grown-up people. . . . Rush's characters (the women more than the men) want to fall in love, to laugh and enjoy themselves.   Their quirks, opinions, compulsions, and the cruel or considerate ways in which they treat their rivals and allies are all aspects of the personalities that keep us engrossed—along with the clarity and precision of Rush's sentences, the freshness of his observations, and our awareness that we are reading something quite rare: a remarkably nonjudgmental novel about people who are perpetually and often harshly judging themselves and one another."—Francine Prose, The New York Review of Books
 
"Superbly sustained narrative drollery. . . Rush is the best kind of comic novelist."
—Geoff  Dyer, The New York Times Book Review

"The real story of Subtle Bodies, the element that finally emerges as its center of gravity, is the subject that Mr. Rush has treated in each of his previous novels: marriage. And here, in Ned and Nina, he has given us a portrait of that notoriously elusive thing, a genuinely happy couple. . .  . The book glows with their intimate joy: their private jokes, their sexual teasing, their deep loyalty and mutual concern. . . . Beautifully portrayed."—Adam Kirsch, The Wall Street Journal
 
"A super-up-close study of male friendship (and envy)."—New York Magazine
 
"Norman Rush may be America's last living maximalist author. In two bulky, Africa-set novels, Mating and Mortals, he astutely explored themes of courtship, outsiderdom and herd mentality. Blending romantic lift with the depth of a graduate course in sociology, he's earned every accolade he's received.  At barely half the length of his predecessors, his Subtle Bodies isn't a slighter work. But compressed as it is, Rush's storytelling feels more allegorical, its humor more pointed."—Mark Athitakis, Minneapolis Star Tribune
 
"The biggest and most pleasant surprise of Subtle Bodies is how perfectly the tight canvas suits Rush."—Daniel Pearce, The Los Angeles Review of Books
 
"To a straight woman, the phenomenon of inter-male friendship possesses a certain anthropological interest. . . . So imagine this reader's delight upon hearing that it's this very mystery into which Norman Rush delves in Subtle Bodies, and that—hosanna, as one of his characters puts it—he's given us a female perspective, too."—Jenny Hendrix, The Los Angeles Review of Books
 
"Full of the kinds of perception that skew the world around you and force you to see it differently."—Baynard Woods, Baltimore Sun
 
"Rush's protagonists tend to speak to each other at length, and with formidable intelligence and eloquence, but it's their linguistic inventiveness that is key to Rush's remarkably convincing portrayals of enduring romantic love."—Rachel Arons,  New Yorker.com
 
"Timely.  Beautifully rendered.   Just the kind of novel dedicated novel readers are always searching for."—Ann LaFarge, Hudson Valley News
 
"Rarely does one get from a male novelist a female character as lovingly—but unsentimentally portrayed as Nina. . . . Subtle Bodies is black humor with a female face."—Tom LeClair, The Daily Beast
 
"The book's appeal lies in its complex characters, its slow-burn tension and its keen observations."—Doug Childers, Richmond Post-Dispatch

"Fans of Rush's previous opuses will recognize the witty wordplay and intense, erotic eloquence of the married couple as they muse about their own ethereal--or subtle--selves.  But even the uninitiated will appreciate the brilliance of Rush's clear and comedic characterization that causes this meditation on death and masculinity to crackle with energy and mirth."—Chris Wallace, Interview Magazine
 
"Playfully erotic, hopelessly addictive . . . features a marital reckoning between a wife intent on getting pregnant and a husband who can't decide if he's ambivalent."—Vogue
 
"[Rush's] skill at revealing our interior lives is undiminished [and] his concerns with our carnal and intellectual lives remain pleasurably, provocatively intact."—Kirkus, Starred review
 
"The verbal play and digressions one might expect from Rush, author of the major works Mating and Mortals, but briefer and more accessible. Readers will be immediately drawn into the acutely rendered world swirling around Ned and Nina."—James Coan, Library Journal
Knopf Publishing Group, 9781400042500, 235pp.
Publication Date: September 10, 2013
About the Author
Norman Rush is the author of three previous works of fiction: "Whites," a collection of stories, and two novels, "Mating" and "Mortals." His stories have appeared in "The New Yorker," "The Paris Review," and "Best American Short Stories." "Mating" was the recipient of the National Book Award. Rush and his wife live in Rockland County, New York.
Coverage from NPR
or
Not Currently Available for Direct Purchase