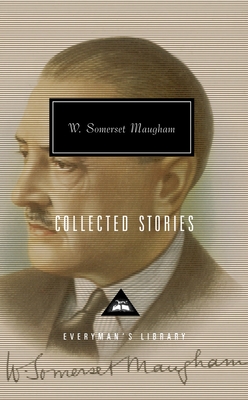 Collected Stories of W. Somerset Maugham
Introduction by Nicholas Shakespeare (Everyman's Library Contemporary Classics Series)
Hardcover

* Individual store prices may vary.
Description
From one of the twentieth century's most enduringly popular fiction writers: the only hardcover edition of his short stories.
Though W. Somerset Maugham was also famous for his novels and plays, it has been argued that in the short story he reached the pinnacle of his art. These expertly told tales, with their addictive plot twists and vividly drawn characters, are both galvanizing as literature and wonderfully entertaining. In the adventures of his alter ego Ashenden, a writer who (like Maugham himself) turned secret agent in World War I, as well as in stories set in such far-flung locales as South Pacific islands and colonial outposts in Southeast Asia, Maugham brings his characters vividly to life, and their humanity is more convincing for the author's merciless exposure of their flaws and failures.
Whether the chasms of misunderstanding he plumbs are those between colonizers and natives, between a missionary and a prostitute, or between a poetry-writing woman and her uncomprehending husband, Maugham brilliantly displays his irony, his wit, and his genius in the art of storytelling.
Praise For Collected Stories of W. Somerset Maugham: Introduction by Nicholas Shakespeare (Everyman's Library Contemporary Classics Series)…
"The short story was Maugham's true métier, and some of the stories he wrote are among the best in the language." –Anthony Burgess

"Maugham has given infinite pleasure and left us a splendour of writing which will remain for as long as the written English word is permitted to exist." –Daily Telegraph

"If all else perish, there will remain a storyteller's world…that is exclusively and forever Maugham, a world of verandah and prahu which we enter as well as we do that of Conan Doyle's Baker Street, and with a happy and eternal homecoming." –Cyril Connolly, The Times (London)

"[Maugham] is as clever a craftsman as the cleverest…He chooses his themes with as quick an eye for tragedy as the most compassionate." –The Observer

"A formidable talent, a formidable sum of talents." –The Spectator
Everyman's Library, 9781400042531, 880pp.
Publication Date: July 6, 2004
About the Author
W. Somerset Maugham was one of the twentieth century's most popular novelists as well as a celebrated playwright, critic, and short story writer. He was born in Paris but grew up in England and served as a secret agent for the British during World War I. He wrote many novels, including the classics Of Human Bondage, Cakes and Ale, Christmas Holiday, The Moon and Sixpence, Theatre, and Up at the Villa.