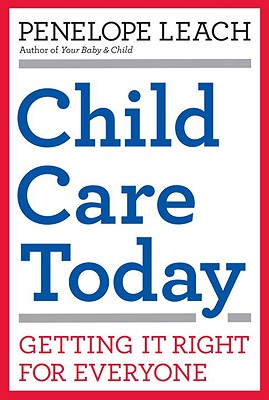 Child Care Today: Getting It Right for Everyone (Hardcover)
Getting It Right for Everyone
Knopf, 9781400042562, 368pp.
Publication Date: January 20, 2009
* Individual store prices may vary.
or
Not Currently Available for Direct Purchase
Description
From the universally admired author of the best-selling classic Your Baby and Child, the first comprehensive—and objective—book on the state of child care in America and the world today. Who is caring for today's children? How well are they succeeding? What does care cost, and who is paying for it? How do parents go about choosing care for their children, and are they satisfied with what they find? Penelope Leach answers these and other urgent questions with facts and figures gathered from the most current research, brought to life by the voices of parents, including those involved in her own five-year study.

Leach sees "work-home balance" as being the major conundrum of the day. She delineates the challenge of fitting children's unchanged needs into society's changing demands and the dilemma of today's parents needing to be in two places at once. She describes in detail the various ways Western countries address that challenge: care given by parents, extended family, and nonfamily; care provided in the child's home, in other homes, and in professional settings; child care funded by paying parents or by the government. Considering the issues from the various viewpoints of politicians, policy makers, professionals, parents, and children themselves, the author discusses the impact of each kind of care on children of different ages.

Leach highlights the urgent need in America today for measures to raise the quality of child care, and to make the best care we can provide available to all families, just as it is (often by government mandate) in most other developed nations. Setting out clearly and candidly what is known about every aspect of child care—including the often hidden feelings and fears of parents—Penelope Leach presents a critical case for building and implementing an agenda for change.
About the Author
Penelope Leach was educated at Cambridge University and at the London School of Economics, where she received her Ph.D. in psychology, after which she studied many aspects of child development and child rearing under the auspices of Britain's Medical Research Council. A Fellow of the British Psychological Society and a founding member of the U.K. branch of the World Association for Infant Mental Health, she works on both sides of the Atlantic in various capacities for organizations concerned with prenatal care and birth, family-friendly working practices, day care, and early years education. She has recently co-directed a major program of research in the United Kingdom into the effects of various forms and combinations of care on children's development from birth to school age. Penelope Leach has two children and six grandchildren and lives in Lewes, England.
Praise For Child Care Today: Getting It Right for Everyone…
"A new study on the best way to take care of kids and how parents in Western nations are currently doing it [from] Penelope Leach, the British psychologist and author of Your Baby and Child, the one book that's always on my bedside table . . . Leach offers counsel for all of us . . . She gives us a better way to think about the [child care] decision . . . Above all, we do best by our children when we think deeply about our choices from their point of view . . . I've stuck with Leach's earlier book through my first 3-1/2 years as a mother because it's both child-centric and sensible. Child Care Today [has] the same combination of kindness and rigor."
–Sara Sklaroff, The Washington Post

"A masterful work by a luminary in the world of child development. If implemented, Leach's findings would revolutionize the way America cares for its young children and bring about a radical improvement in the lives of children and their parents—and in the economic, social, and intellectual well-being of our country."
—Virginia A. Smith, The Boston Globe

"Leach argues that asking whether child care is bad for children is asking the wrong question altogether and that we are guilty of assuming that the answer to bad child care is no child care. . . . Unparalleled in its comprehensiveness, this is highly recommended for academic libraries and should be required reading for those involved in policymaking regarding children and families."
—Library Journal (starred review)


"Will likely become the standard by which all other child-care books are measured. This thoroughly researched, heavily footnoted compendium evaluates the state of child care in the Western world in the context of caring for children (as opposed to rearing children). Though Leach's writing is precise and scientific, she somehow keeps the narrative approachable and interesting. Her plea for looking at child care as an investment rather than an expense (well-raised children make well-adjusted adults, after all) comes through loud and clear and makes perfect sense no matter your political persuasion. There's no doubt Child Care Today will become the bible on the subject. Stock up."
—Booklist (starred review)

"Urging the abandonment of outdated 1950s standards–when most mothers cared for their children at home–Leach blames attitude even more than scanty financial resources for lack of progress. She examines numerous child care options, from au pairs to day care centers, probing the difficult, exhausting decisions that parents face. She also compares and contrasts the child care practices of various countries, noting, for instance, that the U.S. has no mandatory paid maternity leave while in Sweden mothers are offered 480 days with 80% of their monthly wage. Until we embrace children as everyone's responsibility, Leach insists, the 'working/caring conundrum' will continue to plague parents, and society will forgo the high dividends that result when an investment is made in quality child care."
—Publishers Weekly (starred review)

"Child Care Today is an update on the state of child care in the 21st century. In addressing 'the real issues in combining the human essentials of earning and caregiving,' Leach looks at the things that matter. For any mother or father interested in examining their own choices in a global context, this book looks like a must-read."
–Mackenzie Carpenter, Pittsburgh Post-Gazette
Advertisement