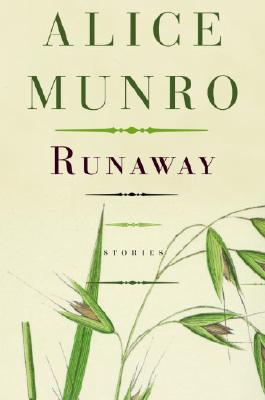 Runaway
Stories
Hardcover

* Individual store prices may vary.
Other Editions of This Title:
Digital Audiobook (7/14/2008)
Paperback (11/8/2005)
MP3 CD (10/1/2014)
Compact Disc (11/1/2004)
Paperback, Chinese (8/30/2007)
Paperback, Chinese (7/1/2009)
Paperback, Vietnamese (4/1/2012)
Paperback (2/1/2006)
Paperback, Korean (12/31/2013)
Compact Disc (12/7/2004)
Description
In Alice Munro's superb new collection, we find stories about women of all ages and circumstances, their lives made palpable by the subtlety and empathy of this incomparable writer.

The runaway of the title story is a young woman who, though she thinks she wants to, is incapable of leaving her husband. In "Passion," a country girl emerging into the larger world via a job in a resort hotel discovers in a single moment of stunning insight the limits and lies of that mysterious emotion. Three stories are about a woman named Juliet–in the first, she escapes from teaching at a girls' school into a wild and irresistible love match; in the second she returns with her child to the home of her parents, whose life and marriage she finally begins to examine; and in the last, her child, caught, she mistakenly thinks, in the grip of a religious cult, vanishes into an unexplained and profound silence. In the final story, "Powers," a young woman with the ability to read the future sets off a chain of events that involves her husband-to-be and a friend in a lifelong pursuit of what such a gift really means, and who really has it.

Throughout this compelling collection, Alice Munro's understanding of the people about whom she writes makes them as vivid as our own neighbors. Here are the infinite betrayals and surprises of love–between men and women, between friends, between parents and children–that are the stuff of all our lives. It is Alice Munro's special gift to make these stories as vivid and real as our own.
Praise For Runaway: Stories…
ONE OF THE NEW YORK TIMES BOOK REVIEW 10 BEST BOOKS OF THE YEAR:
"Her 11th collection of short stories about people, often women living in rural Ontario, whose vivid, unremarkable lives are rendered with almost Tolstoyan resonance."

"In a word, magnificent."
–Kirkus, starred review

"Dazzling...What's astonishing about Munro's work is how simultaneously unsparing and forgiving it is, how willing she is to say things no one else will admit out loud. Munro hasn't mellowed with maturity. She only grows sharper with time."
–Francine Prose, More

"Global, bighearted, and warm...Munro's characters are hopeful and proud as they face both the betrayals and gestures of kindness that animate their relationships. One never knows quite where a Munro story will end, only that it will leave an incandescent trail of psychological insight."
–Publisher's Weekly, starred review

"Haunting...[Munro's] sheer perception and eloquence make her one of the foremost contemporary practitioners of the short story in English...Remarkable."
–Booklist, starred review

"New Munro stories: who could ask for anything more?"
–Library Journal

"A sensitive and deeply insightful writer, Munro renders hauntingly realistic characters with an unflinching eye."
–Elle Magazine Reader's Prize

"Another carefully calibrated collection about [Munro's] favorite themes: unfaithful women, fraying marriages, long-standing deceptions....Simply breathtaking."
–Fort Worth Star Telegram

"[Runaway is] quintessential Munro at top form...Throughout the work Munro captures the defining human struggle to make sense of a capricious or shapeless reality, to reach 'the discovery that leaves everything whole.'"
–Quill & Quire

"The great Alice Munro proves again why short-story writers bow down to her."
–Vanity Fair

"Alice Munro has a strong claim to being the best fiction writer now working in North America....Runaway is a marvel....Runaway is so good that I don't want to talk about it here. Quotation can't do the book justice, and neither can synopsis. The way to do it justice is to read it...Which leaves me with the simple instruction that I began with: Read Munro! Read Munro!"
–Jonathan Franzen, on the cover of The New York Times Book Review

"As with so many of Munro's stories, you read to have your premises altered and deepened. Could anything be better?"
–Michael Frank, Los Angeles Times

"In Alice Munro's hands, the smallest moments contain the central truths of a lifetime."
–Judith Timson, Maclean's

"Munro is routinely called one of the finest living writers. You can turn to any of the eight stories in Runaway and see why...Let's be clear about one thing here: this is a rave."
–Richard Lacayo, People

"[These] eight wonderful stories...seem at first to be about women, but they're about being human–how that condition cradles us, limits us....[Runaway is] a big dish of Beluga caviar, [sailing] in on a sparkling bed of ice, with a mother-of-pearl spoon. You remember: This is why you eat, read, make love, whatever–to be left silly with admiration and delight."
–Carolyn See, The Washington Post

"In Runaway, a new collection of stories by one of the greats of the 20th century, Munro writes again about love–romantic love, sexual love, love between parents and children–and how it changes lives, not always for the better....To Munro, love is always momentous, but never predictable and never without cost."
–Polly Shulman, Newsday

"One after another, these stories, saturated with grieving insight, leave us 'outraged, but warmed from a distance, clear of shame'–with endings that are as satisfyingly appropriate as they are goosebumpingly unforgettable. And that's a consummation devoutly to be wished."
–Daniel Asa Rose, New York Observer

"With a faultless ear for poignant detail, Munro presents ordinary lives that disguise larger dramas. She delves deep into human belonging and exile....Runaway may very well be the synthesizing work of one of literature's keenest investigators into the human soul."
–Maria Fish, USA Today

"Munro's new collection is again filled with small masterpieces illuminating real life... profound in important ways.
–John Marshall, Seattle Post-Intelligencer

"Beautifully written and startlingly real...Her characters are so real that they walk off the page. I had to close the book after each story, letting the experience sink in."
–Ashley Simpson Shires, Rocky Mountain News

"Superlative...[Munro offers] a wealth of telling detail [and] clear cut, no-nonsense language,...focusing on the earth-shattering, quietly."
–Leonard Gill, Memphis Flyer

"Munro is wise in the ways of human emotion, and her stories are so rich…that even a tale of less than 50 pages feels as rounded as a novel."
–Lee Aitken, People, Critic's Choice

"Each of the stories in Runaway contains enough lived life to fill a typical novel, and reading them is to become immersed in the concerns and worlds of their various characters…Her women are heroic. They endure the lives produced by their choices and the fates, and they endure in the mind of the reader."
–David Thoreen, Boston Globe
Knopf, 9781400042814, 352pp.
Publication Date: October 26, 2004
or
Not Currently Available for Direct Purchase