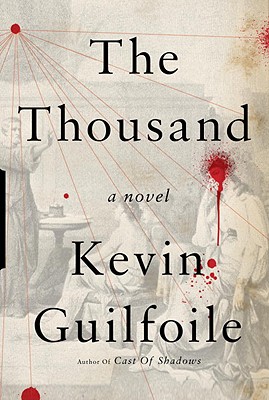 The Thousand
Hardcover

* Individual store prices may vary.
Other Editions of This Title:
MP3 CD (8/24/2010)
Compact Disc (8/24/2010)
Compact Disc (8/24/2010)
Compact Disc (8/24/2010)
MP3 CD (8/24/2010)
Description
Kevin Guilfoile's riveting follow-up to Cast of Shadows ("spellbinding"—Chicago Tribune; "a masterpiece of intelligent plotting"—Salon) centers on an extraordinary young woman's race to find her father's killer and to free herself from the cross fire of a centuries-old civil war in which she has unknowingly become ensnared.

In 530 B.C., a mysterious ship appeared off the rainy shores of Croton, in what is now Italy. After three days the skies finally cleared and a man disembarked to address the curious and frightened crowd that had gathered along the wet sands. He called himself Pythagoras. Exactly what he said that day is unknown, but a thousand men and women abandoned their lives and families to follow him. They became a community. A school. A cult dedicated to the search for a mathematical theory of everything. Although Pythagoras would die years later, following a bloody purge, his disciples would influence Western philosophy, science, and mathematics for all time.

Chicago, the present day. Canada Gold, a girl both gifted and burdened by uncanny mental abilities, is putting her skills to questionable use in the casinos and courthouses of Las Vegas when she finds herself drawn back to the city in which her father, the renowned composer Solomon Gold, was killed while composing his magnum opus. Beautiful, brilliant, troubled, Canada has never heard of the Thousand, a clandestine group of powerful individuals safeguarding and exploiting the secret teachings of Pythagoras. But as she struggles to understand her father's unsolved murder, she finds herself caught in the violence erupting between members of the fractured ancient cult while she is relentlessly pursued by those who want to use her, those who want to kill her, and the one person who wants to save her.

In an irresistibly ambitious novel that fuses historical fact with contemporary suspense, Kevin Guilfoile delivers an erudite, propulsively entertaining thriller that seamlessly traverses the realms of math, science, music, and philosophy. The Thousand is ringing confirmation of Guilfoile's enormous talent.
Praise For The Thousand…
"Guilfoile's fast and furious new thriller… is jet-fueled by its author's unerring sense of character and his nimble, fleet-footed prose." —The New York Times
 
"The Thousand is thrilling, intellectually stimulating, and has some of the most vivid characters in contemporary literature." —Chicago Tribune 
 
"Canada Gold is an emotionally realistic superhero." —Los Angeles Times
 
"A fast-paced thriller about perception, ambition, friendship, family, and the real powers that could rule our world." —The Huffington Post

"A taut suspense thriller about a gifted girl and the ancient cult that wants to use her mental abilities for its own sketchy ends." —Entertainment Weekly 
 
"Takes math team to a new level . . . . Comparisons to The Da Vinci Code are understandable, but The Thousand is less about the secret or the secret society than the dozen characters ensnared by it, characters strung out between the pursuit of power and self-preservation. . . . Humor is not lost in The Thousand, which has the sly repartee of people keeping secrets." —Time Out Chicago
 
"The Thousand, which involves Pythagoras, Mozart's Requiem Mass, and intuitive art, shows Guilfoile's in-depth knowledge of music, mathematics, history, pop culture and philosophy. Set in Chicago and Las Vegas, the new novel has every vivid detail down pat when it comes to the sights, smells and particularly the attitudes of the two cities." —Chicago Sun-Times
 
"Guilfoile has the amazing ability to create perfect order out of what should rightfully be utter chaos. . . . Pitch-perfect. . . . Truly special. . . . He's managed to take heavy-hitting concepts like the relationship between math and magic . . . as well as the moral implications of advanced scientific research and testing and wrap them up in a package as enticing and thrilling as any Hollywood blockbuster; but more intelligent. . . . What The Da Vinci Code wants to be when it grows up . . . and it still won't be close." —Savannah Morning News
 
"The Thousand is a deftly original conspiracy thriller . . . with roller-coaster pacing and cracking good characters. Canada Gold gives Lisbeth Salander a run for haute female warrior of the year." —Winnipeg Free Press
 
"Even when I was otherwise occupied, I could not get The Thousand or its characters out of my mind. All I wanted to do was find a well-lit corner and read this riveting work, which is equal parts courtroom thriller, police procedural and antiquity hunt, with a dose of conspiracy and paranoia thrown in for good measure. And when I did, all else ceased to exist." —Joe Harlaub, Bookreporter.com
 
"Reading The Thousand is . . . a little like riding a roller coaster blindfolded: You can never anticipate the book's next hairpin turn, and it has enough steep drops to keep the adrenaline pumping." —Richmond Times-Dispatch
 
"Guilfoile's intimate prose works well in developing a large cast of characters. . . . Guilfoile also offers a familiar and humorous portrait of the Windy City, mostly through the eyes of a weathered south-side cop who loves his work, his booze, Mr. Beef, and Columbia College coeds half his age." —Chicago Reader
Knopf, 9781400043095, 352pp.
Publication Date: August 24, 2010
About the Author
Kevin Guilfoile has written for "McSweeney's, Salon, The Morning News, "and "The New Republic. "His first novel, "Cast of Shadows, "has been translated""into more than fifteen languages. He lives in Chicago with his wife""and children.
or
Not Currently Available for Direct Purchase