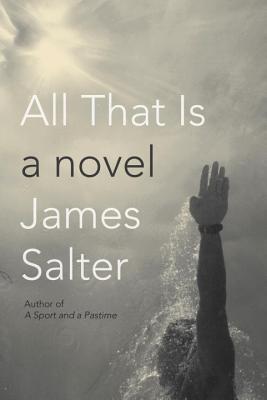 All That Is
Hardcover

* Individual store prices may vary.
Other Editions of This Title:
Digital Audiobook (4/30/2013)
Digital Audiobook (7/31/2013)
Compact Disc (5/1/2013)
MP3 CD (5/1/2013)
Compact Disc (5/1/2013)
Paperback (1/28/2014)
Description
An extraordinary literary event, a major new novel by the PEN/Faulkner winner and acclaimed master: a sweeping, seductive, deeply moving story set in the years after World War II.

From his experiences as a young naval officer in battles off Okinawa, Philip Bowman returns to America and finds a position as a book editor. It is a time when publishing is still largely a private affair—a scattered family of small houses here and in Europe—a time of gatherings in fabled apartments and conversations that continue long into the night. In this world of dinners, deals, and literary careers, Bowman finds that he fits in perfectly. But despite his success, what eludes him is love. His first marriage goes bad, another fails to happen, and finally he meets a woman who enthralls him—before setting him on a course he could never have imagined for himself.

Romantic and haunting, All That Is explores a life unfolding in a world on the brink of change. It is a dazzling, sometimes devastating labyrinth of love and ambition, a fiercely intimate account of the great shocks and grand pleasures of being alive. 

Praise For All That Is…
"Haunting . . . Salter [is] maybe our best (and classiest) erotic novelist. In All That Is, as with much of Salter's work, plot isn't why you turn the page. You do so because you become fully immersed and interested in the lives he describes. The story of Philip Bowman, told in spare and compact language, [is] potent." —Monte Burke, Forbes
 
"Always an autobiographical writer, Salter here verges on the roman à clef; incidents, anecdotes, and people from his past are repurposed into mesmerizing fiction. . . . One feels the intensity of lived experience behind every line of All That Is. The facts may not reflect wie es eigentlich gewesen but the emotions are real, the events personally meaningful. Yet this is art too. Salter and his friends are not just transformed, they are transfigured, made radiant. . . . What makes this all so engaging is, first of all, Salter's gravely serious, precise, and musical prose, the close attention to the diction and rhythms of every phrase and paragraph. Just a word or two and even a minor character springs to life. . . . Second, there is the book's narrative architecture, the pleasing variousness of its scenes, chapters that might almost be short stories. . . . . Third, the book possesses, like virtually all of Salter's work, a Japanese simplicity and purity of line. Nothing goes on too long. No one ever shouts. Hearts break and lives are broken, but Salter's voice remains hushed, confiding, wise. Cheap art distracts, great art consoles. There is, however, a surprisingly strong extraliterary dimension to the book. . . . One can open to any page of Salter and find a striking image. . . . Salter, however, shouldn't be appreciated just for his epigrammatic sentences. The opening chapter of All That Is may well be the best piece of sustained descriptive prose he has ever written. . . . After years of being 'becalmed,' Salter has now rightly come to be regarded as one of the great writers of his generation." —Michael Dirda, The New York Review of Books

"A much-anticipated occasion . . . At 87, Salter is one of the last writers of his generation (he went to high school with William F. Buckley and Jack Kerouac), and All That Is is firmly rooted in midcentury America. There is a gauzy, drifting quality to both Bowman's life and Salter's style. . . . This technique creates an uneasy suspension of gravity and evanescence, a sense of Bowman's life being at once deep and slight. All That Is seems to hint that though Philip Bowman is the protagonist, the book could have just as easily been about any of the other players, that all lives are of the same heft. This is the way of the world, of course. To ourselves, our story is meaningful, even profound. But to the sweep of time and humanity, we are largely incidental. Depending on your perspective, this is either a mere matter of fact or a deeply melancholic notion—and Salter plays it both ways. There are many erotic interludes. In Salter's work, sex is a corporeal ecstasy and an existential salve. Though here, the carnal passages have a palpable sense of an older man's nostalgia for the revelatory possibilities of sexual encounters. . . . As with Salter's other books, All That Is presents such a cogent portrait of restive loneliness that one feels implicated just by reading it, as if one's own life is also subject to his vision. That is, the book feels very true, even if the lives of the characters are quite different from our own." —Brian Thomas Gallagher, The Seattle Times

"Salter's tone combined with the post-World War II setting gives this work the feel of something from an earlier generation. With the ever-changing panorama of New York City and New York publishing as background, Salter addresses time, love, and the mystery and wonder of life itself." —Lawrence Rungren, Library Journal
 
"Salter has been called 'The Master' . . . Bowman possesses an appreciation of his life as a kind of artistic experience unfolding only for him. . . . One of Salter's great gifts is to allow his main characters to disappear gracefully into the universe of his books. Bowman's life, like Salter's, coincides almost perfectly with the rise of American power and the brief, golden era of publishing. All That Is is not only the story of Bowman's life but also of almost every life with which his intersects, several even twice removed. . . . It's in private moments that his prose is most effective at describing what it feels like to be alive. . . . This expansive novel is a worthy summation of his underappreciated writing life." —Nicholas Mancusi, Newsday
 
"Salter [is] epicurean, a catalogist of earthly delights [with] a penchant for doting on details of luxuriousness. . . . He's often subtle, yet well versed in the appreciation of opulent surroundings. Here is an author who is known for lacing a magnanimous amount of detail into a paragraph without the clutter of unnecessary words. There lies a calm presence, a voice that embodies poetry. . . . Salter's brilliant economy of prose in sentences [is] utterly singular." —Sabra Embury, Bookslut
 
"All That Is reads like [Salter's] own particular bird's-eye of the reality he believes in, cherishes, proffers to readers as worthy of transcription from 'dream' to immortality . . . a kind of impressionistic record of Salter's memory—the people, places, emotions, perceptions, and anecdotes that have stuck, and have thus mattered. . . . Dear reader, here is reality, and a record of what has mattered. Fiction (character) and memory (author) dance together elegantly here, with a signature strangeness. . . . In All That Is, there is a compelling and beautiful dance between the foregrounding and backgrounding of characters, lives, narratives." —Sonya Chung, The Millions
 
"Big in its ambitions, episodic in its structure, and written in prose deliberately lacking in 'ecstatic lines,' 'showy' sentences. It's a sad, hopeful work that beautifully evokes the pleasures and disappointments of a life lived in books, relationships, America." —Jonathan Lee, Guernica
 
"A meticulous stylist, the octogenarian [Salter] has a new novel, All That Is: a sexy, bittersweet story set in the New York publishing world after World War II." —Los Angeles Times
 
"It's tempting to view Salter's latest as his ultimate statement on sex, war, art and other big themes that he's chewed over for more than 50 years. The author avoids tidy summation. Like his classics, All That Is sprawls out in a sensuous dream state, framing life as a series of concentrated moments rather than a march toward meaning. . . . As in A Sport and a Pastime, the writer portrays sex—in his luminous, prose-poem style—as a supernatural force: consuming and even destructive, but also wondrous. . . . Here the author constructs a world of fascinating personalities to surround his leading man . . . Salter's brief yet penetrating descriptions of these bit players lend All That Is a panoramic sweep; it chronicles a generation, not just a single life. Without resorting to meaning-of-it-all fuss, the book earns its grand title, reading like a humble keystone in one of the great bodies of work in contemporary American fiction." — Hank Shteamer, Time Out New York

"Intimate, rueful and finely observed. It's also an event: the first novel in 34 years from Salter." —Jesse Dorris, Time
 
"Candidly piercing . . . swiftly acute . . . [a] novel inhabited by an implacable sense of fate. . . . Delicious." —Ron Slate, On the Seawall

"Gorgeous . . . classic Salter: lithe, concrete, varied in rhythm, fluidly descriptive. . . . Salter's masterful prose remains irrefutably engaged with the existential perception of life. . . . Elegantly written." —Holloway McCandless, Shelf Awareness
 
"A crowning achievement. . . . If there were a Mount Rushmore for writers, [Salter] would be there already. . . . With the publication of All That Is, an ambitious departure from his previous work, Salter has demolished any talk of twilight. Moreover, this novel casts the last four decades in a completely new light, not coda but overture. The brilliantly compressed stories in which life is lit by lightning flash, the humane memoir that generously exalts, more than anything, the lineaments of ordinary existence—it's all here, subsumed and assimilated in the service of a work that manages to be both recognizable (no one but Salter could have written it) and yet strikingly original, vigorous proof that this literary lion is still very much on the prowl. . . . Here, as always, this writer so at war with the obvious uncovers radiance in even the most melancholy circumstance, applying to it the same rigor he uses to scrutinize and dismiss any easy, conventional notions about heroism or the honorable life. . . . With his customary knack for scenes and characters chiseled with a stonecutter's economy, Salter constructs Bowman's world out of dozens of glistening miniatures, each bristling with life (actually the artist Salter most closely resembles is Degas, with his icy regard and discerning, sensual eye); and while there is a generous amount of carnality, the sex is always lyrically economical. What redeems Bowman—what gives him grace—are his unstinting capacity for watchfulness, and his embrace of memory as a bulwark against oblivion." —Malcolm Jones, The New York Times Book Review

"Shimmering . . . intoxicating . . . Stands with [Salter's] best work . . . All That Is (beautiful title) . . . is Salter's most ambitious book and, aesthetically, it's hard not to experience it as a summing-up. . . . Few can match Salter's depictions of life's physical pleasures, the sheer sensual delight of being in this world. [Salter's] worldview, which comes as close to Epicureanism as one gets in American fiction, will always prove challenging. No matter. All That Is will last." —Gregory Leon Miller, San Francisco Chronicle

"Salter remains a writer of tremendous ability. The opening chapter, set off Okinawa during the last days of World War II, is an absolute stunner." —Yvonne Zipp, The Christian Science Monitor

"[All That Is] more generally is a shockingly unostentatious [novel], its lack of flashiness is a thing to be savored and contemplated, not condemned. . . . Salter seems destined for the literary eons, a true American artist whose heyday of appreciation will someday come. . . . All That Is is to literature and publishing what Mad Men is to TV and advertising . . . complete with the sex and glamour and unvoiced inequality. Though Hemingway's name frequently crops up alongside Salter's, while the author of All That Is is no less masculine and incisive, he is far gentler, like a more expensive variety of bourbon. His novel has elegant prose [and] a marvelous, ominous lightness. . . . All That Is makes it clear that even its lengthiest episodes sill represent only a minute fraction of all that is: bittersweet surfaces, gentle, quick plunges into the infinite depth of a person, a moment, an era." —Wyatt Miller, GALO Magazine

"Widely considered to be one of the finest prose stylists of his time, Salter's novels, short stories, and memoirs are breathtakingly beautiful—and rare. Like comets and blue moons, a new Salter book is an event. All That Is, his long-awaited sixth novel, explores familiar Salter themes—honor, bravery, love, solitude—but, like all of Salter's work, feels completely fresh and revelatory." —Byliner
 
"James Salter is a brilliant writer . . . a true master of the written word. He's perhaps among the greatest American writers alive today. . . . All That Is tells the story of the life and loves of Philip Bowman, a World War II veteran who spends a career in publishing. But what happens to Bowman—whom he loves, whom he loses—feels less important than the wisdom Salter leaves behind. . . . Lean, spare . . . Intensely beautiful." —Associated Press
 
"Among many writers, and some literary people, [Salter] is venerated for his sentence-making, his observational power, his depictions of sex and valor, and a pair of novels that have more than a puncher's chance at permanence. . . . Salter's style is elliptical. The details and observations accrue in such a way—obliquely, melodiously—that they pull a reader forward in anticipation of the next unexpected leap: a stray object, an odd gesture, a bald declaration, or a rash act. He can be suddenly cruel. The syntax is cool, fine-hewn, rather than self-conscious or pyrotechnic. . . . [Salter] designed [All That Is] as a capstone, and, weary of his reputation as a stylist, tried in his way, to tell it all straight, [finding] absorption in a protagonist with, as he writes, a 'life beyond reckoning, the life that had been opened to him and that he had owned.' . . . You come away from his work wondering if you should have lived more, even if living more, in is work, often leads to ruin." —Nick Paumgarten, The New Yorker
 
"Breathtaking . . . The storytelling montage dazzles, magically marrying breadth and concision. . . . Salter has long been revered as a master whose chiseled sentences contain poetry and truth. . . . Now he has taken on his biggest canvas, following his characters across a half century. . . . Salter's method here is a series of finely wrought miniatures . . . Salter has always been good on the rapture of love and great with honest, tart depictions of sex. He easily shows how lives consumed by passion can alter course in an instant. . . . Salter's real intent is to show how [Bowman's] life gets lived and how others—often by change—interact with it and change it. . . . Vividly sketched . . . With All That Is [he] delivers, with a romantic mosaic of lives led in those decades following the war when everything began to change. And he doesn't let us forget—for even a paragraph—that before they are placed in a mosaic, each piece of tile or glass must be chosen, shaped and polished." —John Barron, Chicago Tribune
 
"Exquisitely written . . . vividly rendered . . . Though an almost exact contemporary of Gass, Roth, Pynchon, and Updike, [Salter] writes like a contemporary of Styron and Mailer, determined to keep the torch of Ernest Hemingway ablaze in American prose (and not in a Raymond Carver or Richard Ford way either). Salter's new novel is an exploration of gender misunderstandings that might have received sympathetic vibrations from Richard Yates. He writes like what he is, a former career soldier confident of the allure of a clean shave to the opposite sex." —Jeff Simon, The Buffalo News (Editor's Choice)
 
"A plaintive, impressionistic look at how we live in time, how little we ever understand about the amorphous shape of our own lives. . . . Salter shares many of Hemingway's preoccupations: war, France, sumptuous food, and sex. . . . . . . A sense of nostalgia pervades the book, for not only youth but for a vanished world when 'people still had family silver' and publishers worked very closely with their authors. . . . [And] he offers a chillingly accurate gloss on literature's increasingly marginal position . . . Magical." —Lisa Zeidner, The Washington Post

"Salter is par excellence the explorer of depths, a diver seeking the hidden, vital wellsprings of our consciousness. . . . [He's] done as much as any American writer to give us the sense of what it actually feels like to be alive and gripped by the fever of existence . . . [through] shimmering episodes of felt life." —Chris Tucker, Dallas News
"Stunning . . . For Salter, writing is a sacred act . . . [He is] one of the finest prose stylists and most enviable American writers of the last half century. In All That Is, long-time fans will find a fitting addition to his canon, his powers still at full force . . . Salter is unparalleled in his ability to capture things like: the joy of beginning a love affair or the sad tawdriness of unwinding one; the satisfaction of finding something that feels right, even if it's not quite what you'd had in mind; and the power of our minds to see things as we'd wish them to be. . . . A preoccupation with time and its passage, with decay, with small decisions that ripple down through decades and alter lives, has been in Salter's work from the start. [Here is] a book, and a man, full of life and vigor . . . incisive, gracious, humble beyond reason, and relentlessly curious." —Tim Sohn, GQ "Read of the Month"

"All That Is [is] the book of 2013—the book of the year, and I read it twice. It's really brilliant, and very exciting." —Maria Semple, Entertainment Weekly Shelf Life
"Salter plunges into the capricious world of book publishing, as WWII vet-turned-editor Philip Bowman navigates literary parties, author egos, and numerous affairs. Think Mad Men with more tweed. . . . The sentence-to-sentence craftsmanship is stunning, and Salter can still write a perfect love scene." —Stephan Lee, Entertainment Weekly
 
"Salter is an American treasure. . . . The way Salter writes sex is singular in contemporary American fiction—it's both steamy and elegant . . . What Salter has going on under the covers makes this truly satisfying. The meandering mini-character sketches. The gorgeous vignettes. And the sentences—again, my God, the sentences! . . . Few things are more delightful in fiction than a great passage about books and the reading life, and Salter's take on it made my heart sing." —Greg Zimmerman and Rebecca Joines Schinksy, Book Riot
 
"A legendary writer . . . There is something about his prose, which blends lushness and classical restraint in the service of a wise, epicurean view of life, that calls me back to it. . . . In an era characterized by sex writing that defaults to irony and comic dysfunction, Salter restores that erotic experience to a kind of exalted, tantric level throughout his books (including this new one) that is simply hot. . . . The title strikes me as a kind of summational claim for the adequacy or the fullness of life as it's lived, as opposed to another world or some metaphysical longing or longing for elsewhere." —Thad Ziolkowski, Interview
 
"Magnificent . . . a major literary event. . . Here there is the pulse of life, the province of hope. Salter, who has the gift of writing sentences that exactly reproduce what we feel and think in the moment we feel and think it, moves beyond that incomparable skill and does something even more difficult: He gives us his heart. For all that, if you have never read Salter, don't start with this book. Work up to it. . . . Sounds like a project? Oh no. Dear friend, I have just handed you a gift beyond price." —Jesse Kornbluth, The Huffington Post
 
"[A] sweeping and lovely book steeped in the high drama of romance. . . .  There is no plot in a conventional sense, but in another way it has the most resonant plot of all: the unspooling of a life. The book reads like a highly intimate biography in which the search for romance—and sex—plays a starring role Some of Bowman's relationships come to brutal ends, but always they begin with seduction, and Salter never stints on bedroom scenes. . . . Salter still has the muscular authority and unembarrassed romanticism that can make a man sweat." —Evan Hughes, GQ.com
 
"Striking . . . seamless . . . beautifully done. The experience of reading [All That Is] is akin to the panoramic view of flying, when aloft and moving fast.  That is Salter's point . . . we drift through life, this novel suggests, without ever really getting to know those around us. . . . Incisive." —Mike Fischer, Milwaukee Journal Sentinel
 
"In [Salter's] care, the dust of the mundane is wiped away. Events resonate. Descriptions sparkle. Salter's mastery is such that from the affecting and effective early scenes of protagonist Philip Bowman's experiences off Okinawa during World War II, through all the twists and turns of a life played out in a rapidly changing America, nothing about this book disappoints. . . . As absorbing as the brief chapters on war are, the author's scenes of seduction re equally realistic and memorable . . . In this book, he has rubbed words to a high sheen indeed." —Stevie Godson, New York Journal of Books
 
"The best novel [I've] read in a long time. . . . All That Is is Salter's version of a contemporary American War and Peace, with the war, World War II, in this instance, coming first. . . .  Bowman's life goads him to rise to the level of Shakespearian revenge. Reading and re-reading all this, I found myself in a state that Salter's work—as with the finest writers we know—often induces. You breathe deeply and your pulse races. The sentences, the scenes, the life, the life." —Alan Cheuse, NPR "All Things Considered"
 
"Salter's writing is muscular, clear, accessible. . . With his fantastic new novel [he is] clearly at the top of his game. . . . All That Is contains a brilliant indictment of love, even as it revels in its sensual transports.  Its hero, Philip Bowman . . . brings to the novel a rich, odd perspective, as if he is watching life down here from a very distant planet. He pins down the delusions of pressing human attachments, and examines how these attachments can be so urgent and so seemingly singular and so fleeting.  It is perhaps not an accident that Salter would publish this very beautiful book at the age of 88. He senses the end in beginnings, applies the acquired wisdom of years, and the terrifying perspective of accumulated experiences, to the ordinary goings on the heart. . . . It is this sense of being outside of one's own life, one's own loves, of experiencing or remembering an entire marriage or relationship as 'things glimpsed from a train' that gives Salter's work both its depth and its difficulty, its alarming insight and its grace. It's this that should make him, finally, what he truly is: a reader's writer." —Katie Roiphe, Slate.com
 
"Exquisite. In widely admired novels, Salter's great subject has been the often highly charged relations between men and women. His new novel, All That Is, revisits that subject in a mature, unsentimental story of one man's restless search for love. That Salter is still producing work this appealing only two years from his 90th birthday makes it an even more impressive achievement. . . . Whether his setting is the Virginia horse country, a stylish dinner party in London or a Seville café, Salter writes with authority. And in painting those scenes, he captures the angst of the privileged classes who seem to have all anyone could desire, and yet long for something that lies just out of reach. Salter has long been lauded for his effortlessly beautiful prose and his deft characterization. Those talents are undiminished." —Harvey Freedenberg, Minneapolis Star Tribune
 
"In All That Is, the sense of time passing is ever-present. It's a panoramic book, an intimate epic that spans seven decades in the life of Philip Bowman . . . [The] more linear chronology [is] one in which time has a fluid, Proustian way of sneaking up on you . . . All That Is abounds with Salter's signature vivid imagery. . . . And once again, there are unabashedly erotic scenes that border on the operatic—passages that may come as an outright shock to some . . . Salter [is] looking like the last exponent of a particular strain of 20th-century American fiction, deeply informed by the aspirations of postwar America; consumed by the triumphs and failings of middle-class life; navigating the tidal shift into postmodernism. . . . In his long and varied life, Salter has always been—perhaps this is the natural disposition of all great writers—something of an outsider: a Jew at West Point, a cult enthusiasm in the company of best-sellers, a New Yorker on the periphery of the Hollywood inner circle. But now he stands poised for a victory lap." —Scott Foundas, The Village Voice
 
"[Salter] is a master of the sentence so vivid [that] it stuns. His sweeping new All That Is will refresh the canon of one of America's best living writers." —Chelsea Allison, Vogue.com
 
"Salter is one of the most celebrated living American writers, and after a seven-year hiatus he returns with possibly his best work yet." —Steph Opitz, Marie Claire
 
"Highly decorated literary hero James Salter burnishes his reputation with All That Is." —Elissa Schappell, Vanity Fair "Hot Type"
 
"A masterpiece . . . I have learned from everything James Salter has written. In [him] I discovered not only an exquisite writer but a manner of living, found solace in the same way I imagined his characters [did]: Pay close enough attention to silver light on the ocean, to making love, to food, and all the rest is worth the trouble. In fact, these things are all we have. Salter is a writer for whom engagement with the physical world provides relief from life's inherent sadness, disappointment and terror. Sex and food, sunlight and sea are all powerful contrasts to isolation, loneliness and the rapid passage of time, which is nearly audible in his fiction. No matter the horrors his characters endure—the sudden or gradual losses, the betrayals, the violence—there are always moments of ecstatic physical engagement, when time and memory seem to vanish, when there is nothing but the immediate and sacred present. . . [In] All That Is, he demonstrates the revelatory power of the physical experience, a counterpoint to pain. . . . If we have lived with the grace and passion of Salter, we are left looking out at the world—standing at a window, the way Bowman does, filled with 'deep nostalgia,' watching the snow fall over a place we love. And here, looking back on a life nearly ended, we maintain the intense desire to continue living, to stay longer, to keep swimming, and if we are fortunate, we are shaken and we are exultant, and we have what is recorded in novels, in short stories, in essays. For otherwise, everything will have been a dream." —Alexander Maksik, Departures
 
"For decades, Salter has been an artistic standard-bearer. . . . Resonant passages bloom, including the one that captures the book's subdued spirit: 'The landscape was beautiful but passive. The emptiness of things rose like the sound of a choir making the sky bluer and more vast.'" —Donna Seaman, Booklist
 
"Achingly real . . . Salter renders the first blushes of Bowman's loves exquisitely—their giddiness, occasional illicitness, eroticism—and his bewilderment after the relationships fail. . . . Salter punctuates his elegant prose with sharp, erotic punches." —Publishers Weekly
 
"The best novel I've read in years. All That Is will be treasured by its readers. Salter's vivid, lucid prose does exquisite justice to his subject—the relentless struggle to make good on our own humanity. Once again he has delivered to us a novel of the highest artistry." —Tim O'Brien
 
"A consistently elegant and enjoyable novel, full of verve and wisdom." —Julian Barnes
 
"Enthralling . . . A vividly imagined and beautifully written evocation of a postwar world." —John Banville
 
"A beautiful novel, with sufficient love, heartbreak, vengeance, identity confusion, longing, and euphoria of language to have satisfied Shakespeare." —John Irving
 
"This masterpiece is a smooth, absorbing narrative studded with bright particulars. If God is in the details, this book is divine." —Edmund White
Knopf Publishing Group, 9781400043132, 304pp.
Publication Date: April 2, 2013
About the Author
James Salter is the author of numerous books, including the novels "Solo Faces, Light Years, A Sport and a Pastime, The Arm of Flesh "(revised as "Cassada"), and "The Hunters; "the memoirs "Gods of Tin "and "Burning the Days; "the collections "Dusk and Other Stories, "which won the 1989 PEN/Faulkner Award, and "Last Night," which earned him the Rea Award for the Short Story and the PEN/Malamud Award; and "Life Is Meals: A Food Lover's Book of Days, "written with Kay Salter. He lives in New York and Colorado.
Coverage from NPR
or
Not Currently Available for Direct Purchase