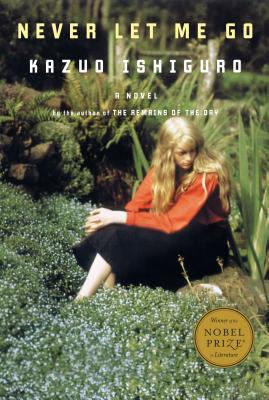 Never Let Me Go (Hardcover)
Knopf, 9781400043392, 304pp.
Publication Date: April 5, 2005
Other Editions of This Title:
Digital Audiobook (4/11/2005)
Paperback (3/14/2006)
Prebound (3/14/2006)
Compact Disc (4/12/2005)
Compact Disc (8/31/2010)
Paperback, Spanish (9/28/2010)
Paperback (8/31/2010)
Hardcover, Chinese (6/1/2018)
Paperback (10/1/2010)
Paperback (12/1/2011)
* Individual store prices may vary.
Description
From the acclaimed author of The Remains of the Day and When We Were Orphans, a moving new novel that subtly reimagines our world and time in a haunting story of friendship and love.

As a child, Kathy–now thirty-one years old–lived at Hailsham, a private school in the scenic English countryside where the children were sheltered from the outside world, brought up to believe that they were special and that their well-being was crucial not only for themselves but for the society they would eventually enter. Kathy had long ago put this idyllic past behind her, but when two of her Hailsham friends come back into her life, she stops resisting the pull of memory.

And so, as her friendship with Ruth is rekindled, and as the feelings that long ago fueled her adolescent crush on Tommy begin to deepen into love, Kathy recalls their years at Hailsham. She describes happy scenes of boys and girls growing up together, unperturbed–even comforted–by their isolation. But she describes other scenes as well: of discord and misunderstanding that hint at a dark secret behind Hailsham's nurturing facade. With the dawning clarity of hindsight, the three friends are compelled to face the truth about their childhood–and about their lives now.

A tale of deceptive simplicity, Never Let Me Go slowly reveals an extraordinary emotional depth and resonance–and takes its place among Kazuo Ishiguro's finest work.
About the Author
Kazuo Ishiguro is the author of five previous novels, including The Remains of the Day, which won the Booker Prize and became an international best seller. His work has been translated into twenty-eight languages. In 1995 he received an Order of the British Empire for service to literature, and in 1998 was named a Chevalier de l'Ordre des Arts et des Lettres by the French government. He lives in London with his wife and daughter.
Praise For Never Let Me Go…
A Globe and Mail Best Book (Top 100)
A New York Times Notable Book (Top 100)
One of Publishers Weekly's Top Ten Best Books of 2005
One of Seattle Times' Top Ten Best Books of 2005
Finalist in the National Book Critic Circle Award
A TIME Best Book
One of TIME's 100 Best Novels (from 1923 to the Present)
Shortlisted for Page Turners, BBC One's new book club

"A clear frontrunner to be the year's most extraordinary novel."
—The Times (UK)

"So exquisitely observed that even the most workaday objects and interactions are infused with a luminous, humming otherworldliness. . . . An epic ethical horror story, told in devastatingly poignant miniature. . . . Ishiguro spins a stinging cautionary tale of science outpacing ethics."
—Publishers Weekly (starred review)

"Perfect pacing and infinite subtlety. . . . That this stunningly brilliant fiction echoes Caryl Churchill's superb play A Number and Margaret Atwood' s celebrated dystopian novels in no way diminishes its originality and power. A masterpiece of craftsmanship that offers an unparalleled emotional experience. Send a copy to the Swedish Academy."
—Kirkus Reviews (starred review)

"Elegiac, compelling, otherworldly, deeply disturbing and profoundly moving."
—Sunday Herald (UK)

"Brilliant . . . Ishiguro' s most profound statement of the endurance of human relationships. . . . The most exact and affecting of his books to date."
—The Guardian (UK)

"Ishiguro's elegant prose and masterly ways with characterization make for a lovely tale of memory, self-understanding, and love."
—Library Journal (starred review)

"Ishiguro's provocative subject matter and taut, potent prose have earned him multiple literary decorations, including the French government's Chevalier dans l'Ordre des Arts et des Lettres and an Order of the British Empire for service to literature…. In this luminous offering, he nimbly navigates the landscape of emotion — the inevitable link between present and past and the fine line between compassion and cruelty, pleasure and pain."
—Booklist

Praise for Kazuo Ishiguro:
"His books are Zen gardens with no flowery metaphors, no wild, untamed weeds threatening — or allowed — to overrun the plot."
—The Globe and Mail

"A writer of Ishiguro's intelligence, sensitivity and stylistic brilliance obviously offers rewards."
—The Gazette (Montreal)

"Kazuo Ishiguro distinguishes himself as one of our most eloquent poets of loss."
—Joyce Carol Oates, TLS

"Ishiguro is a stylist like no other, a writer who knows that the truth is often unspoken."
—Maclean's

"One of the finest prose stylists of our time."
—Michael Ondaatje

"Ishiguro shows immense tenderness for his characters, however absurd or deluded they may be."
—The Guardian

"[Ishiguro is] an original and remarkable genius."
—The New York Times Book Review
or
Not Currently Available for Direct Purchase