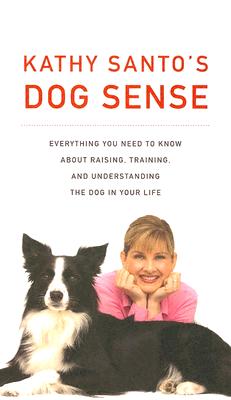 Kathy Santo's Dog Sense (Hardcover)
Alfred A. Knopf, 9781400043439, 225pp.
Publication Date: April 26, 2005
* Individual store prices may vary.
or
Not Currently Available for Direct Purchase
Description
Whether you have a puppy or an adult dog, a home- or sleep-wrecker (or both), whether your dog has ingrained bad manners or simply hasn't learned any good ones yet-Kathy Santo shines a light into the dark bedlam of life with an unruly dog. The secret of her ebullient and innovative guide to training: dogs are individuals, and any dog's nature depends far less on his breed or pedigree than most training methods suppose.
In easy steps, you can quickly determine your dog's -personality--the interplay of prime motivations, energy level, work ethic, and emotional profile-to tailor a regimen optimally suited to his learning needs. Where -one-size- programs typically founder in canine chaos and human frustration, the Santo method carries you past failure: even when your dog doesn't respond, your understanding of him deepens and leads you to a better strategy. This unique interactive approach-based on the author's twenty years of experience-not only speeds canine learning but also lifts training from a temporary chore to an increasingly relaxed way of life.
The result is a lifetime of improving obedience-an ever more confident and happy dog, and an ever more gratifying relationship for you both.
About the Author
Kathy Santo has trained dogs for both home and competition. She currently sees more than a hundred dogs each week at her obedience school and offers advice to hundreds of owners through her seminars and camps. She lives in New Jersey with her husband, two children, and three dogs.
Advertisement