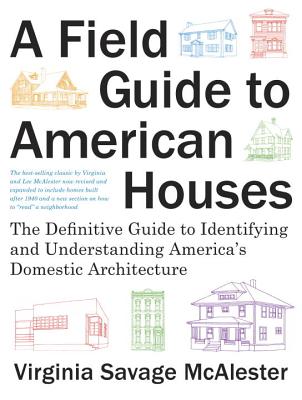 A Field Guide to American Houses (Revised)
The Definitive Guide to Identifying and Understanding America's Domestic Architecture
Hardcover

* Individual store prices may vary.
Description
Here at last: the fully expanded, updated, and freshly designed second edition of the most comprehensive and widely acclaimed guide to domestic architecture—in print since its publication in 1984, and acknowledged everywhere as the unmatched, essential reference to American houses.

Focusing on dwellings in urban and suburban neighborhoods and rural locations all across the continental United States—houses built over the past three hundred years reflecting every social and economic background—this guide provides in-depth information on the essentials of domestic architecture with facts and frames of reference that will enable you to look in a fresh way at the houses around you. With more than 1,600 detailed photographs and line illustrations, and a lucid, vastly informative text, it will teach you not only to recognize distinct architectural styles but also to understand their historical significance. What does that cornice signify? Or that porch? The shape of that door? The window treatment? When was this house built? What does the style say about its builders and their eras? You'll find the answers to these and myriad other questions in this encyclopedic and eminently practical book.

Here are more than fifty styles and their variants, spanning seven distinct historical periods. Each style is illustrated with a large schematic drawing that highlights its most important identifying features. Additional drawings and photographs provide, at a glance, common alternative shapes, principal subtypes, and close-up views of typical small details—windows, doors, cornices, etc.—that can be difficult to see in full-house illustrations. The accompanying text explains the identifying features of each style, describing where and in what quantity they can be found, discussing all of its notable variants, and tracing their origin and history.

The book's introductory chapters provide invaluable general discussions of construction materials and techniques, house shapes, and the various traditions of architectural fashion that have influenced American house design through the past three centuries. A pictorial key and glossary simplifies identification, connecting easily recognized architectural features—the presence of a tile roof, for example—to the styles in which that feature is likely to be found.
           
Among the new material included in this edition are chapters on styles that have emerged in the thirty years since the previous edition; a groundbreaking chapter on the development and evolution of American neighborhoods; an appendix on approaches to construction in the twentieth and twenty-first centuries; an expanded bibliography; and 600 new photographs and line drawings throughout.
           
Here is an indispensable resource—both easy and pleasurable to use—for the house lover and the curious tourist, for the house buyer and the weekend stroller, for neighborhood preservation groups, architecture buffs, and everyone who wants to know more about their own homes and communities. It is an invaluable book of American architecture, culture, and history.
Praise For A Field Guide to American Houses (Revised): The Definitive Guide to Identifying and Understanding America's Domestic Architecture…
"Magisterial . . . The illustrated story of why our houses—great and humble and everything in between—look the way they do."
—Michael Tortorello, The New York Times
 
"Once you've pored through Virginia McAlester's photo-packed bible of American home design, you'll be able to identify the saltboxes, Dutch colonials, and brownstones lining your own street, and you'll understand the historical significance of each one."
—Tina Jordan, Entertainment Weekly
 
"The go-to resource for architecture spotters."
—Peter Terzian, Elle Décor
 
"Chronicles the past 400 years of American styles, from wigwam to mobile to modern."
—Alexandra Wolfe, The Wall Street Journal
 
"A classic."
—Pilar Viladas, House Beautiful
 
"Encyclopedic . . . For lovers of historic homes, this is a rich trove of not just details, but reasons for them."
—Susan Clotfelter, The Denver Post
 
"880 pages of scholarly wonder."
—D Magazine
 
"The definitive guide to American housing styles."
—Jim Weiker, The Columbus Dispatch
 
"Outstanding . . . Expanded and completely revised . . . Both scholars and average readers will find much to enjoy in this volume."
—Rebecca Vnuk, Booklist (starred review)
Knopf, 9781400043590, 880pp.
Publication Date: December 3, 2013
About the Author
Virginia Savage McAlester is a lifelong advocate of historical preservation with deep professional interests in architecture. She has an undergraduate degree from Harvard University, where she attended Radcliffe College and completed the first-year curriculum of the Harvard Graduate School of Design. She is a founding member and past president of Preservation Dallas, and serves as an advisor emeritus for the National Trust for Historic Preservation. She is author of The Making of a Historic District: Swiss Avenue, Dallas, Texas and coauthor of The Homes of the Park Cities, Dallas: Great American Suburbs. She lives in Dallas, Texas, where she is an honorary member of the state and local chapters of the American Institute of Architects (AIA).
or
Not Currently Available for Direct Purchase