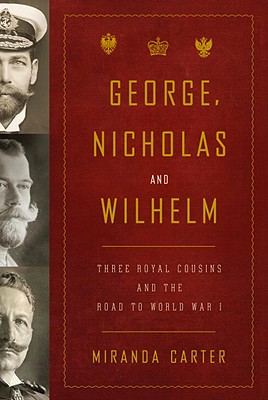 George, Nicholas and Wilhelm
Three Royal Cousins and the Road to World War I
Hardcover

* Individual store prices may vary.
Other Editions of This Title:
Digital Audiobook (3/22/2010)
Paperback (3/8/2011)
Description
In the years before the First World War, the great European powers were ruled by three first cousins: King George V of Britain, Kaiser Wilhelm II of Germany and Tsar Nicholas II of Russia. Together, they presided over the last years of dynastic Europe and the outbreak of the most destructive war the world had ever seen, a war that set twentieth-century Europe on course to be the most violent continent in the history of the world. Miranda Carter uses the cousins' correspondence and a host of historical sources to tell the tragicomic story of a tiny, glittering, solipsistic world that was often preposterously out of kilter with its times, struggling to stay in command of politics and world events as history overtook it. George, Nicholas and Wilhelm is a brilliant and sometimes darkly hilarious portrait of these men--damaged, egotistical Wilhelm; quiet, stubborn Nicholas; and anxious, dutiful George--and their lives, foibles and obsessions, from tantrums to uniforms to stamp collecting. It is also alive with fresh, subtle portraits of other familiar figures: Queen Victoria--grandmother to two of them, grandmother-in-law to the third--whose conservatism and bullying obsession with family left a dangerous legacy; and Edward VII, the playboy "arch-vulgarian" who turned out to have a remarkable gift for international relations and the theatrics of mass politics. At the same time, Carter weaves through their stories a riveting account of the events that led to World War I, showing how the personal and the political interacted, sometimes to devastating effect. For all three men the war would be a disaster that destroyed forever the illusion of their close family relationships, with any sense of peace and harmony shattered in a final coda of murder, betrayal and abdication.
Praise For George, Nicholas and Wilhelm: Three Royal Cousins and the Road to World War I…
Praise for Miranda Carter's George, Nicholas, and Wilhelm:


"Miranda Carter has written an engrossing and important book. While keeping her focus on the three cousins and their extended families, she skillfully interweaves and summarizes all important elements of how the war came about…Carter has given us an original book, highly recommended." ---The Dallas Morning News


"Masterfully crafted. . . Carter has presented one of the most cohesive explorations of the dying days of European royalty and the coming of political modernity. . . Carter has delivered another gem." --Bookpage

"Ms. Carter writes incisively about the overlapping events that led to the Great War and changed the world. . . George, Nicholas, and Wilhelm is an impressive book. Ms. Carter has clearly not bitten off more than she can chew for she -- as John Updike once wrote of Gunter Grass -- 'chews it enthusiastically before our eyes.'" --The New York Times 

"An irresistably entertaining and illuminating chronicle . . . Readers with fond memories of Robert Massie and Barbara Tuchman can expect similar pleasures in this witty, shrewd examination of the twilight of the great European monarchies." —Publishers Weekly

"A wonderfully fresh and beautifully choreographed work of history." —Craig Brown, Mail on Sunday
 
"A hauntingly tempting proposition for a book . . . The parallel, interrelated lives of Kaiser Wilhelm II, George V, and Nicholas II are . . . a prism though which to tell the march to the first World War, the creation of the modern industrial world and the follies of hereditary courts and the eccentricities of their royal trans-European cousinhood . . . An entertaining and accessible study of power and personality." —Simon Sebag Montefiore, Financial Times

"Carter draws masterful portraits of her subjects and tells the complicated story of Europe's failing international relations well . . . A highly readable and well-documented account." —Margaret MacMillan, The Spectator

"I couldn't put this book down. The whole thing really lives and breathes – and it's very funny. That these three absurd men could ever have held the fate of Europe in their hands is a fact as hilarious as it is terrifying." – Zadie Smith

"[An] enterprising history of imperial vicissitudes and royal reversals." --The New York Times Book Review
Knopf Publishing Group, 9781400043637, 498pp.
Publication Date: March 23, 2010
About the Author
Miranda Carter is the author of Anthony Blunt: His Lives, which won the Orwell Prize for political writing and the Royal Society of Literature W. H. Heinemann Award, and was chosen as one of The New York Times Book Review's seven Best Books of 2002. She lives in London with her husband and two sons.
or
Not Currently Available for Direct Purchase