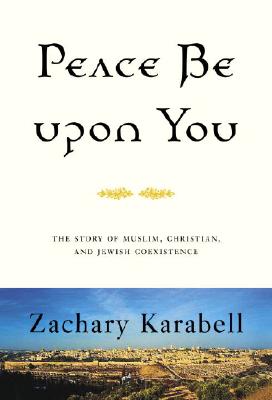 Peace Be Upon You (Hardcover)
Fourteen Centuries of Muslim, Christian, and Jewish Coexistence in the Middle East
Knopf, 9781400043682, 352pp.
Publication Date: February 27, 2007
Other Editions of This Title:
Paperback (3/11/2008)
* Individual store prices may vary.
Description
The story of conflict and confrontation between Islam and the West has become daily news, but throughout the ages Muslims, Christians, and Jews have shared more than enmity and war: there is also a rich and textured history of coexistence that has all but disappeared from our collective memory. In this timely and revealing book, Zachary Karabell traces the legacy of tolerance and cooperation from the advent of Islam to the present day.

In an extraordinary narrative spanning fourteen centuries, Karabell introduces us to the court of the caliphs in Baghdad, where scholars of various faiths engaged in spirited debate. He evokes the wonders of medieval Spain, where Jewish sages, Muslim philosophers, and Christian monks together deciphered the meaning of God and the universe. He offers a portrait of the Crusades that goes beyond the rivalry of Saladin and Richard the Lionheart, and shows how Christians and Muslims lived side by side. And he paints a vivid picture of religious autonomy in the Ottoman Empire.

As he explores the growing tensions of the modern era, Karabell traces the rise of Arab nationalism, the redrawing of the Middle East map in the wake of World War I, and the increased hostilities following the creation of the state of Israel. Through it all, he reminds us that dialogue and friendship have always punctuated times of war and discord. Today, while some Muslims, Christians, and Jews engage in confrontation, others—in Dubai, in Turkey, and around the globe—find common ground. Remembering the legacy of coexistence and recognizing its prevalence even today is a vital ingredient to a more stable, secure world.
Praise For Peace Be Upon You: Fourteen Centuries of Muslim, Christian, and Jewish Coexistence in the Middle East…
"The clash between Muslims, Christians, and Jews dominates the news these days, but as Zachary Karabell highlights, there is more to the relationship between these three faiths than violence. In a book that sweeps the reader across fourteen centuries from the birth of Islam to present-day Dubai, he tells the forgotten stories of coexistence and cooperation. Peace Be upon You reminds us of the possibility of a better future."
--Fareed Zakaria, editor, Newsweek International

"In this season of crisis, Zachary Karabell has written an important book about an often overlooked issue--relations between Arabs, Christians and Jews since ancient times. This vivid, fast-moving book should interest everyone who is concerned with the Middle East. Filled with extraordinary stories of cooperation and conflict, it illuminates, and could help guide us through, the present crisis."
--Ambassador Richard Holbrooke

"Even in the midst of war, history can open our eyes to the possibilities of peaceful coexistence. Peace Be upon You offers a lucid, comprehensive, and elegant account of Muslim-Jewish-Christian relations that reminds us of the good without shielding us from the bad. Free of cant or apology, it is indispensable reading for anyone who wants to get at the truth about the Middle East in a world of angry distortions."
--Noah Feldman, author of Divided by God and What We Owe Iraq

"At a time when the world craves peace among the religions, Zachary Karabell has provided a timely and moving roadmap of hope. Peace Be upon You is exactly what we most need right now: a reminder that coexistence has a history--and a future. Anyone who wonders whether the religions can get along must read this fascinating, revelatory book."
--Bruce Feiler, author of Walking the Bible and Where God Was Born


or
Not Currently Available for Direct Purchase