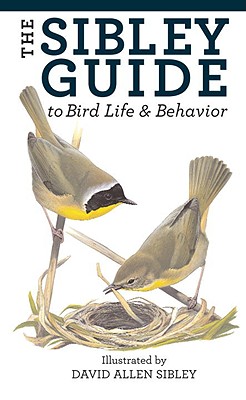 The Sibley Guide to Bird Life and Behavior (Sibley Guides)
Hardcover

* Individual store prices may vary.
Description
From the New York Times best selling author of the peerless bird identification guide The Sibley Guide to Birds, a landmark exploration of how birds live and what they do. 

Designed to enhance the birding experience and to enrich the popular study of North American birds, The Sibley Guide to Bird Life and Behavior combines more than 795 of Sibley's beautiful full-color illustrations with authoritative text by 48 expert birders and biologists. 

Introductory essays outline the principles of avian evolution, life cycle, body structure, flight dynamics, and more. The 80 family-by-family chapters describe the amazing range of behavior dictated by birds' biology and environment. Among the subjects covered and illustrated are:

--molts and plumages
--habitats
--food and foraging
--vocalizations and displays
--courtship and breeding
--rearing of young
--migration and movements
--scientific groupings
--introduced species
--accidental species
--anatomy
--flight patterns
--nests and eggs
--conservation
--global distribution

Accessibly written, superbly designed and organized, and brilliantly illustrated, The Sibley Guide to Bird Life and Behavior is an indispensable source of information on the avian life around us.
Praise For The Sibley Guide to Bird Life and Behavior (Sibley Guides)…
"Regardless of one's reasons for watching birds, learning about their lives can greatly enhance the pleasure of watching their behavior--as well as markedly improve one's ability to identify them in the field. The new "Sibley Guide to Bird Life and Behavior" will help with both. Like Sibley's popular field guide, it will undoubtedly become a principal source to answer questions on avian taxonomy, habitat, behavior, and distribution. Sibley's numerous colored illustrations are alone, sufficient reason to purchase this guide, but in addition, it summarizes an impressive amount of useful information. The text is beautifully written and the chapters are consistently well organized. I highly recommend this book to anyone interested in understanding the life and behavior of birds."
--Dr. Wm. James Davis, editor of the Interpretive Birding Bulletin.
Knopf, 9781400043866, 608pp.
Publication Date: July 28, 2009
About the Author
David Allen Sibley began seriously watching and drawing birds in 1969, at age seven. Author and illustrator of the nationally acclaimed National Audubon Society: The Sibley Guide to Birds, he lives in Concord, Massachusetts.

Chris Elphick, editor and contributing author, holds a Ph.D. in Ecology and Conservation Biology from the University of Nevada, Reno. He is currently a research scientist at the University of Connecticut, where he focuses on the conservation of waterbirds, especially shorebirds. He lives in Storrs, Connecticut.
John B. Dunning, Jr., editor and contributing author, earned a Ph.D. in Ecology from the University of Arizona. He is an Associate Professor of Wildlife Ecology at Purdue University and lives in Lafayette, Indiana.
or
Not Currently Available for Direct Purchase