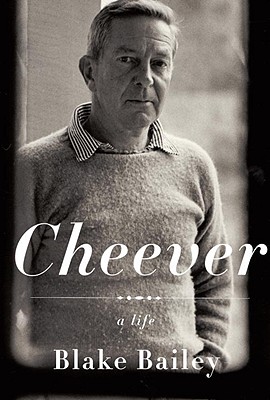 Cheever
A Life
Hardcover

* Individual store prices may vary.
Other Editions of This Title:
Paperback (3/9/2010)
MP3 CD (3/3/2009)
Compact Disc (3/3/2009)
Compact Disc (3/3/2009)
Description
From the acclaimed author of A Tragic Honesty: The Life and Work of Richard Yates comes the unforgettable life of John Cheever (1912–1982), a man who spent much of his career impersonating a perfect suburban gentleman, the better to become one of the foremost chroniclers of postwar America. "I was born into no true class," Cheever mused in his journal, "and it was my decision, early in life, to insinuate myself into the middle class, like a spy, so that I would have an advantageous position of attack, but I seem now and then to have forgotten my mission and to have taken my disguises too seriously." Written with unprecedented access to essential sources—including Cheever's massive journal, only a fraction of which has ever been published—Blake Bailey's biography reveals the troubled but strangely lovable man behind the disguises, an artist who delighted in the everyday radiance of the world while yearning, above all, "to be illustrious."

Cheever's was a soul in conflict: he was a proud Yankee who flaunted his lineage while deploring the provincialism of his Quincy, Massachusetts, family circle; a high-school dropout who published his first story at eighteen; a pioneer of suburban realist fiction who continually pushed the boundaries of realism; a dire alcoholic who recovered to write the great novel Falconer; a secret bisexual who struggled with his longings and his fierce homophobia in a revolving door of self-loathing and hedonism. We see a man who concealed his anxieties behind the mask of a genial Westchester squire—a paterfamilias in Brooks Brothers clothes whose world was peopled by legendary writers and beautiful women (Malcolm Cowley, Saul Bellow, William Maxwell, Hope Lange, and John Updike, among them); whose groundbreaking work landed him on the covers of Time and Newsweek; a man whose demons and desperation were never quite vanquished by the joy he found in his work.

Blake Bailey has written a luminous biography, a revelation of a writer of timeless fiction and of the man behind the page.
Praise For Cheever: A Life…
"A definitive, Dickensian rendering of a complete and complicated life, addictively readable and long overdue . . .Mr. Bailey, with uncommon grace and evenhandedness, tracks Cheever's artistic brilliance amid chronic self-delusion and paranoia."
–The New York Times

"[An] expansive, wonderfully written biography. . . . Unstinting. . . . Bracing. . . . To read Bailey on Cheever is to arrive at a much fuller appreciation of a deeply gifted chronicler of American life."
–Christian Science Monitor

"A portrait of the man drawn judiciously but compellingly and in harrowing detail . . . . [a] fine biography." –Time

"A biography of monumental heft . . . that certifies Cheever's enduring relevance." –Vanity Fair

"Elegant. . . An insightful, clear-eyed life of the man." –The Economist

"Bailey's meticulously researched and eminently readable biography of almost 800 pages reveals with great sensitivity and clarity all the details of Cheever's troubled life." –The Oregonian

"Bailey manages to write with infectious engagement ... A little more than two months prior to his death, Cheever had received the National Medal for Literature, remarking in his acceptance speech that 'A page of good prose remains invincible.' Bailey's biography comes close to that invulnerability."–New York Post

"Quite successfully sorts out the facts, masks and contradictions of this unique American life." –Chicago Sun-Times

"Masterful." –Slate

"Impressive. . . . Finely written. . . . Bailey has done a near-perfect job of making the connections between the man and his masterpieces."
–The Seattle Times

"The appearance of Bailey's poised, thorough biography is both timely and corrective . . . Bailey presents his subject in all his contradictory fullness . . . Cheever: A Life succeeds by balancing insight, judgment, empathy, and clarity." –Philadelphia Inquirer

"Fascinating . . . powerfully moving . . . a brilliant example of literary biography at its best." –Richmond Times-Dispatch

"Definitive. . . Judicious and nuanced. . . Mr. Bailey's research is impeccable and exhaustive–a mighty feat." –The New York Observer

"Balancing sympathy and judgment, Bailey illuminates Cheever's dark side with meticulous comprehensiveness." –Miami Herald

"Cheever is not simply an elegant craftsman; he chronicles America's obsessions with a dark honesty. Bailey captures all this in his biography with a rare ability to tell all without gloating on the foibles of the man behind the artist." –The Times Picayune

"Written with style, grace, and wit." –Pittsburgh Post Gazette

"Bailey's biography is sure-handed, thorough and comprehensive." –Kenyon Review

"Exceptional. . . . Along with sensitivity and dispassionate thoroughness, it's his smooth blending of sources into a readable narrative that sets Bailey apart as a biographer." –Bloomberg News

"A compelling portrait of a complicated and tortured author, some of whose stories are among the best ever written." –Orlando Sentinel

"Bailey's portrait of Cheever as author, family man, lover, and public figure contains everything readers would want to know about this important figure in American literature. The biographer is sympathetic toward his subject, but presents all sides of Cheever's complex character."
–Library Journal

"A comprehensive, candid and deeply respectful biography." –The Cleveland Plain Dealer

"Sturdy, compassionate . . . succinct and elegant . . . Bailey does an admirable job of sorting through the detritus surrounding a man who once called himself 'a practiced and consummate impostor.'"
–Brooklyn Rail

"Stunningly detailed…so wise and serious, so human an account…both arresting and disturbing…Even more eloquent and resourceful than Bailey's celebrated biography of Richard Yates. [Bailey] seems to me as good an interpreter of Cheever's stories and novels as I have read…His sketches of dozens of characters who were touched by Cheever are short stories in themselves, and he sometimes bores right to the center of complex relationships, revealing their essence in a sentence."–Geoffrey Wolff, The New York Times Book Review

"Cheever: A Life is, quite simply, the best example of literary biography I have ever read. A+" –Tina Jordan, Entertainment Weekly


"Fascinating…Mr. Bailey meticulously demonstrates that Cheever was an artist who worked from life…drawing on unprecedented access to Cheever's papers and family, Mr. Bailey approaches his subject like a concerned parole officer…countering both his subject's soaring enthusiasms and paranoid forebodings with clear-eyed judgment." –David Propson, Wall Street Journal

"A triumph of thorough research and unblinkered appraisal."–John Updike, The New Yorker

"Sympathetic and deeply engaging…Bailey dramatizes Cheever's resolute self-creation and its considerable psychic costs through the use of adroitly interwoven narrative strands…This book is also a portrait of the twentieth century." –Jacob Molyneux, San Francisco Chronicle

"Surely definitive…[Bailey] gets down his subject's humorous staying power, even in the midst of spiritual turmoil." –William Pritchard, Boston Globe

"Beautifully woven, deeply researched, and delightfully free of isms." –Susan Salter Reynolds, Los Angeles Times

"One of the best and most eloquent literary biographies I have ever read, and every inch the record that Cheever deserves. Bailey is loving, skeptical … but he is scrupulous, he understands the work and its profound merit, and he himself is a superb stylist ... This combination of sparkling writing and stirring subject makes the long biography almost mesmerizing, and gives us remarkable access to one of the greatest writers of his time."
–Vince Passaro, O

"Perhaps a Cheever renaissance of sorts will result from this magnificently understanding and understandable biography based on copious research and destined to be the definitive life treatment . . . Riveting from page 1, this is the literary biography of the season and will be talked about for years to come; it will also, it is hoped, guide readers once again to his distinctive fiction, especially his short stories." –Booklist (starred review)

"A comprehensive treatment of the tormented but artful life of one of fiction's modern masters . . . Bailey plunges deeply into the murky, sometimes fetid stew of John Cheever's life. . . Superb work that shows Cheever wrestling with dark angels, but wresting from these encounters some celestial prose." –Kirkus (starred review)

"[An] always entertaining biography, composed with a novelist's eye . . . [Cheever] has probably yet to find a definitive position in American letters among academicians. This thoroughly researched and heartfelt biography may help redress the situation." –Publishers Weekly

"John Cheever was a shopkeeper's son and self-styled aristocrat, a bisexual suburban dad, a legendary drunk, and one of the greatest short story writers of all time. Blake Bailey's masterful and poignant biography reveals the connection between the tormented, perpetually disappointed man and the brilliant, intuitive artist who illuminated the terrors and yearnings lurking beneath the prosperous surface of Cold War America. Here is Cheever in all his complicated, heartbreaking glory." –Tom Perrotta, author of Little Children

"The most exquisite, compelling and heartbreaking life I've yet encountered.  Blake Bailey doesn't merely write like an angel, he is an angel–he seamlessly resuscitates the past to make it live and breath in the present, and he writes with all the power and authority of our finest novelists."
–T.C. Boyle, author of Drop City
 
 "An extraordinary book. Bailey captures the man inside the man, perhaps the hardest thing to do. John Cheever lives in this book–the whole complicated, bottomless mess of lonely good cheer and the pain of him. Even, perhaps especially, the character that Cheever (as writer) made out of the tortured, inviolable hardwood of himself. And the larger story is here too, that of the terrible price one pays for one's art. It both sustained Cheever and destroyed him. I stayed up all night reading this biography. I couldn't put it down." –Philip Schultz, author of Failure (Winner of the 2008 Pulitzer Prize for Poetry)

"Like Bailey's fine biography of Richard Yates, Cheever is full of intelligence, clarity, and kindliness toward its subject, without losing an ounce of judiciousness. It is also deeply and utterly readable, even eloquent. It honors its subject with grace and candor and subtle understanding. A richly rewarding treatment of one of our very best."–Richard Bausch, author of Peace

"This is pitch-perfect biography–merciless and deeply compassionate in equal parts, psychologically and literarily acute to the nth degree, and beautifully written, without a whiff of cant or pretension. Like its subject, it's by turns heartrending and laugh-out-loud funny, and while it renders his every foible with Chuck Close-like precision, it never for a second undercuts his goddamn nobility–a quantity that's in miserably short supply in these wretched times." –James Kaplan, author of Two Guys from Verona
Knopf, 9781400043941, 784pp.
Publication Date: March 10, 2009
About the Author
Blake Bailey is the editor of a two-volume edition of Cheever's work, published in 2009 by The Library of America. His last book, "A Tragic Honesty, " was a finalist for the National Book Critics Circle Award. He received a Guggenheim fellowship in 2005, and his articles and reviews have appeared in "Slate, ""The New York Times, "the "New York Observer, " and elsewhere. He lives in Virginia with his wife and daughter.
or
Not Currently Available for Direct Purchase