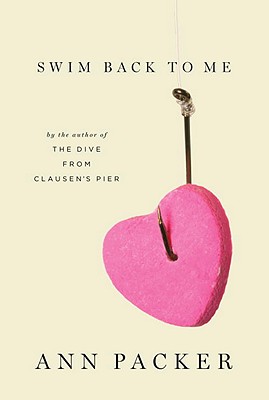 Swim Back to Me (Hardcover)
Knopf Publishing Group, 9781400044047, 225pp.
Publication Date: April 5, 2011
Other Editions of This Title:
Digital Audiobook (4/4/2011)
Compact Disc (4/5/2011)
Hardcover, Large Print (6/1/2011)
Paperback (4/3/2012)
* Individual store prices may vary.
Description
From Ann Packer, author of the New York Times best-selling novels The Dive from Clausen's Pier and Songs Without Words, a collection of burnished, emotionally searing stories, framed by two unforgettable linked narratives that express the transformation of a single family over the course of a lifetime.

A wife struggles to make sense of her husband's sudden disappearance. A mother mourns her teenage son through the music collection he left behind. A woman shepherds her estranged parents through her brother's wedding and reflects on the year her family collapsed. A young man comes to grips with the joy—and vulnerability—of fatherhood. And, in the masterly opening novella, two teenagers from very different families forge a sustaining friendship, only to discover the disruptive and unsettling power of sex.

Ann Packer is one of our most talented archivists of family life, with its hidden crevasses and unforeseeable perils, and in these stories she explores the moral predicaments that define our social and emotional lives, the frailty of ordinary grace, and the ways in which we are shattered and remade by loss. With Swim Back to Me, she delivers shimmering psychological precision, unfailing intelligence, and page-turning drama: her most enticing work yet.
About the Author
Ann Packer is the author of two best-selling novels, "Songs Without Words "and "The Dive from Clausen's Pier, "the latter of which received a Great Lakes Book""Award, an American Library Association Award, and the Kate Chopin""Literary Award. Her short fiction and essays have appeared in "The New Yorker, The Washington Post, Vogue, "and "Real Simple. "Also the author of" Mendocino and Other Stories, "she lives in northern California with her""family.
Praise For Swim Back to Me…
Praise for Ann Packer's Swim Back to Me
 
"As funny as it is sad. . . . Full of revelations . . . near perfection. . . . [A] lovely, masterful collection."
—Mameve Medwed, Boston Globe
 
"Most readers know Ann Packer from her best-selling debut novel. Swim Back to Me is even better, richer, more insightful. Packer can break your heart—and she can mend it, too. Easing readers in with recognizable characters facing familiar situations . . . she then injects a detail that makes us see the situations in a whole new light. . . . This fine work [is] surprising and absolutely true."
—Karen Holt, O, The Oprah Magazine

"Astute. . . . Anyone intrigued by the ways we both fail and save one another will find ample food for thought here."
—Kim Hubbard, People
  
"Ann Packer has a talent for creating authentic, absorbing characters—and it's on full display in Swim Back to Me.'
—Ladies' Home Journal
 
"[Packer] illuminates the instant, in the darkest hour of grief, when the heart opens wider than ever before—and shows us a new way of being."
—Pam Houston, More
 
"A novella and five stories limn with acuity and empathy the intricate negotiations and painful losses of family life. . . . [Packer's] prose is deceptively simple, her insights always complex. . . . Touching, tender and true. . . . As rich and satisfying as Packer's two fine novels."
—Kirkus Reviews (starred review)
 
"[A] sterling collection. . . . Packer's talents are evident. . . . Packer presents complex human relationships with unsentimental compassion."
—Publishers Weekly
 
"Stunning. . . . Well-crafted and engaging. . . . These California stories are expansive and open-ended. It's hard to let them go."
—Sue Russell, Library Journal


Praise for Songs Without Words
 
"Packer's voice [has] extraordinary authority . . . Compassionate, rich in solace."
—Liesl Schillinger, The New York Times Book Review
 
"Engrossing, forgiving and quietly wise, Songs Without Words never makes a false step as Packer keeps both the pages and her readers' minds turning until the very end."
—Jill Smolowe, People
 
"As in The Dive from Clausen's Pier, Packer makes the ripples from one act so involving you can't pull away."
—Good Housekeeping
 

Praise for The Dive from Clausen's Pier
 
"Ann Packer knows just how to make a story build: the novel reveals a sure sense of pace and pitch, a brilliant ear for character . . . She has brought to intractable questions the energy of a humane novel that possesses, at its center, a searching emotional generosity."
—Rob Nixon, The New York Times Book Review
 
"An intricately detailed, deeply felt, compelling and ultimately surprising portrait of a young woman . . . [whose] struggles with the demands of loyalty are moving and realistic . . . [A] wonderfully satisfying novel."
—Jane Ciabattari, San Francisco Chronicle
 
"The trick to what Ms. Packer does lies in the utterly lifelike quality of her book's everyday detail, and the secret, graceful ways in which that detail becomes revealing. . . . Her ear for dialogue is unerring."
—Janet Maslin, The New York Times
or
Not Currently Available for Direct Purchase