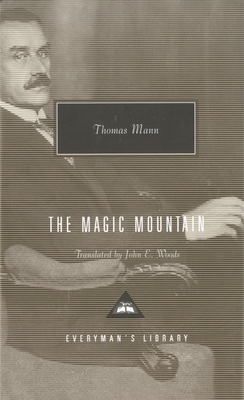 The Magic Mountain (Everyman's Library Contemporary Classics Series) (Hardcover)
Everyman's Library, 9781400044214, 904pp.
Publication Date: June 21, 2005
Other Editions of This Title:
Hardcover (5/30/2020)
Paperback (2/15/2020)
Paperback (5/28/2020)
Paperback (10/1/1996)
Paperback (1/9/2019)
* Individual store prices may vary.
Description
With this dizzyingly rich novel of ideas, Thomas Mann rose to the front ranks of the great modern novelists, winning the Nobel Prize in Literature in 1929. The Magic Mountain takes place in an exclusive tuberculosis sanatorium in the Swiss Alps–a community devoted to sickness that serves as a fictional microcosm for Europe in the days before the First World War. To this hermetic and otherworldly realm comes Hans Castorp, an "ordinary young man" who arrives for a short visit and ends up staying for seven years, during which he succumbs both to the lure of eros and to the intoxication of ideas.
Acclaimed translator John E. Woods has given us the definitive English version of Mann's masterpiece. A monumental work of erudition and irony, sexual tension and intellectual ferment, The Magic Mountain is an enduring classic.
About the Author
Thomas Mann was born in 1875 in Germany. He was only twenty-five when his first novel, Buddenbrooks, was published. In 1924 The Magic Mountain was published, and, five years later, Mann was awarded the Nobel Prize for Literature. Following the rise of the Nazis to power, he left Germany for good in 1933 to live in Switzerland and then in California, where he wrote Doctor Faustus (first published in the United States in 1948). Thomas Mann died in 1955.
Praise For The Magic Mountain (Everyman's Library Contemporary Classics Series)…
"All the characters in Thomas Mann's masterpiece come considerably closer to speaking English in John E. Woods's version . . . Woods captures perfectly the irony and humor." –New York Times Book Review

"[Woods's translation] succeeds in capturing the beautiful cadence of [Mann's] ironically elegant prose." –Washington Post Book World

"[The Magic Mountain] is one of those works that changed the shape and possibilities of European literature. It is a masterwork, unlike any other. It is also, if we learn to read it on its own terms, a delight, comic and profound, a new form of language, a new way of seeing." –from the new Introduction by A. S. Byatt