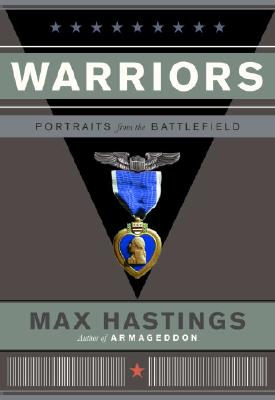 Warriors: Portraits from the Battlefield (Hardcover)
Portraits from the Battlefield
Knopf, 9781400044412, 384pp.
Publication Date: January 3, 2006
* Individual store prices may vary.
or
Not Currently Available for Direct Purchase
Description
What it means to be a warrior has become a pertinent issue of our time. What makes some men and women perform extraordinary deeds on the battlefield? What makes them risk their lives in the pursuit of victory? And do their successes or failures in combat bring them happiness, melancholy, or fulfillment?

Max Hastings's "authority [and] humanity" in depicting "the realities of combat" (Alistair Horne, The Wall Street Journal) has been greatly praised on the release of his previous book, Armageddon, which documented the last eight months in the European theater of World War II. In Warriors, Hastings takes up the experience of fourteen soldiers and airmen, together with one remarkable sailor, who fought in the wars of the nineteenth and twentieth centuries, portraying their triumphs, follies, and, sometimes, tragedies. We meet Baron Marbot, an exuberant cavalry officer who joined Napoleon's army at the age of seventeen and fought through Waterloo in a happy and shameless pursuit of glory; paratrooper "Slim Jim" Gavin, an orphan who enlisted in World War II to escape his miserable boyhood and went on to become America's youngest general since Custer; Nancy Wake, a dashing Australian who fought for the resistance in Nazi-occupied France; Avigdor Kahalani, an Israeli officer hideously burned in the Six-Day War, who, six years later, was one of the tank commanders who saved his country during the defense of the Golan Heights in the Yom Kippur War. Each of Hastings's pen portraits depicts a unique and remarkable human story.

A tribute to the valor of these fighters and a searching study of combat in modern history, Warriors enhances our understanding of the hearts and minds of the people who serve in war. It is also an appealing book for the reader who is drawn to tales of heroism, human drama, and some of the most exotic characters of modern times.
Praise For Warriors: Portraits from the Battlefield…
"Fantastically entertaining. . . . [Hastings] acts as a sort of Plutarch to the modern warrior. His 'lives' are splendidly done, full of compelling narrative and telling detail." —The Wall Street Journal

"Hastings is an expert literary craftsman who makes the most out of stories that, however often repeated, are never less than gripping.... a first-rate piece of entertainment."—The Washington Post Book World

"Clever, absorbing and vividly written. . . Max Hasting is very good on the matter of courage."—The New York Review of Books

"Hastings has written a marvelous book. Wry, perceptive and engaging, it lays bare the curious mix of character traits - good and bad - that a successful warrior requires."—The Sunday Telegraph
Advertisement