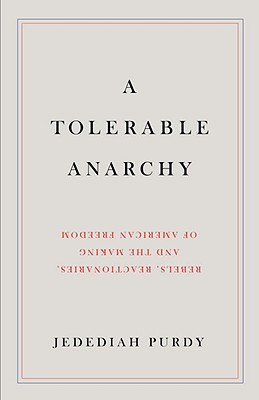 A Tolerable Anarchy (Hardcover)
Rebels, Reactionaries, and the Making of American Freedom
Knopf, 9781400044474, 304pp.
Publication Date: March 3, 2009
* Individual store prices may vary.
Description
From the author of For Common Things: a provocative look at the meaning of American freedom.

Freedom is at the heart of the American identity, shaping both personal lives and political values. The ideal of authoring one's own life has inspired the country's best and worst moments—courage and emancipation, but also fear, delusion, and pointless war.

This duality is America's story, from slavery to the progressive reforms of the early twentieth century, from the New Deal to the social movements of the 1960s and today's battles over climate change. The arc has been toward expanding freedom as new generations press against inherited boundaries. But economic forces beyond our control undercut our ideas of self-mastery. Realizing our ideals of freedom today requires the political vision to reform the institutions we share.

Jedidiah Purdy works from the stories of individuals: Frederick Douglass urging Americans to extend freedom to slaves; Ralph Waldo Emerson arguing for self-fulfillment as an essential part of liberty; reformers and presidents struggling to redefine citizenship in a fast-changing world. He asks crucial questions: Does capitalism perfect or destroy freedom? Does freedom mean following tradition, God's word, or one's own heart? Can a nation of individualists also be a community of citizens? A Tolerable Anarchy is a book of history that speaks plainly to our lives today, urging us to explore our understanding of our country and ourselves, and to make real our own ideals of freedom.
About the Author
Jedediah Purdy teaches law at Duke University and has also taught at Yale and Harvard. Purdy is the author of "For Common Things: Irony, Trust, and Commitment in America Today" and "Being America: Liberty, Commerce, and Violence in an American World," and has written for "The Atlantic Monthly, The New York Times, Democracy," and other publications.
Praise For A Tolerable Anarchy: Rebels, Reactionaries, and the Making of American Freedom…
"[An] erudite, topical, thought-provoking exploration of the history of what it means to be free in America . . . Purdy is a marvelous intellectual historian, and his narrative elegantly explores shifting trends in American thought . . . His analysis is bracing . . . An important contribution to American intellectual history."
–Chuck Leddy, The Christian Science Monitor

"[A] philosophically cast meditation that . . . grapples with the paradox of American individualism . . . [Purdy] cautions that our idea of freedom is deceptively simple, requiring both restraint and engagement from government, and autonomy and interdependence in civic affairs."
–Art Winslow, The Los Angeles Times

"[An] insightful treatise . . . Introspective and optimistic."
–Library Journal

"[A] page-turning history of American freedom."
–Cliff Bellamy, Fayetteville Observer-Times

"Brilliant . . . Erudite but straightforward and packed with insights . . . A tour de force of engaged political philosophy from one of America's most perceptive public intellectuals."
–Publishers Weekly (starred review)

"For a sapient citizenry and a new administration, a graduate-level seminar on a civic philosophy that reminds us, 'Freedom is not just where you end up but also how you get there.'"
–Kirkus

"Purdy has emerged as one of America's most promising young public intellectuals. This beautifully written book confirms his place. Rich in the history he tells, and brilliant in its insight, the book will change how you think about America, and the challenge we face for its future."
-- Lawrence Lessig, founder of Creative Commons and author of Free Culture

"America has always struggled to define freedom–a struggle that has involved everything from slavery in the eighteenth and early nineteenth centuries, to the cultural ferment of the 1960s, and the free-wheeling capitalism of the 1980s and 1990s. In this thoughtful and engaging history of ideas, Jedediah Purdy vividly recounts this multifaceted debate and illuminates how the idea of freedom is still evolving. Here is an essential book for understanding the idea of freedom in America and the role of government in our lives."
–Robert B. Reich, author of Supercapitalism: The Transformation of Business, Democracy, and Everyday Life


or
Not Currently Available for Direct Purchase