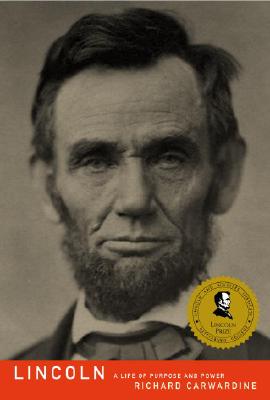 Lincoln (Hardcover)
A Life of Purpose and Power
Knopf, 9781400044566, 416pp.
Publication Date: January 10, 2006
Other Editions of This Title:
Digital Audiobook (2/4/2009)
Paperback (1/9/2007)
Paperback (5/8/2003)
Compact Disc (2/1/2009)
Hardcover (9/18/2018)
Pre-Recorded Audio Player (5/1/2009)
MP3 CD (2/1/2009)
Compact Disc (2/1/2009)
* Individual store prices may vary.
Description
An original and deeply insightful biography of Abraham Lincoln, already awarded the prestigious Lincoln Prize.

As a defender of national unity, a leader in war, and the emancipator of slaves, Abraham Lincoln lays ample claim to being the greatest of our presidents. But the story of his rise to greatness is as complex as it is compelling. In this superb biography, the highly regarded Oxford University historian Richard Carwardine examines Lincoln both in his dramatic political journey and in his nation-shaping White House years. Through his groundbreaking research, Carwardine probes the sources of Lincoln's moral and political philosophy. We see how, while pursuing office, Lincoln drew strength from public opinion and the machinery of his party. We see him, as a wartime president, recognizing the limits as well as the possibilities of power, and the necessity of looking for support beyond his own administration. We see how he turned to the churches, to their humanitarian agencies, and to the volunteer Union Army for allies in his struggle to end slavery.

In illuminating the political talents that went hand in hand with large and serious moral purpose, Carwardine gives us a fresh, important portrait of the incomparable Abraham Lincoln.
About the Author
Richard Carwardine, the Rhodes Professor of American History at Oxford University, is the first British scholar to be awarded the Lincoln Prize, the largest award in the United States for nineteeth-century American history. His previous work includes "Evangelicals and Politics in Antebellum America." He lives in Oxford.
Praise For Lincoln: A Life of Purpose and Power…
"An illuminating and thoroughly intelligent assessment of Lincoln the politician. . . Carwardine provides a comprehensive study of how an essentially good man could gain and wield power, even in scoundrel time."
—Kevin Baker, The New York Times

"One closes this biography wondering how postbellum politics might have been different were it not for that fateful gunshot on April 14, 1865. Carwardine's Lincoln Prize-winning study is not only analytical and smart, it's also delightfully readable — and it will surely emerge as one of the most important Lincoln books to be published this decade."
—Publishers Weekly, starred review

"Lincoln: A Life of Purpose and Power stands up to any comparison. Carwardine's confident writing and exemplary scholarship come together well in this faceted, evenhanded treatment of the 16th president. . . Carwardine wisely reinterprets many sources to present his nuanced overview of the moral man who was Abraham Lincoln."
—Kimberly Marlowe Hartnett, The Oregonian

"Among the most thoughtful of the many [books] that have been pouring out in anticipation of the Lincoln bicentennial now three years away."
—T.C. Johnsen, The Christian Science Monitor

"This is the biography of a prudent, decisive, activist Lincoln the world has been waiting for. Richard Carwardine has drawn a true portrait of the strengths of Lincoln's personal character, the development and tenacity of Lincoln's ethical convictions, his subtle and deliberate political acumen, his respect and embrace of moral principles for the conduct of personal relations and public statecraft; and, finally, Carwardine demonstrates Lincoln's mastery of men and of public opinion."
—Lewis E. Lehrman, Co-Chairman of the Gilder Lehrman Institute of American History

"The book offers an insightful, judicious, and, in some ways, original study of Lincoln's public career."
—Eric Foner, London Review of Books

"Rarely does a biography of a popular historical figure offer all the qualities that make for a good read: lively writing, a fresh perspective, significant insight, and a compelling narrative. Carwardine does all this and more. How Lincoln obtained, used, and often withheld power to achieve base political objectives as well as enlightened national ones are brilliantly detailed. There is simply no other Lincoln biography like it."
—Tom Schwartz, Lincoln Presidential Library

"Richard Carwardine has given us a thoughtful examination of Lincoln's profoundly moral relationship to power and of the Great Emancipator's role as a representative American of his age. The publication of this beautifully written book, which makes use of the earliest evidence and the latest insights, marks a high point in a decade that has been particularly rich in Lincoln scholarship. No one seriously interested in Lincoln can afford to ignore Carwardine's judicious work."
—Daniel Walker Howe

"As commander in chief in a war for the very survival of the United States, Abraham Lincoln wielded enormous power, which he infused with unequaled moral purpose and religious clarity. Richard Carwardine explains the wellsprings of these extraordinary qualities of Lincoln's leadership better than any other biographer."
—James M. McPherson

"Carwardine succeeds brilliantly in comprehending both the pragmatic and moral dimensions of Lincoln the political leader. No other historian has penetrated so incisively and handled so deftly Lincoln as practical politician and Lincoln as moralist."
—William J. Cooper

"Carwardine's astute blending of information and interpretation affords a rare result — the sense of an accurate perspective. It is like having the best seat in the house."
—Douglas L. Wilson, Lincoln Studies Center

"Richard Carwardine's long suit is his skill in situating Abraham Lincoln in Lincoln's various political, social and religious contexts during the Civil War. Carwardine's Lincoln is the most perceptive and powerfully-written biography of Lincoln by an English historian since Lord Charnwood."
—Allen C. Guelzo, Henry R. Luce Professor of the Civil War Era & Director, Civil War Era Studies at Gettysburg College

"In the very crowded shelves containing books about Abraham Lincoln, Professor Carwardine has added a superbly conceived and crafted study, filled with fresh perspectives that add a great deal to our understanding of the sixteenth president. It is a great achievement."
—Joel H. Silbey, Cornell University

"The Atlantic can serve as a wonderful clarifying prism. Oxford don Richard Carwardine looks across it and paints a remarkable picture of the greatest of the Americans who fused the secular and the sacred."
—Gabor S. Boritt, Director, Civil War Institute, Gettysburg College

"Richard Carwardine's study of the political leadership of Abraham Lincoln represents an extraordinary achievement."
—Mark A. Noll, Professor of History, Wheaton College, IL

"The best book on Lincoln to appear in many years . . . by a true expert in the politics and history of the antebellum and Civil War eras."
—David Hein, Professor and Chair of Religion and Philosophy, Hood College
or
Not Currently Available for Direct Purchase