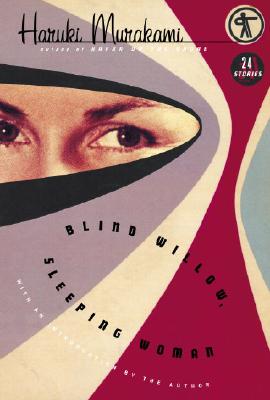 Blind Willow, Sleeping Woman
Hardcover

* Individual store prices may vary.
Other Editions of This Title:
Digital Audiobook (9/2/2013)
Paperback (10/9/2007)
Paperback, Japanese (11/1/2009)
Paperback (7/1/2007)
Compact Disc (10/1/2006)
MP3 CD (10/1/2006)
Description
From the bestselling author of Kafka on the Shore and The Wind-up Bird Chronicles comes this superb collection of twenty-four stories that generously expresses Murakami's mastery of the form. From the surreal to the mundane, these stories exhibit his ability to transform the full range of human experience in ways that are instructive, surprising, and relentlessly entertaining.

Here are animated crows, a criminal monkey, and an iceman, as well as the dreams that shape us and the things we might wish for. Whether during a chance reunion in Italy, a romantic exile in Greece, a holiday in Hawaii, or in the grip of everyday life, Murakami's characters confront grievous loss, or sexuality, or the glow of a firefly, or the impossible distances between those who ought to be closest of all.
Praise For Blind Willow, Sleeping Woman…
"A true miscellany [or] more like one of those overstuffed, career-spanning CD box sets…[But] the tales seem to speak with one, very seductive, voice. That voice, in each of these wildly varied excursions into the strange, dim territory of the self, says that someone named Haruki Murakami is still looking, quixotically, for something less fragile, less provisional than the usual accommodations we make do with on the road."
--Terrence Rafferty, New York Times Book Review

"A virtuosic demonstration of Murakami's incredible range . . . thrilling, funny, sad, moving, scary--all at once. Since 1980, the year Haruki Murakami wrote his first short story, the Japanese author has been a walking definition of genius . . . He is a master of tone, and can manipulate a reader's curiosity at will, [and he] approaches the large subjects indirectly, through mood and bizarre occurrences, and always trusts his reader to be moved."
--John Freeman, Atlanta Journal-Constitution

"In this extraordinary new story collection by the Japanese writer Haruki Murakami, reality is ever in danger of breaking loose of its moorings . . . The inconsequential registers as significant in these wonderful stories as people struggle to figure out how to be, and what 'normal' means, if anything."
--Joan Mellen, Baltimore Sun

"Blind Willow, Sleeping Woman is a satisfying, entertaining collection [and] a solid introduction to the eclectic talents of this master storyteller."
--Robert Allen Papinchak, The Seattle Times

"Murakami effortlessly conjures modern fairy tales that dazzle . . . These stories are full of wisdom, wrenching us into understanding our innermost impulses by confronting us with the unexpected."
--Geoffrey Bateman, Rocky Mountain News

"Murakami's writing perfectly captures the way surreal, even seemingly supernatural, encounters can subtly alter the terrain of everyday life."
--Sara Cardace, Washington Post Book World

"Chance on this writer, and you're lucky . . . Each of these tales is delightfully entertaining, a pleasure to read and to ponder at one's leisure. And believe me, they do stick with you, creeping back into consciousness at the oddest moments, giving rise, quite out of the blue, to yet another surprising insight . . . Read through a selection or two, and you likely will be hooked [on] one of the most fascinating, playful literary minds around."
--Lee Makela, Cleveland Plain Dealer

"Whimsical, magical, daring or sometimes played with the mute in the bell of the trumpet . . . the best of these linger far beyond the reading of them, creating an aura about the world that for many of us just wasn't present before we read them. "
--Alan Cheuse, Chicago Tribune

"As beautiful and metaphysical as anything Murakami, an artist who's at the top of his form, has offered in the past . . . The tales in Blind Willow, Sleeping Woman strike a gripping balance between the bizarre and wise [as] empirical reality is bluntly scrutinized, if not entirely undermined . . . He's the rare sort of artist who not only creates uncanny landscapes but effortlessly ferries you through them."
--Dan Lopez, Time Out New York

"Mysterious and evanescent . . . [The] stories in Blind Willow, Sleeping Woman juxtapose the deeply bizarre with the mundane [as] Murakami explores the loneliness of spaghetti, man-eating cats, romantic alienation, and eyeless, cake-obsessed crows . . . [A] dexterous story collection that illustrates the range and vitality of the genre."
--Jennifer Reese, Entertainment Weekly

"Murakami's first collection of stories in more than a decade once again demonstrates his fabulous talent for transporting readers and making 'the world fade away' . . . What shines in all of [these stories] is Murakami's love for the open-ended mystery at the core of existence and his willingness to give himself up 'to the flow' in order to capture some of the magic in the mundane."
--Heller McAlpin, The Christian Science Monitor

"A warning to new readers of Haruki Murakami: You will become addicted . . . [His] newest collection is as enigmatic and sublime as ever."
--Jenna Krajeski, San Francisco Chronicle

"Murakami's made from the DNA of Kafka, Gogol, Borges and Vonnegut. Like all these masters of metaphor, this writer slips through the silver membrane between life and dream as effortlessly as Alice through her looking glass . . . The meanings in [his] fiction are koi in a black pool. When it is time to be seen, up they rise, gold and gorgeous for one patient reader, cream and black and mysterious for the next."
--Charles McNair, Paste

"Engrossing . . . Although Murakami's style and deadpan humor are wonderfully distinctive, his emotional territory is more familiar--remorse, unresolved confusion, sudden epiphanies--though heightened by the surreal . . . For all its peculiarity, Planet Murakami offers a recognisable landscape of our fears."
--David Jays, Observer

"A beguiling collection that shows off Murakami's bold inventiveness and deep compassion."
--Siobhan Murphy, Metro

"Sharp but humane [and] as unforgettable as it is untypical."
--Hugo Barnacle, New Statesman

"Marvelous . . . These stories are a joy for [Murakami's] readers . . . Their beauty lies in their ephemeral and incantatory qualities and in his uncanny ability to tap into a sort of collective unconscious."
--Lily Tuck, Publishers Weekly (signature review)

"An intimate pleasure."
--Ruth Scurr, The Times (London)

"Murakami's matchless gift for making the unconvential and even the surreal inviting and gratifying creates hard little narrative gems . . . A superlative display of a great writer's wares. Absolutely essential."
--Kirkus

"Readers who fear the short story, particularly by writers with a high literary reputation, need to set hesitations aside here. Murakami is an open-armed, hospitable short story writer [with] a greatly appealing and embracing personal narrative voice . . . The beauty of the author's prose style seals every story's sharp delivery."
--Brad Hooper, Booklist

"[Blind Willow, Sleeping Woman] will undoubtedly confirm his reputation as literature's answer to David Lynch."
--Jonathan Ellis, Times Literary Supplement (London)
Knopf, 9781400044610, 352pp.
Publication Date: August 29, 2006
or
Not Currently Available for Direct Purchase