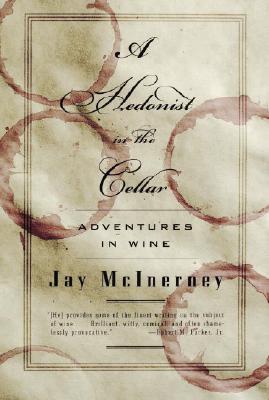 A Hedonist in the Cellar: Adventures in Wine (Hardcover)
Adventures in Wine
Knopf, 9781400044825, 272pp.
Publication Date: October 24, 2006
* Individual store prices may vary.
or
Not Currently Available for Direct Purchase
Description
In the two decades since Bright Lights, Big City reinvigorated contemporary fiction, Jay McInerney can claim a great many accomplishments, including the mantle that Salon has given him: "the best wine writer in America." Of his previous collection, Bacchus and Me, Robert M. Parker, Jr., concluded:  "Brilliant, witty, comical, and often shamelessly candid and provocative." And The New York Times added: "McInerney's wine judgments are sound, his anecdotes witty, and his literary references impeccable. Not many wine books are good reads; this one is."

In A Hedonist in the Cellar, he gathers more than five years' worth of essays and continues his exploration of what's new, what's enduring, and what's surprising, giving his palate a complete workout and the reader an indispensable, idiosyncratic guide to a world of almost infinite variety. Rieslings from the Finger Lakes, Armagnac from Gascony, powerhouse amarones from Valpolicella, the most fearsome critics in England, chocolate-friendly bottles from all over the globe, new developments in Chile and Argentina—these are only some of the delights now ready to be savored in a collection driven not only by wine itself but also the people who make it and those whose enjoyment is matched by their curiosity. 

Full of terroir and flavor, svelte personalities, and keen insight into the trade, these are irresistible essays for anyone enthralled by the manifold pleasures of wine.
Praise For A Hedonist in the Cellar: Adventures in Wine…
"Splendid vino vignettes [that] pique both curiosity and thirst."
--Jennifer Reese, Entertainment Weekly
"[McInerney's] research is impeccable and his judgments generally astute . . . Wine writer or novelist, the man is a story teller and a good one, [and] he his a hard-working professional who brings solid reporting and exceptional narrative skills to a subgenre woefully in need of them." --Frank J. Prial, The New York Times
"Good wines leave you wanting more; so, too, good wine writing, [and] from start to finish, first sip to last, A Hedonist in the Cellar is crisp, stylish and very funny."
--Michael Steinberger, New York Times Book Review
"As bracing as high-acid Riesling . . . McInerney the novelist, with his eye for detail and smart aleck wit, is never far from the page, [and] he's able to get inside each destination and suss out what makes it interesting, both by itself and in wine terms. By the end of each three-day column, you can't help but yearn to go there yourself, or at least open a bottle."
--Bruce Schoenfeld, The Washington Post Book World
"One of the most transparent of wine writers . . . His vision of the widening wine world ranges from South America to South Africa, New York to New Zealand, [while his] unfussy prose and his celebration of lesser-known wines make him the most transparent of wine writers."
--Mark Knoblaunch, Booklist
Advertisement