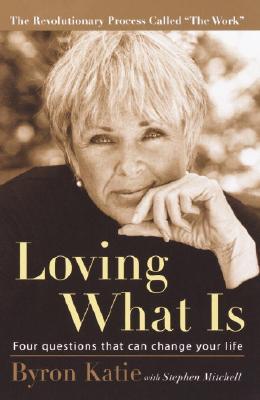 Loving What Is
Four Questions That Can Change Your Life
Paperback

* Individual store prices may vary.
Other Editions of This Title:
Digital Audiobook (1/4/2016)
Hardcover (3/19/2002)
Description
Out of nowhere, like a cool breeze in a marketplace crowded with advice, comes Byron Katie and "The Work."

In the midst of a normal life, Katie became increasingly depressed, and over a ten-year period sank further into rage, despair, and thoughts of suicide. Then one morning, she woke up in a state of absolute joy, filled with the realization of how her own suffering had ended. The freedom of that realization has never left her, and now in Loving What Is you can discover the same freedom through The Work.

The Work is simply four questions that, when applied to a specific problem, enable you to see what is troubling you in an entirely different light. As Katie says, "It's not the problem that causes our suffering; it's our thinking about the problem." Contrary to popular belief, trying to let go of a painful thought never works; instead, once we have done The Work, the thought lets go of us. At that point, we can truly love what is, just as it is.

Loving What Is will show you step-by-step, through clear and vivid examples, exactly how to use this revolutionary process for yourself. You'll see people do The Work with Katie on a broad range of human problems, from a wife ready to leave her husband because he wants more sex, to a Manhattan worker paralyzed by fear of terrorism, to a woman suffering over a death in her family. Many people have discovered The Work's power to solve problems; in addition, they say that through The Work they experience a sense of lasting peace and find the clarity and energy to act, even in situations that had previously seemed impossible.

If you continue to do The Work, you may discover, as many people have, that the questioning flows into every aspect of your life, effortlessly undoing the stressful thoughts that keep you from experiencing peace. Loving What Is offers everything you need to learn and live this remarkable process, and to find happiness as what Katie calls "a lover of reality."
Praise For Loving What Is: Four Questions That Can Change Your Life…
"Good Lord! Where did Byron Katie come from? She's the real McCoy. Her Work is amazingly effective—a simple, straightforward antidote to the suffering we unnecessarily create for ourselves. She asks us to believe nothing, but provides a surprisingly effective and simple way to cut through the tangle of delusions we wrap ourselves in. Just reading the exchanges in Loving What Is, I can admit things I didn't want to admit and stop torturing myself in ways I didn't realize I was doing."
-- David Chadwick, author of Crooked Cucumber: The Life and Zen Teaching of Shunryu Suzuki

"Suppose you could find a simple way to embrace your life with joy, stop arguing with reality, and achieve serenity in the midst of chaos? That is what Loving What Is offers. It is no less than a revolutionary way to live your life. The question is: are we brave enough to accept it?"
-- Erica Jong, author of Fear of Flying

"Byron Katie's Work is a great blessing for our planet. The root cause of suffering is identification with our thoughts, the 'stories' that are continuously running through our minds. Byron Katie's Work acts like a razor-sharp sword that cuts through that illusion and enables you to know for yourself the timeless essence of your being. Joy, peace, and love emanate from it as your natural state. In Loving What Is, you have the key. Now use it."
-- Eckhart Tolle, author of The Power of Now

"Loving What Is is filled with the essence of wisdom. Katie's Work is a wonderful, transformative practice for anyone interested in spiritual growth."
-- Lama Surya Das, author of Awakening the Buddha Within
Harmony, 9781400045372, 352pp.
Publication Date: December 23, 2003
About the Author
Byron Katie experienced what she calls "waking up to reality" in 1986, and since then she has introduced The Work to hundreds of thousands of people throughout the world. In addition to her public events, she has introduced The Work into business settings, universities, schools, churches, prisons, and hospitals.

Stephen Mitchell's many books include the best-selling Tao Te Ching, Bhagavad Gita, The Gospel According to Jesus, Meetings with the Archangel, and The Frog Prince.
or
Not Currently Available for Direct Purchase