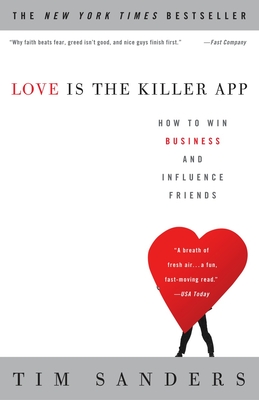 Love Is the Killer App
How to Win Business and Influence Friends
Paperback

* Individual store prices may vary.
Other Editions of This Title:
Digital Audiobook (2/11/2002)
Description
Are you wondering what the next killer app will be? Do you want to know how you can maintain and add to your value during these rapidly changing times? Are you wondering how the word love can even be used in the context of business?

Instead of wondering, read this book and find out how to become a lovecat—a nice, smart person who succeeds in business and in life.

How do you become a lovecat? By sharing your intangibles. By that I mean:
Your knowledge: everything that comes from all the books that I'll encourage you to devour.
Your network: the collection of friends and contacts you now have, which I'll teach you how to grow and nurture.
Your compassion: that human warmth you already possess—in these pages I'll convince you that you can show it freely at the office.

What happens when you do all this?
* You become a rich source of information to all around you.
* You are seen as a person with valuable insight.
* You are perceived as generous to a fault, producing surprise and delight.
* You double your business intelligence in one year.
* You triple your network of personal relationships in two years.
* You quadruple the number of colleagues in your life who love you like family.

In short, you become one of those amazing, outstanding people to whom everyone turns, who leads rather than follows, who never runs out of ideas, contacts, or friendship.

Here's the real scoop: Nice guys don't finish last. They rule!
Praise For Love Is the Killer App: How to Win Business and Influence Friends…
"Tim Sanders shows us that being a 'lovecat' is a great business strategy and I wholeheartedly agree. This book teaches us the value of relationships in the workplace, and it's rich with practical, effective strategies for enhancing and developing them." —Philip C. McGraw, Ph.D., author of Life Strategies: Doing What Works, Doing What Matters

"This is not an 'easy' book. It is a genuine original. (And I know how overused that word is.) It will-should-must change your life. I know Tim Sanders—and he and this book are for real. Believe it. And become a (wildly successful) 'lovecat.' " —Tom Peters, author of the bestselling In Search of Excellence and Reinventing Work series

"Aretha Franklin knew the secret: RESPECT. Tim Sanders knows how to spin it. In business, you get ahead by helping other people get what they want—it's simple, it's obvious, but it's so easy to forget. Love Is the Killer App reminds us that maybe, just maybe, looking out for number one is not the way to get ahead." —Seth Godin, author of Permission Marketing and Unleashing the Idea Virus
Currency, 9781400046836, 240pp.
Publication Date: July 22, 2003
About the Author
TIM SANDERS, the Chief Solutions Officer at Yahoo!, consults with Fortune 500 executives and world-class brands on marketing and Internet strategy. He lives in northern California.