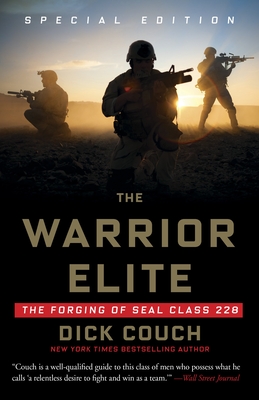 The Warrior Elite: The Forging of Seal Class 228 (Paperback)
The Forging of Seal Class 228
Three Rivers Press (CA), 9781400046959, 384pp.
Publication Date: January 28, 2003
Description
With a postscript describing SEAL efforts in Afghanistan, The Warrior Elite takes you into the toughest, longest, and most relentless military
training in the world. What does it take to become a Navy SEAL? What makes talented, intelligent young men volunteer for physical punishment, cold water, and days without sleep? In The Warrior Elite, former Navy SEAL Dick Couch documents the process that transforms young men into warriors. SEAL training is the distillation of the human spirit, a tradition-bound ordeal that seeks to find men with character, courage, and the burning desire to win at all costs, men who would rather die than quit.
About the Author
DICK COUCH graduated at the top of BUD/S Class 45 in 1969. He commanded a SEAL platoon in Vietnam and led one of the only successful POW rescue operations of that conflict. Mr. Couch is the author of four novels and lives in Ketchum, Idaho. This is his first nonfiction book.CLIFF HOLLENBECK is an award-wining photographer and photojournalist. He served with Naval Special Warfare Units, including Underwater Demolition, and was a naval aviator. He has written numerous books on photography and has two novels in print. Mr. Hollenbeck lives in Seattle. From the Hardcover edition.
Praise For The Warrior Elite: The Forging of Seal Class 228…
"The Warrior Elite is the first book that captures how the SEAL spirit is tempered. It reveals all the grit, sweat, mud, and blood of BUID/S training -- real-time, down and dirty. This is a must-read if you want to know what becoming a virtual warrior is all about." -- Governor Jesse Ventura, BUD/S Class 58

"A wonderful, thought-provoking book by Dick Couch and a quick study of human personalities; his conclusions are optimistic and uplifting." -- Vice Admiral James Stockdale (USN. Ret.) Recipient of the Congressional Medal of Honor.


"The Warrior Elite offers superb insight into the making of a Navy SEAL. Dick Couch takes the reader through the incredible challenges of basic training and into the minds of these unique warriors who comprise our nation's highly selective fighting force. Having served extensively with Dick in combat as junior officers in Vietnam, I now understand the "how's and why's" of his profession and the SEALs' commitment to mission. The Warrior Elite captures the essence of a Navy SEAL -- the indomitable will to win and steadfast commitment to team." -- Robert J. Natter, Admiral, U.S. Navy, Commander in Chief, U.S. Atlantic Fleet

"An authentic voice that spells out what it takes to become a SEAL--the sheer grit to overcome all obstacles. America is lucky that it continues to attract such men as these to serve." -- Theodore Roosevelt IV, Class 36
Advertisement