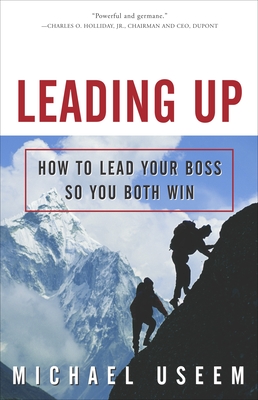 Leading Up: How to Lead Your Boss So You Both Win (Paperback)
How to Lead Your Boss So You Both Win
Crown Business, 9781400047000, 336pp.
Publication Date: March 25, 2003
Description
Today's best leaders know how to lead up, a necessary strategy when a supervisor is micromanaging rather than macrothinking, when a division president offers clear directives but can't see the future, or when investors demand instant gain but need long-term growth. Through vivid, compelling stories, Michael Useem reveals how upward leadership can transform incipient disaster into hard-won triumph. For example, U.S. Marine Corps General Peter Pace reconciled the conflicting priorities of six bosses by keeping them well informed and challenging their instructions when necessary. Useem also explores what happens when those who should step forward fail to do so--Mount Everest mountaineers might have saved themselves from disaster during a fateful ascent if only they had questioned their guides' flawed decisions. Leading Up is a call to action. It asks us to get results by helping our superiors lead and by building on the best in everybody's nature, and it offers a pragmatic blueprint for doing so.
About the Author
MICHAEL USEEM is a professor of management and the director of the Center for Leadership and Change Management at the Wharton School of the University of Pennsylvania. His previous book, The Leadership Moment: Nine True Stories of Triumph and Disaster and Their Lessons for Us All, offers compelling accounts of leadership when it really counted. From the Hardcover edition.
Praise For Leading Up: How to Lead Your Boss So You Both Win…
"Often the best coaching a leader can receive is directly from the team he/she leads. Openness to their feedback is critical, and Professor Useem's new book provides many dramatic examples of successes and failures in this important dimension."
—Arthur Martinez, former chief executive officer of Sears, Roebuck & Co.

"Teaching your boss is the most important thing that anyone in business, government, or the nonprofit world needs to know. Leading Up is a must-read for everyone."
—Leonard A. Lauder, chairman, the Estée Lauder Companies, Inc.

"Professor Michael Useem has shown himself a master in the use of vignettes to teach us about leadership. In his latest book, Leading Up, he has again used reality, this time to discuss 'those who would dare to lead their leaders.' In today's fast-moving and often chaotic world, this book is a must-read. It will help you help your boss be the best he can be and in doing so, build a better organization and increase your value to that organization."
—General Charles C. Krulak, former commandant of the U.S. Marine Corps and senior vice chairman, MBNA Corporation

"Leadership is not just about telling people what to do. It is about building a common purpose—a goal—that everyone on the team works hard to achieve. To do that, leaders must understand that it is not just about them and their goals. It is about creating a group where voices are heard and help offered is help received. Leading Up shows how great leaders create groups that win."
—Joel Kurtzman, Global Lead Partner, Thought Leadership, PricewaterhouseCoopers

"The message afforded by Leading Up is powerful and germane as we continue to decentralize and empower our organizations. As Mike Useem says, 'If we expect our subordinates to furnish us with unvarnished, unbiased advice and unswerving support at times when it really counts, we need to have cultivated a culture that encourages and rewards them to do so.' His diverse selection of historical examples and his storytelling ability bring the concepts alive."
—Charles O. Holliday, Jr., chairman and chief executive officer, DuPont
Advertisement