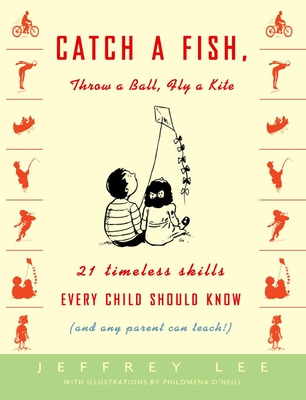 Catch a Fish, Throw a Ball, Fly a Kite: 21 Timeless Skills Every Child Should Know (and Any Parent Can Teach!) (Paperback)
21 Timeless Skills Every Child Should Know (and Any Parent Can Teach!)
Three Rivers Press (CA), 9781400048106, 288pp.
Publication Date: April 27, 2004
* Individual store prices may vary.
or
Not Currently Available for Direct Purchase
Description
Knowing how to fold a paper airplane can make you a better parent
Well, maybe not better, but you ll certainly have more fun with your children, who understandably assume that you know how to do just about everything. If they only knew
Catch a Fish, Throw a Ball, Fly a Kite is for parents who want to teach their children what they really want to learn--even the skills you never mastered or haven't practiced in a few decades. This book contains clear, simple, step-by-step instructions for teaching more than twenty little life skills that every child should know, including how to:
Work a yo-yo
Build a fire
Eat with chopsticks
Skip a stone
Fly a homemade kite
Throw a Frisbee
While you teach your children, you get to learn the skills too, or at the very least improve on them. Activities range from practical, like locating the constellations, to completely frivolous fun, like turning a blade of grass into a musical instrument. Some are simple enough for four-year-olds, and others will appeal to the most jaded adolescent. Each skill is illustrated and is rounded out with fascinating trivia (did you know that the world's largest sand castle measured six stories high?) or funny jokes. Age-appropriate information is given for each skill, but they all have one thing in common: You and your kids can do them together
About the Author
JEFFREY LEE, M.D., graduated from Harvard Medical School, trained in family medicine at the University of Washington, and now lives in Seattle. Dr. Lee is the author of the young adult novel True Blue. He has taught every one of the skills in Catch a Fish, Throw a Ball, Fly a Kite to his children Madeline (age ten) and Juliana (age five).
Advertisement