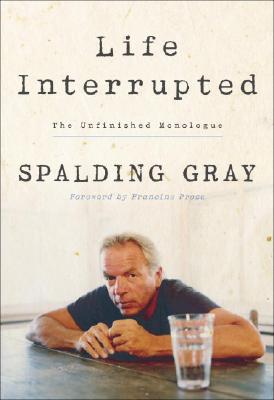 Life Interrupted (Hardcover)
The Unfinished Monologue
Crown, 9781400048618, 256pp.
Publication Date: October 4, 2005
* Individual store prices may vary.
Description
As the first decade of the new century was getting underway, Spalding Gray worried that the joy he'd finally found with his wife, stepdaughter, and two sons would fail to fuel his work as a theatrical monologist the way anxiety, conflict, doubt, and various crises once had. Before he got the chance to find out, however, an automobile accident in Ireland left him with the lasting wounds of body and spirit that ultimately led him to take his own life. But as his dear friend novelist Francine Prose notes in this volume's foreword, "Even when his depression became so severe that he was barely able to hold a simple conversation, he was, miraculously, able to perform."

As was always his method, Gray began to fashion a new monologue in various workshop settings that would tell the story of the accident and its aftermath. Originally titled Black Spot—for what the locals called the section of highway where Gray's accident occurred—it began as a series of workshops at P.S. 122 in New York City and eventually became Life Interrupted.Gray died in early 2004, and though never completed, Life Interrupted is rich with brave self-revelation, masterfully acute observations of wonderfully peculiar people, penetrating wit and genuine humor, an irresolvable fascination with life and death, and all the other attributes of Gray's singular and unmistakable voice.

In the final performance of Life Interrupted, Gray read two additional pieces: a short story about a day he spent with his son Theo at the carousel in Central Park and a brief, poignant love letter to New York City that he wrote after the terrorist attacks in 2001. This volume includes these pieces as well as many of the eulogies that were delivered by his friends and family at memorial services held at Lincoln Center and in Sag Harbor.




[If you had to reduce all of Spalding's work to its essence, its core, if you wanted to locate the subject to which, no matter what else he talked about, he kept returning, I suppose you could say that his work was a profoundly metaphysical inquiry into how we manage to live despite the knowledge that we are someday going to die. . . .

If there is a consolation, it's what he left behind: the children whom he so loved and, of course, his work. Reading the unfinished pieces in this volume . . . we hear his voice again and feel the happiness we felt when he sat on stage behind his wooden desk, took a sip from his water glass, transformed the raw material of his life into art, and the crowd applauded each brilliant, beautiful sentence.] —Francine Prose, from the Foreword



Also available as an eBook
About the Author
Writer, actor, and performer Spalding Gray was the author of It's a Slippery Slope; Swimming to Cambodia; Monster in a Box; Morning, Noon and Night; and Impossible Vacation, among other works. He appeared on Broadway in his own one-man shows and in an acclaimed revival of Our Town and Gore Vidal's The Best Man, on PBS and HBO, and in numerous films, including Roland Joffé's The Killing Fields, David Byrne's True Stories, and more recently Steven Soderbergh's Gray's Anatomy. He was still working on Life Interrupted at the time of his death in 2004.
or
Not Currently Available for Direct Purchase