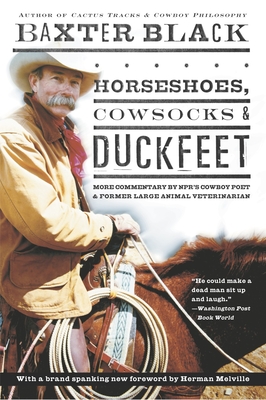 Horseshoes, Cowsocks & Duckfeet: More Commentary by NPR's Cowboy Poet & Former Large Animal Veterinarian (Paperback)
More Commentary by NPR's Cowboy Poet & Former Large Animal Veterinarian
Three Rivers Press (CA), 9781400049431, 288pp.
Publication Date: August 26, 2003
Description
Baxter Black, the world's bestselling cowboy poet, author of Cactus Tracks & Cowboy Philosophy, and public radio's favorite former large animal veterinarian, is back in the saddle with a hilarious new roundup of essays, commentaries, and campfire verse that speaks to the cowboy soul in each of us.
Drawn in part from Baxter's wildly popular NPR commentaries and syndicated columns, Horseshoes, Cowsocks & Duckfeet offers a generous helping of his tender yet irreverent, sage-as-sagebrush take on everything from ranching, roping, Wrangler jeans, and rodeos to weddings and romance, the love of a good dog, dancing, parenting, cooking up trouble, and talking about the weather. If you haven t ridden with Baxter before, find out what more than a million dedicated fans are laughing about inside and outside the corral.
About the Author
BAXTER BLACK is an NPR commentator whose syndicated column appears in more than 100 newspapers. He appears regularly on television and radio and at dozens of agricultural functions and the occasional urban gathering. He will not let himself be described as America s best-loved cowboy poet, but will agree to be referred to as the tallest, scrawniest, most left-handed one. He lives in Arizona among the catclaw and Gila monsters. From the Hardcover edition."
Advertisement