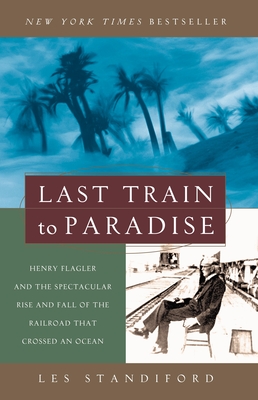 Last Train to Paradise: Henry Flagler and the Spectacular Rise and Fall of the Railroad That Crossed an Ocean (Paperback)
Henry Flagler and the Spectacular Rise and Fall of the Railroad That Crossed an Ocean
Broadway Books, 9781400049479, 320pp.
Publication Date: August 5, 2003
Description
Last Train to Paradise is acclaimed novelist Les Standiford's fast-paced and gripping true account of the extraordinary construction and spectacular demise of the Key West Railroad one of the greatest engineering feats ever undertaken, destroyed in one fell swoop by the Labor Day hurricane of 1935. Brilliant and driven entrepreneur Henry Flagler's dream fulfilled, the Key West Railroad stood as a magnificent achievement for more than twenty-two years, heralded as the Eighth Wonder of the World. Standiford brings the full force and fury of 1935's deadly Storm of the Century and its sweeping destruction of the railroad that crossed an ocean to terrifying life. Last Train to Paradise celebrates a crowning achievement of Gilded Age ambition in a sweeping tale of the powerful forces of human ingenuity colliding with the even greater forces of nature's wrath.
About the Author
LES STANDIFORD is the author of eight critically acclaimed novels, including most recently Bone Key, as well as several works of nonfiction. He has received the Frank O Connor Award for Short Fiction and fellowships from the National Endowment for the Arts, the National Endowment for the Humanities, and the Florida Division of Cultural Affairs. Since 1981 he has lived in Miami with his wife and three children. They are themselves survivors of Hurricane Andrew."
Praise For Last Train to Paradise: Henry Flagler and the Spectacular Rise and Fall of the Railroad That Crossed an Ocean…
"A dramatic story . . . and Les Standiford has a good deal of fun with it all."
—Washington Post Book World

"A definitive account of the engineering feat that became known as 'Flagler's Folly'. . . A rousing adventure." —Atlanta Journal-Constitution

"A fascinating and incredibly compelling account . . . I could not put it down." —Donald Trump

"This is the remarkable true-life chronicle of one of America's greatest engineering achievements, and how it was all blown to bits in a few hellish hours. No novelist could have invented such a stunning tale, or such unforgettable characters."
—Carl Hiaasen, author of Basket Case

"Last Train to Paradise is a fast-moving and gripping story about one of the most ambitious and difficult engineering projects of the last century." —Henry Petroski, author of Engineers of Dreams

"This is a wonderfully told tale, a strange and compelling story about a strange and compelling part of the world. With sharp, evocative reporting, the book captures an era, the Florida landscape, and the very human dream of doing the impossible."
—Susan Orlean, author of The Orchid Thief

"Last Train to Paradise is an extraordinary achievement, a nonfiction book as exciting and finely written as a first-rate novel, with the narrative drive of a locomotive. . . . Throw in Ernest Hemingway and some of the most dramatic scenes of the chaos of a hurricane ever written and you've got one hell of a spectacular book." —James Hall, author of Blackwater Sound and Under Cover of Daylight

"Only one thing could have stopped entrepreneur Henry Flagler: the most powerful storm ever to strike the United States. Les Standiford has given us a rousing—a deeply sobering—story of this 1935 collision between hubris and hurricane in the Florida Keys." —Barbara Ehrenreich, author of Nickel and Dimed

"Last Train to Paradise is a mesmerizing account of Gilded Age titan Henry Flagler and his extraordinary dream to build a railroad across the sea. Henry Flagler's quest to build an overseas railroad has all the elements of a classic Greek tragedy, and Les Standiford has captured both the man and his times with pitch perfect grace."
—Connie May Fowler, author of Before Women Had Wings and When Katie Wakes
Advertisement