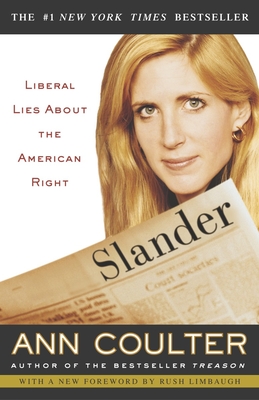 Slander: Liberal Lies about the American Right (Paperback)
Liberal Lies about the American Right
Crown Forum, 9781400049523, 352pp.
Publication Date: September 16, 2003
* Individual store prices may vary.
or
Not Currently Available for Direct Purchase
Description
The hottest and most controversial book of the year Find out who really controls the media in America.
- Ann Coulter] is never in doubt. And that, along with her bright writing, sense of irony and outrage, and her relish at finally hitting back at political opponents (especially in the media) is what makes Slander such refreshing and provocative reading.-
--Los Angeles Times

- Ann Coulter] is a fluent polemicist with a gift for Menckenesque invective . . . and she can harness such language to subtle, syllogistic argument.-
--Washington Post Book World
-The most popular nonfiction book in America.---New York Times
-The real value of Slander . . . is not in the jokes or devastating exposes of liberal politicians and their allies, but the serious and scholarly study of just how entrenched the media prejudice is against anyone whose politics are even faintly conservative.-
--New York Sun
-Written with a great deal of passion . . . the real source of its strength--and its usefulness--was its painstaking marshalling of evidence . . . More important than High Crimes and Misdemeanors] because it addresses a much broader issue, and one of lasting significance.---National Review
About the Author
Ann Coulter is an attorney and legal affairs correspondent. Her first book, High Crimes and Misdemeanors: The Case Against Bill Clinton, was a New York Times bestseller. She lives in New York and Washington, D.C. From the Hardcover edition.
Praise For Slander: Liberal Lies about the American Right…
In Praise of Ann Coulter

"Ann Coulter is one of the fiery new breed of conservative commentators who don't worry what the Establishment thinks of them." —Robert D. Novak

"The conservative movement has found its diva." —Bill Maher

"Coulter, like her ideological opposite, the late William Kunstler, is obsessed with protecting civil liberties and free speech. But the speech she is trying to protect, which includes every form of controversial political incorrectness . . . is threatened by liberals." —Harper's Bazaar

"There's nothing artificial about Ann. She has a vision of the Constitution and the government's rightful role in our lives that is much different from the mainstream, and much different from mine, but she represents a significant constituency." —Geraldo Rivera

"Ann Coulter is a pundit extraordinaire." —Rush Limbaugh

"One of the twenty most fascinating women in politics." —George magazine
Advertisement