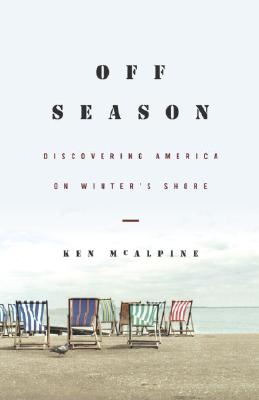 Off-Season: Discovering America on Winter's Shore (Paperback)
Discovering America on Winter's Shore
Broadway Books, 9781400049738, 304pp.
Publication Date: June 22, 2004
* Individual store prices may vary.
or
Not Currently Available for Direct Purchase
Description
No Longer the Forgotten Season
Just after Labor Day, Ken McAlpine said good-bye to his family and began a drive up the East Coast, from Florida to Maine, on a one-man quest to capture the elusive forgotten season of beach towns shuttered until the return of warm weather. Off-Season is a moving portrait that brings to life the magic of the sea and shore in winter, the charm of beach towns emptied of summer crowds, and the warmth and eccentricities of year-round coastal residents who revel in small-town spirit.
McAlpine skipped the more popular destinations like Nags Head, Virginia Beach, Cape May, and the Hamptons, opting to visit lesser known locales like Sharpes, Florida; Tangier Island, Virginia; and Montauk, New York. There he found people who celebrated the departure of the tourists with the cautious hope they d return next summer. He encountered fishermen struggling to make a living, a former playboy lifeguard now ministering to the elderly and ill, a marine policeman both reviled and respected, a lone kayaker paddling away his grief, a couple fighting to save the world's coral reefs, divers searching for everything from false teeth to dead bodies in dark waters, and deserted snow-covered beaches more beautiful than anyone could describe.
More than a travelogue and a whole new breed of beach read Off-Season is a stroll off the beaten path and a look at the people and places in our country that keep the spirit of community alive.
About the Author
KEN McALPINE is an award-winning travel writer whose work has appeared in Sports Illustrated, Outside, Reader s Digest, the Los Angeles Times, and other publications. He has always lived near the beach, currently making his home in Ventura, California."
Advertisement